Regulating the humans behind the wheels of autonomous vehicles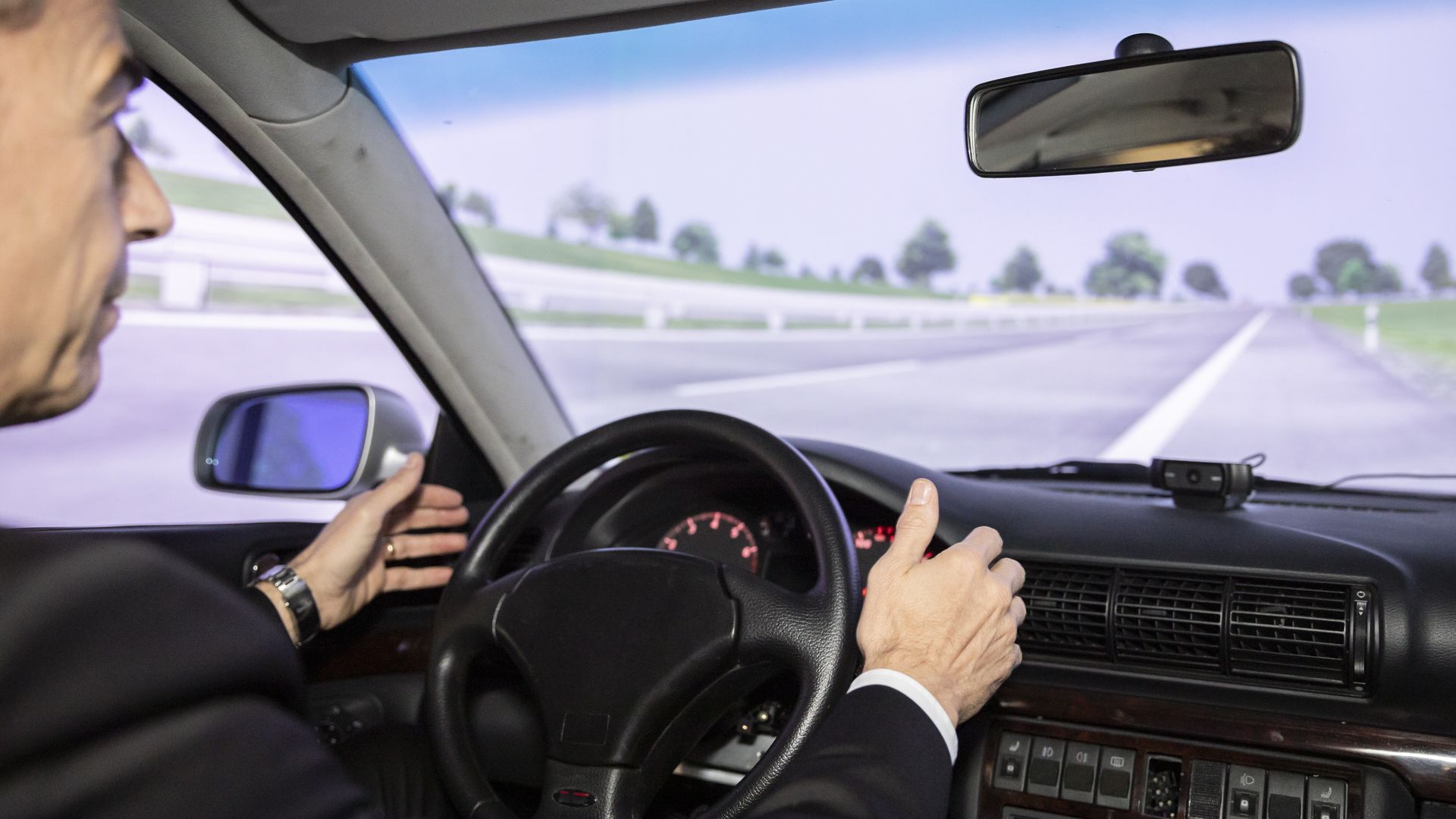 The job of autonomous vehicle safety driver seems pretty easy: Get paid for sitting there while the car does all the work. But it's a challenging assignment and self-regulated by the companies testing AVs, so the rules are only beginning to emerge.
The big picture: Safety drivers are researchers' eyes and ears, chronicling every roadway encounter to make the technology better. But requiring drivers — even specially trained ones — to pay attention without actually driving is difficult, which is why many companies argue that full autonomy is the safest way to go.
Background: Last March, a pedestrian was struck and killed by an Uber-operated self-driving car in Tempe, Arizona. The human monitoring the vehicle was believed to be watching a television show on her phone.
The accident prompted a review of procedures and expectations for human safety drivers.
Without federal regulations for AVs — just general guidance — the U.S. Department of Transportation suggests states should be the ones to regulate safety drivers.
For now, best practices are emerging from a handful of voluntary safety self-assessments submitted by companies to the DOT.
How it works: Safety drivers typically work in pairs, one in the driver's seat monitoring the environment and the other riding shotgun with a laptop, monitoring the car's computing system and annotating the drive.
The driver needs to be capable of taking over immediate manual control in the event of a failure or emergency.
Typically, though, human interventions are triggered by a situation that the trained safety driver deems tricky.
Argo AI, which is developing self-driving technology for Ford, adopts a "no heroes" policy when it comes to drivers retaking control, says president Peter Rander.
"They need to learn that while we want the car to experience life, it has to do it responsibly. If they're giving it too much margin and allowing it to get too close, bad things will happen."
— Peter Rander, Argo AI
The work can be physically and mentally demanding. The pilot has to be alert, with their fingers lightly cupped around the steering wheel and their foot hovering over the pedals.
AV companies usually limit time in the driver's seat to about 2 hours, and the pilot and co-pilot swap jobs frequently.
AV safety drivers don't need a special permit, but states like California require that they have a valid driver's license and undergo AV training.
The training typically lasts at least a month and involves both classroom instruction and driving on a test track.
It includes software and hardware training, including how to turn the self-driving system on and off.
On the track, instructors deliberately inject faults into the system to train drivers how to react properly.
"Someone with a computer in the car can cause the steering wheel to make a hard left and that's when the craziness happens."
— Peter Rander
What's next: California and Arizona have already given Waymo permission to test vehicles in their states without a safety driver, and the Google self-driving car unit plans to launch its fully driverless service in Phoenix next month.
Go deeper:
Go deeper