Californians usually rebuild after fires. That could change.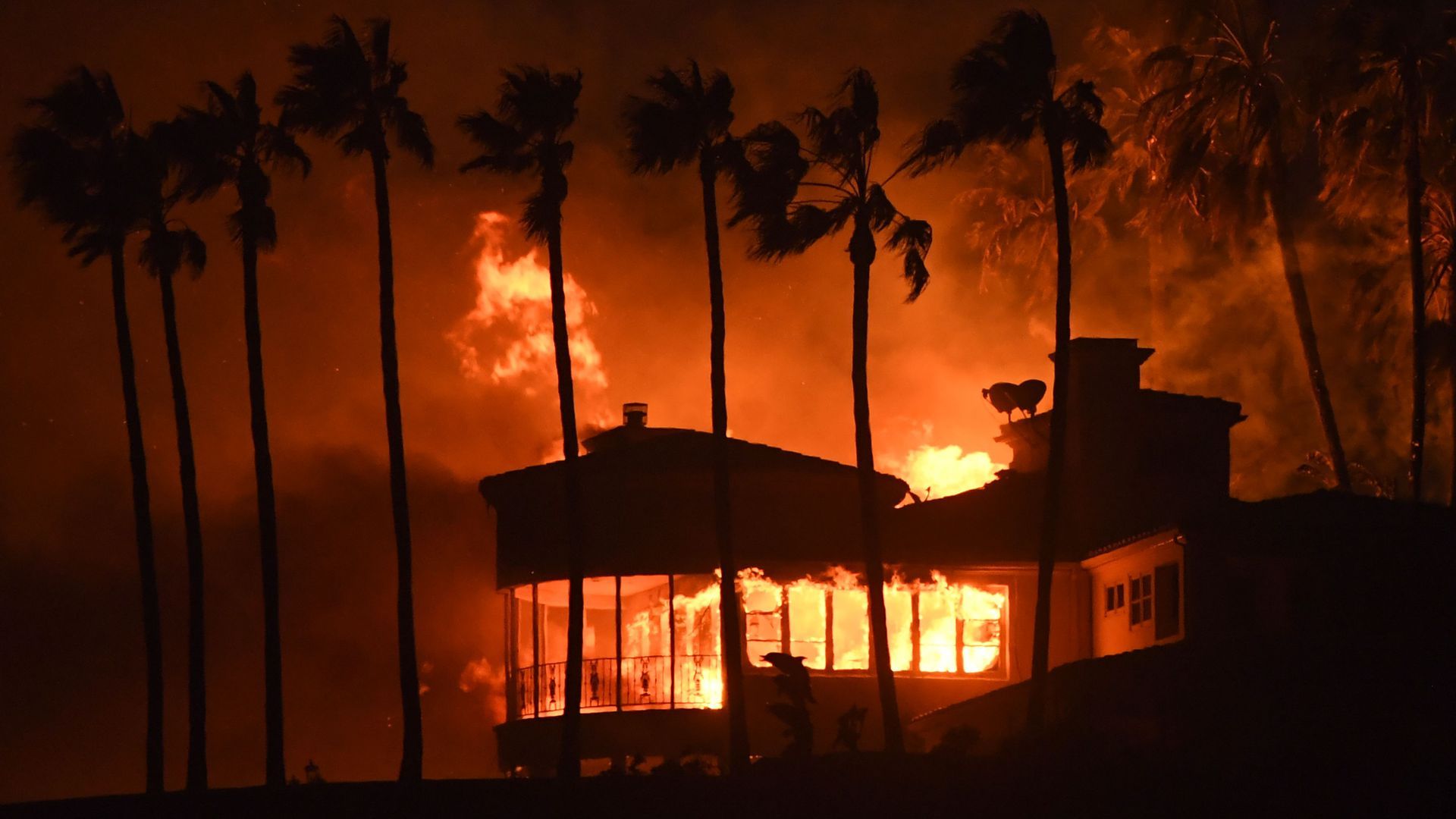 For Californians — many of them inured to routine annual fires, mudslides and earthquakes — a key question is not whether to rebuild when catastrophe strikes yet again. It's whether they can afford it.
Driving the news: For many fire victims, insurance — or the government — makes it so they can rebuild on the same lot. But in some of California's most recent spate of fires, that hasn't been enough. And a lot of experts see signs that more homeowners could find it hard to rebuild as insurers reassess the risk of a new future of fire.
The big picture: Since the middle of the last century, fire has destroyed an average of 500 homes a year in California, according to the Western Ecological Research Center.
The number of vulnerable houses keeps growing: According to a 2014 study by the Nature Conservancy, builders in the state are on track to add 645,000 homes in highly fire-prone zones by 2050.
Judging by history, these new homeowners will view any fire as an acceptable hazard of living where they choose.
In 11 California fires from 1970 to 2009, builders reconstructed 94% of the burned homes within 25 years, the NYT reports.
The big picture: Insurance losses from California fires last year were about $12.5 billion and this year could be about $6.8 billion, reports Don Jergler of Insurance Journal. After this season, insurers could decide to stop issuing fire insurance in high-risk zones "because they are contributing to people building where they shouldn't at all," says Dante Disparte, founder of Risk Cooperative, a DC brokerage that provides insurance to insurance companies.
In Redding, 190 miles north of Santa Rosa, the site of the horrendous Carr fire this summer, insurance companies are already hiking rates or canceling policies altogether, said Brad Garbutt, a broker at local Vista Real Estate. "I think you're going to see the major insurance companies stop writing in this area."
The question, Disparte tells Axios, is "should there be residential property that close to forests that are tinderboxes? Should we push back human habitation?"
Christopher Thornberg, a professor at UC Riverside and founder of Beacon Economics, said people should be free to live where they want — as long as they are covering the full cost and not relying on government services to bail them out in a catastrophe. "Raise people's insurance costs to cover the real threat and let them make the decision where they want to live," Thornberg tells Axios.
Consider two of the recent California fires:
Tubbs fire: Despite the danger, demonstrated again and again, many in California's wine country, where fire swept through in the summer of 2017, have chosen to stay.
California's fire-management agency has labeled some of the areas being restored "very high fire hazard severity zones." But John Allen, CEO of APM Homes, a local home builder, tells Axios that residents understand the risks.
"A community is people. It's not buildings, it's not sewer pipes, it's not infrastructure, it's not a town hall, it's not a school. That's why they're rebuilding: They want to remain intact as a part of this community."
—
John Allen
Carr fire: A lower-income city than Santa Rosa, Redding has not seen nearly the same vigorous rebuilding effort since fire burned 1,079 homes in July, and produced only the second-known large fire tornado in history.
More than a thousand homes are still on the market, said Garbutt, the Vista Real Estate broker. Among the unforeseen costs of remaining are obtaining permitting, hiring contractors and meeting new fire-safety codes. Insurance policies only cover the cost of rebuilding a burned-down home; they don't cover upgrades to meet relatively new fire ordinances, like the use of non-combustible roofs and other materials.
"I suspect we'll have more people leaving and less people rebuilding," Garbutt tells Axios.
"People who don't have families here may see this as an opportunity to move away, maybe to areas that are less fire-prone."
"They don't want to be in the path of the next one, because this was really traumatic."
But, but, but: Garbutt said some people are betting that building will return to Redding. One local developer, he said, for instance, is buying up lots to hold for future construction.
Go deeper: Americans are moving into fire zones
Go deeper