2. Zuckerberg responds to criticism after major New York Times story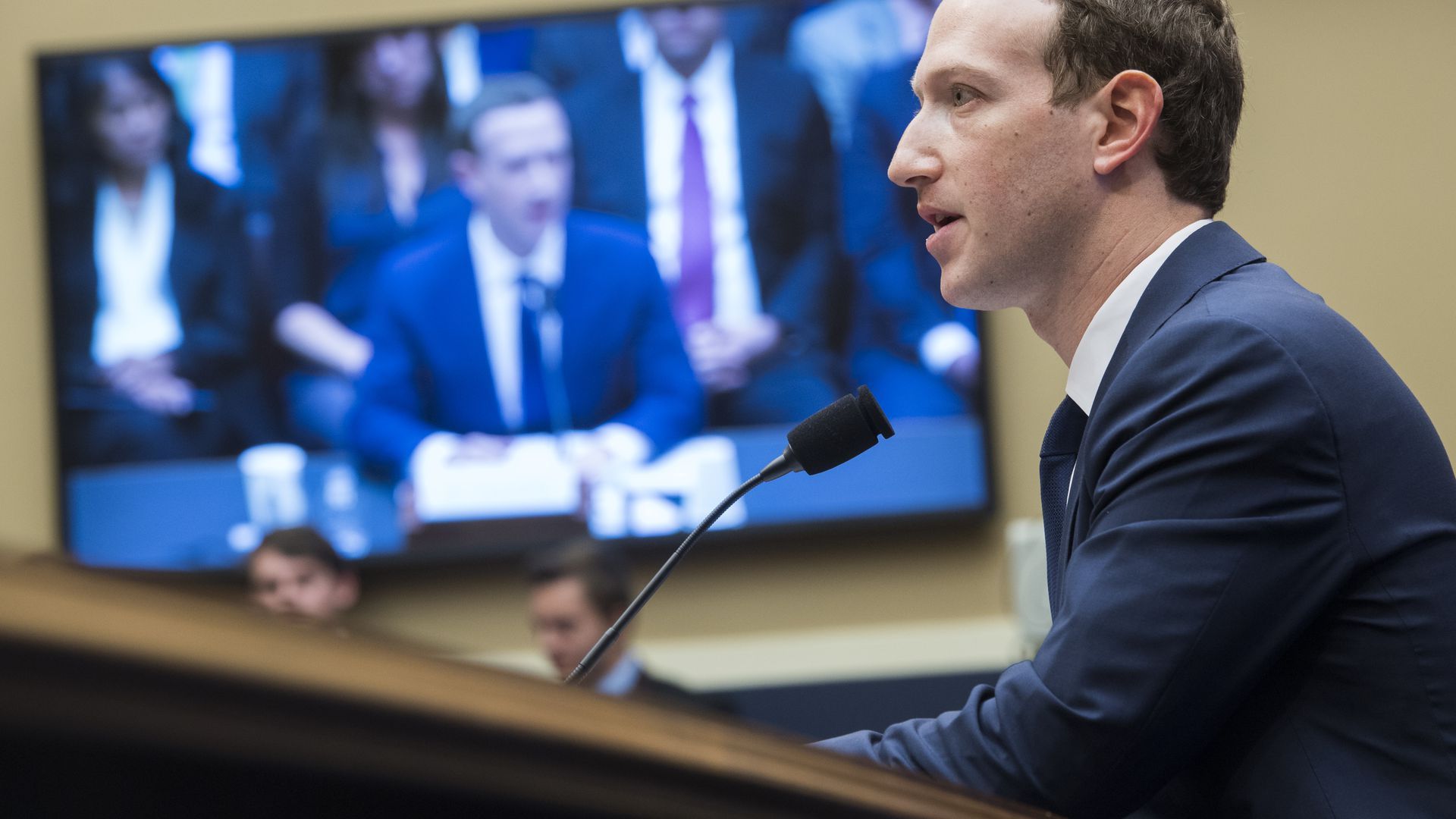 Speaking to reporters Thursday, Facebook CEO Mark Zuckerberg said he didn't know about Facebook's relationship with a Washington-based opposition research firm that The New York Times reported Facebook was working with and that those DC-based opposition research tactics are "not the kind of thing we want to be involved with here."
Why it matters: The event was intended to unveil new content policies and procedures, but Zuckerberg spent much of the call addressing questions about the Times story and Facebook's relationship with Definers Public Affairs, the research firm. It's a defensive position that Zuckerberg and his company have been stuck in since last year.
The details: Zuckerberg made it clear that this scandal wouldn't displace him as the head of the company and that Facebook is aiming to address these problems.
Zuckerberg said he wouldn't step down as Facebook board chairman. "I don't particularly think that that specific proposal is the right way to go."
He wouldn't confirm if anyone would get fired based on the Times report. He said he won't talk about performance and management publicly, but that the company is evaluating roles as part of an ongoing process and it "will certainly keep doing that."
He defended Facebook COO Sheryl Sandberg, who was painted as the person responsible for many of these problems in the New York Times piece, saying Sheryl "was also not involved" with the Definers relationship, and that "she learned about it at the same time I did."
He said he respects George Soros. Zuck acknowledged that he knew that "Freedom from Facebook," an advocacy group that has ties to the anti-monopoly Open Markets Institute, was behind an anti-Facebook campaign. He said Facebook's intention in working with a Washington opposition research firm was not to target Soros, whose foundation has given to the Open Markets Institute but not the Facebook campaign, but to show that the group was not a grassroots movement.
He denied Facebook instructed the outside research firm to spread misinformation. Asked if the opposition research firm's actions were comparable to the kind of "coordinated inauthentic behavior" that Facebook is trying to eradicate, Zuckerberg said, "that isn't true... We certainly never asked them to spread anything that's not true and we don't have any detail now that would suggest that they have."
Facebook is building a new appeals process. In a separate blog post, Zuckerberg wrote (and verbally addressed on the call) that Facebook is planning to create a new way for people to appeal content decisions to an independent body, whose decisions would be transparent and binding, next year.
Facebook denied reading any people's messages. When asked if the company monitored any journalists' accounts, Zuckerberg said, "absolutely not."
He defended his leadership of the company: "When you're building something at this scale, solutions take a good amount of time. I don't think me or anyone else can come in and have these issues resolved in a quarter or half year." As he has before, he compared the challenges Facebook is facing today with its "existential" effort nearly a decade ago to catch up to the transition to mobile content consumption.
Between the lines: Zuckerberg reiterated that these problems (hate speech, election meddling, divisive behavior) are systemic within society, and thus "they are not issues you ever fix." He said the company is learning to be more transparent in how it's managing them.
"The biggest lesson from this year that we've learned is that when you connect more than 2 billion people, you're going to see all the good and bad of humanity."
— Zuckerberg
Go deeper:
Go deeper