Wildfires cause more than breathing problems across California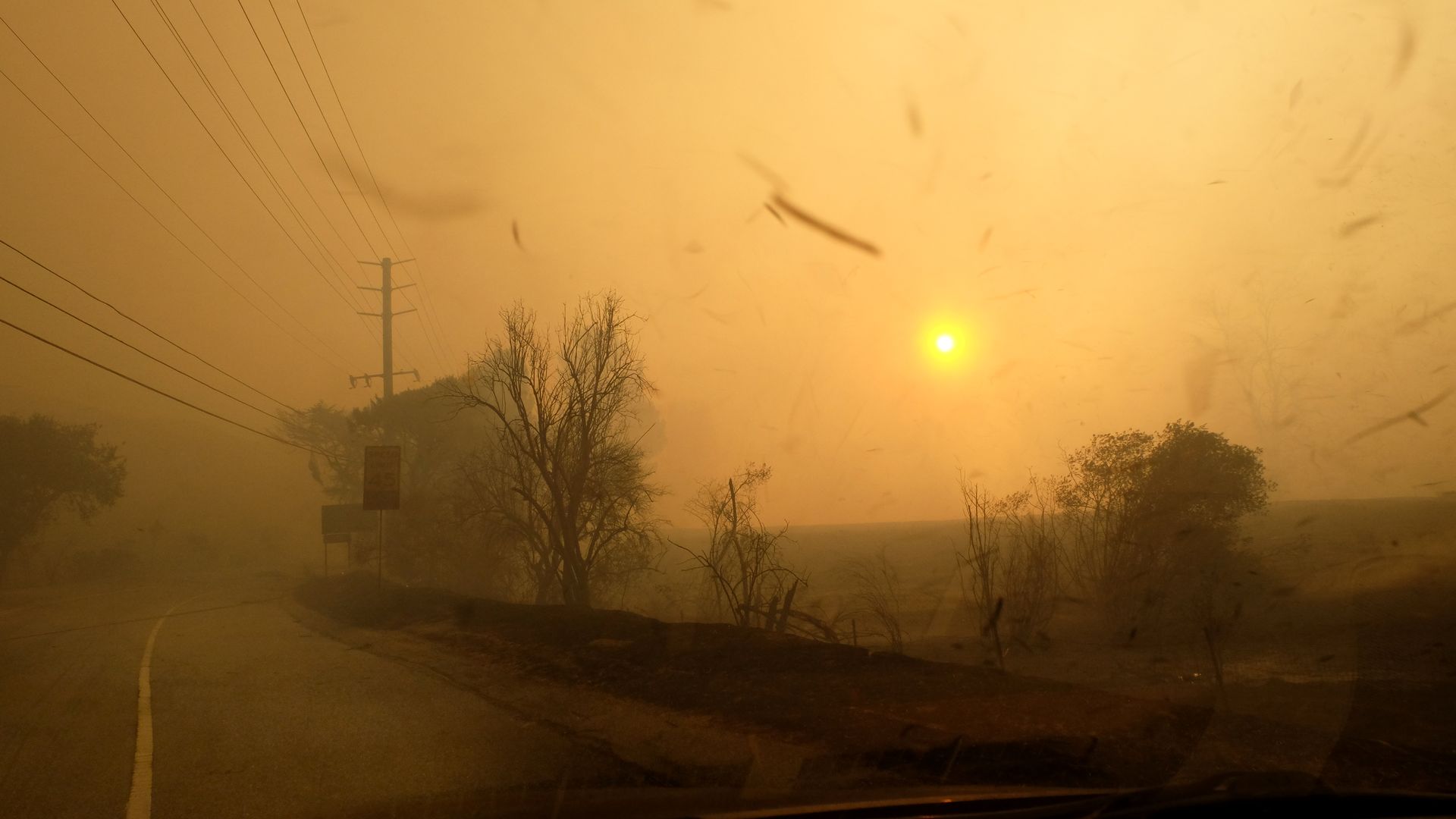 Health effects from the California wildfires — mainly from stress, inhalation of small particulates and the disturbance of people's health care needs — may reverberate for some time after the fires are finally smothered out.
Why it matters: Once people are situated in an area away from the fire, people need to take steps to ensure they are not breathing the smoke and that they are handling the stress in a healthy manner. As health officials declare a public health emergency in California, they also warn people in areas near the wildfires to limit their time outdoors.
Background: There's two main fires currently ravaging California — the Camp Fire north of Sacramento and the Woolsey Fire in Malibu — which together are known to have killed at least 58, displaced more than 200,000, and caused billions in damage.
"The economic health costs from wildfire smoke, in terms of hospitalizations or doctor visits, can add up quickly if large population hubs are affected. There are other, more hidden costs that have yet to be estimated, such as cancelling outdoor or sports events, and not being able to perform outdoor work."
— Klaus Moeltner tells Axios
Three of the biggest health concerns for people near the California fires...
1. Smoke inhalation. The main concern revolves around what's called fine particulate matter, or PM2.5, which is so small it can easily be breathed in and lodge deep into the lungs. These require specific masks to filter out.
2. Stress. The reality or even the threat of fire eradicating lives, property and livelihoods is extremely stressful, but there are steps people can take to help.
"Based on my own experience last year ... if you are in smoke for days on end, it is very stressful. For one thing, your personal environment has just been invaded by this."
— Daniel Jaffe
3. Disruption of health care and living situations.
The big picture: "We'll have to see whether this is a short-term or long-term trend. We don't know yet," Jaffe says. While Jaffe's study published July in PNAS shows most cities improved their air quality over the past 30 years, the noted exception is of areas near wildfires.
Go deeper