In potential boon to urban poor, Gates Foundation recommits to toilet tech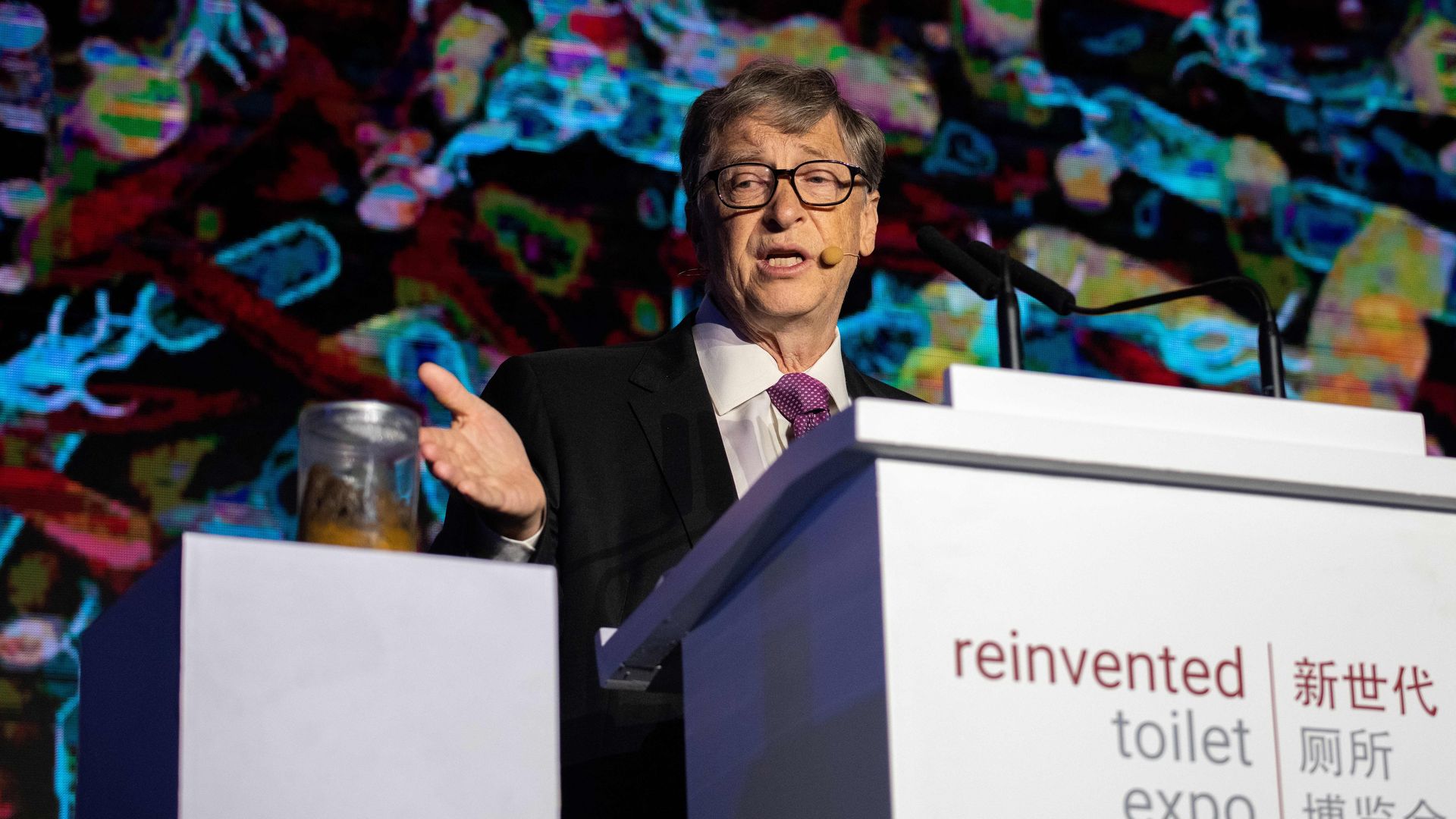 At the Reinvented Toilet Expo in Beijing on Nov. 6, Bill Gates committed the Bill & Melinda Gates Foundation to scaling up its investments in new toilet technologies. Eight companies based in India, China, the U.S. and Thailand, which had previously received grants from the foundation, displayed their pathogen-killing toilets and small-scale waste treatment plants that can disinfect fecal sludge.
Why it matters: 4.5 billion people don't have access to safely managed toilets or still defecate in the open. Lack of safe sanitation leads to diarrhea (a leading cause of death among children under 5), infections such as schistosomiasis and trachoma, and vector-borne diseases such as West Nile virus. There's widespread consensus that greater support from donors such as the foundation and international banks is critical to extending basic sanitation services, especially to the world's poorest.
Background: Throughout the world, it's the poorest populations who rely most on on-site toilets, which are difficult to keep clean and expensive to empty.
Even in cities, extending pipes to such consumers is too expensive — and perhaps impossible in water-scarce areas — so some efforts focus on building toilets that are less reliant on government-run collection and treatment processes.
The Gates Foundation has invested more than $200 million in developing toilets not connected to sewage pipes.
Where it stands: 20 companies that had previously received grants from the foundation to develop toilet technologies and prototypes are seeking to commercially license them to municipal governments and local producers, which are key to reaching the urban poor in developing countries.
The foundation has pledged an additional $200 million to support R&D and bolster markets for new sanitation products, and it will join forces with the World Bank Group, African Development Bank and Asian Development Bank.
The partners together pledged to "unlock $2.5 billion" in financing for citywide sanitation projects, especially those targeting the poorest neighborhoods and households in urban areas.
What to watch: New donor commitments could expand the focus from investing in new technologies to supporting governments in implementing those technologies at scale. While it's unclear exactly how the partnership will "unlock" the promised $2.5 billion, other partners such as the French Development Bank and UNICEF have also stepped forward, with the former pledging to double its sanitation commitment by 2022.
Tanvi Nagpal is the director of the International Development Program at Johns Hopkins School of Advanced International Studies.
Go deeper