Paradise lost: California wildfire is the most destructive in state history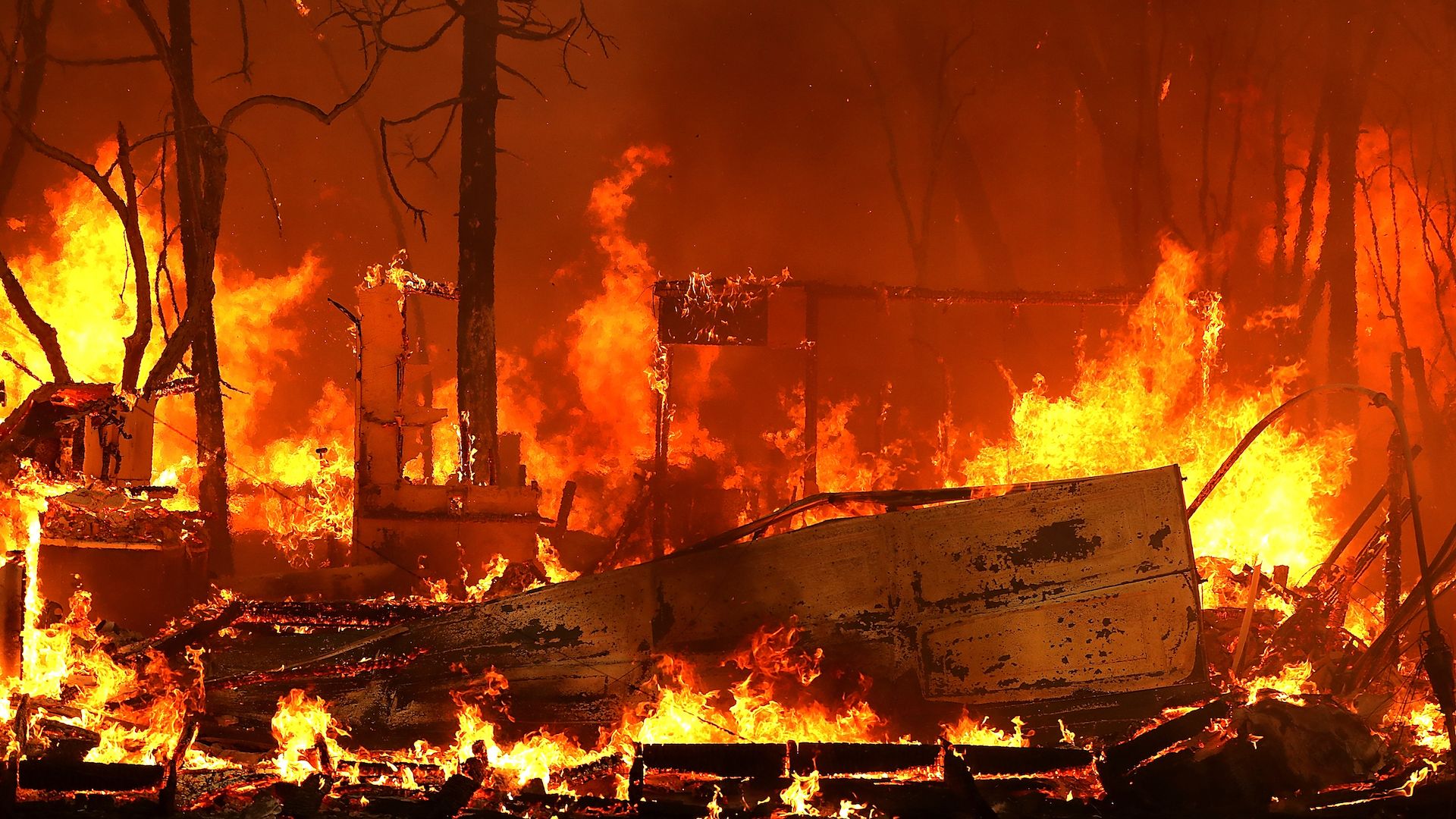 California's Camp Fire, which largely destroyed the town of Paradise, is now the most destructive wildfire in state history in terms of property damage.
The big picture: According to officials, the fire has destroyed at least 6,713 homes, businesses and other structures, while killing multiple people. Both the property count and death toll are likely to rise as officials comb through the wreckage. This fire surpasses the damage from the previous record-holder, which was the deadly Tubbs Fire, which devastated Santa Rosa in the state's wine country just 13 months ago.
The human toll: The fire sped through the town, located about 90 miles north of Sacramento, so quickly on Thursday night into Friday morning that some residents had no time to escape. Those who did make it were forced into such hasty evacuations they they left valuables and in many cases, pets, behind.
Paradise Vice Mayor Greg Bolin told the LA Times that he has been informed that up to 90% of his town has been destroyed. "The town is gone," he said.
Between the lines: The fire now measures well over 100,000 acres in size and has been fueled by a combination of unusually dry weather and powerful, desiccating Santa Ana winds, at times blowing at hurricane force (75 miles per hour). The winds made the flames impossible to anticipate and control, giving firefighters no choice but to help residents flee, rather than beat the flames back to save the community.
The trends: The Camp Fire that tore through Paradise is not an anomaly. California is experiencing one of its worst wildfire seasons on record, having had its hottest month in state history in July, along with the largest fire the state has ever recorded.
According to Aon Insurance meteorologist Steve Bowen, 7 of the top 20 most destructive fires in the state have occurred since October 2017.
Other data show stark trends, too.
The climate context:
There is no more discrete "wildfire season" in the Golden State anymore. Instead, it's lasting all year long, a trend that has been occurring with increasing regularity in Western states due to a combination of climate change, land development and forest management practices, among other factors.
California has had one of its warmest and driest six month periods on record since 1895 (May through October), according to NOAA. Much of California has not seen measurable rain in months, and vegetation moisture levels are near all-time lows. 
Longer-term climate change and population growth are combining to cause increased wildfire risk in California, including in highly populated areas.
One of the biggest changes firefighters are having to contend with is an uptick in instances of extreme fire behavior, such as the massive EF-4 fire tornado that accompanied the Carr Fire in July.
The bottom line: We're witnessing more deadly and destructive wildfire disasters in a state that is likely to see this problem grow worse with time, as climate change leads to more erratic rainy seasons and hotter, drier and more extended dry seasons.
Go deeper: Special Report: A 30-year alarm on the reality of climate change.
Go deeper