Sessions' exit won't slow DOJ crackdown on Chinese spying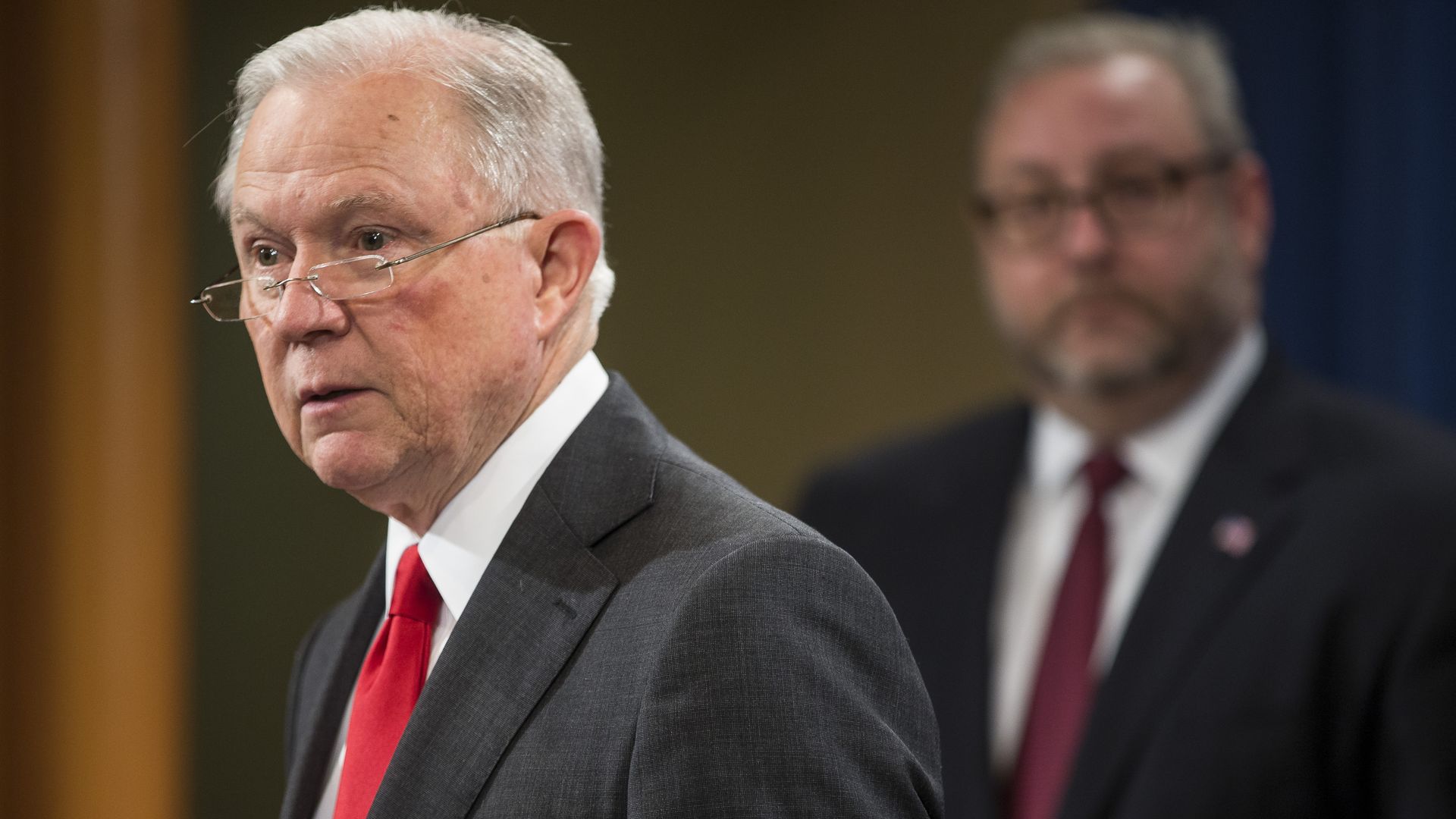 Under departing Attorney General Jeff Sessions, the Department of Justice took a harder line against cyberespionage, particularly by China, than it ever had before. But experts say the offensive against China's theft of billions of dollars in intellectual property is likely to continue under the new acting attorney general, Matt Whitaker.
The big picture: Press coverage is spotlighting the impact Session's' departure may have on the Mueller investigation. But the DOJ is a big machine with many moving parts, and a change at the top could affect any or all of them.
The background: On Tuesday of last week, the U.S. announced the indictments of 10 Chinese spies and collaborators for hacking aerospace firms to steal intellectual property for the benefit of Chinese industry. On Thursday the U.S. indicted three more Chinese citizens and two companies for similar charges related to computer chips.
These were the third and fourth sets of indictments since September against China's IP theft rings.
The aggressiveness spanned to other countries, too. The U.S. filed its first-ever charges against a North Korean agent in September for his role in the Sony Pictures hack and Wannacry malware outbreak.
Where it stands: The aggressive policy is likely to continue under new DOJ leadership.
The cause and effect: Part of why Sessions was the first attorney general to go on a cyberespionage indictment spree was simple chronology.
The Obama administration indicted members of the Chinese Army for economic espionage in 2015 around the time Presidents Obama and Xi reached an agreement for China to stop stealing intellectual property via hacking.
That worked, briefly, meaning the Obama administration didn't have to go all in on a DOJ strategy. But when Trump took office, China cranked up the hacking again. That's when Sessions' department went full bore.
"This is a multiyear process. It was the logical flow from the 2015 indictments," said John Carlin, former Assistant Attorney General for the National Security Division and current partner at Morrison & Foerster.
The leadership structure: The head of the DOJ doesn't unilaterally set department policy — priorities ultimately flow from the White House.
The China strategy appears to be part of a coordinated effort across the executive branch. While the DOJ released indictments on Tuesday and Thursday last week, on Monday the Department of Commerce released sanctions against China related to IP theft.
"From the outside, it didn't appear that AG Sessions was the driving force behind DoJ's more aggressive stance on cybersecurity related issues," Michel Daniel, former White House cybersecurity coordinator under Obama and current president and CEO of the Cyber Threat Alliance, wrote in an email.
Go deeper