What a Democratic House means for health care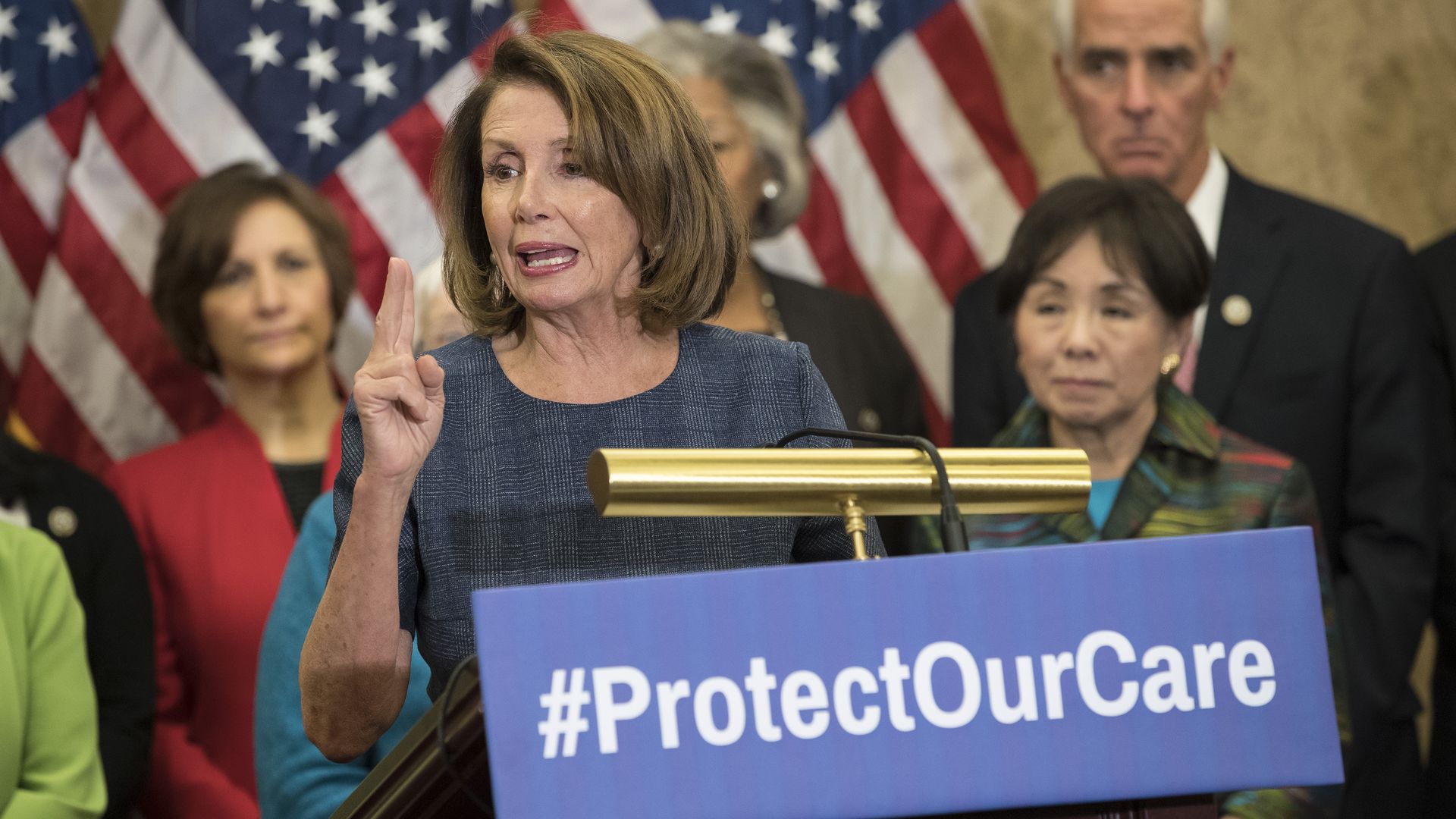 Honestly, although Democrats' takeover of the House is the biggest overall headline of the night, its health care implications are pretty modest.
The big picture: The next two years will test the strength of Republicans' alliance with the health care industry, and pharmaceutical companies in particular. "The real test will be, do Republicans vote 'no' on this ... when it's on the floor?" a pharmaceutical lobbyist told Axios after Republicans were largely silent on Trump's latest drug-pricing plan. We're about to find out.
Repealing the ACA is all the way off the table, though it was already an impossibly steep climb even under unified Republican control.
Oversight will be one of Democrats' biggest overall priorities. I see two possibilities for heath care oversight that could stick:
The Justice Department's decision to back red states' anti-ACA lawsuit
Hearings that take aim at drug companies for their price increases
Drug pricing could, theoretically, be a potential source of bipartisan agreement between Democrats and President Trump, especially now that Trump has endorsed some pretty liberal ideas, like using Europe as a pricing reference.
But Democrats' narrow majority in the House, combined with Republicans' expanded majority in the Senate, means that any major legislative priority will still need bipartisan support.
My thought bubble: A Democratic House may leave industry somewhat worse off on those ticky-tacky but big-for-industry priorities that are always floating around, looking for a vehicle.
Pharma might have to swallow a more muscular version of the CREATES Act, a bill aimed at bolstering competition from generics. It will need to push hard in the lame-duck session to get its Medicare "donut hole fix," which Democrats will be less inclined to provide once they take power.
As insurers and medical-device companies look for delays in their ACA taxes, they might have to fight a little harder (device makers lost a big ally in Rep. Erik Paulsen, who lost his re-election bid), but these are the kinds of things that almost always end up tacked onto bigger bills that already require a lot of horse trading between the House and Senate.
They're not impossible, especially with a GOP-controlled Senate.
Go deeper:
Go deeper