Between the lines: Crunching the midterms hype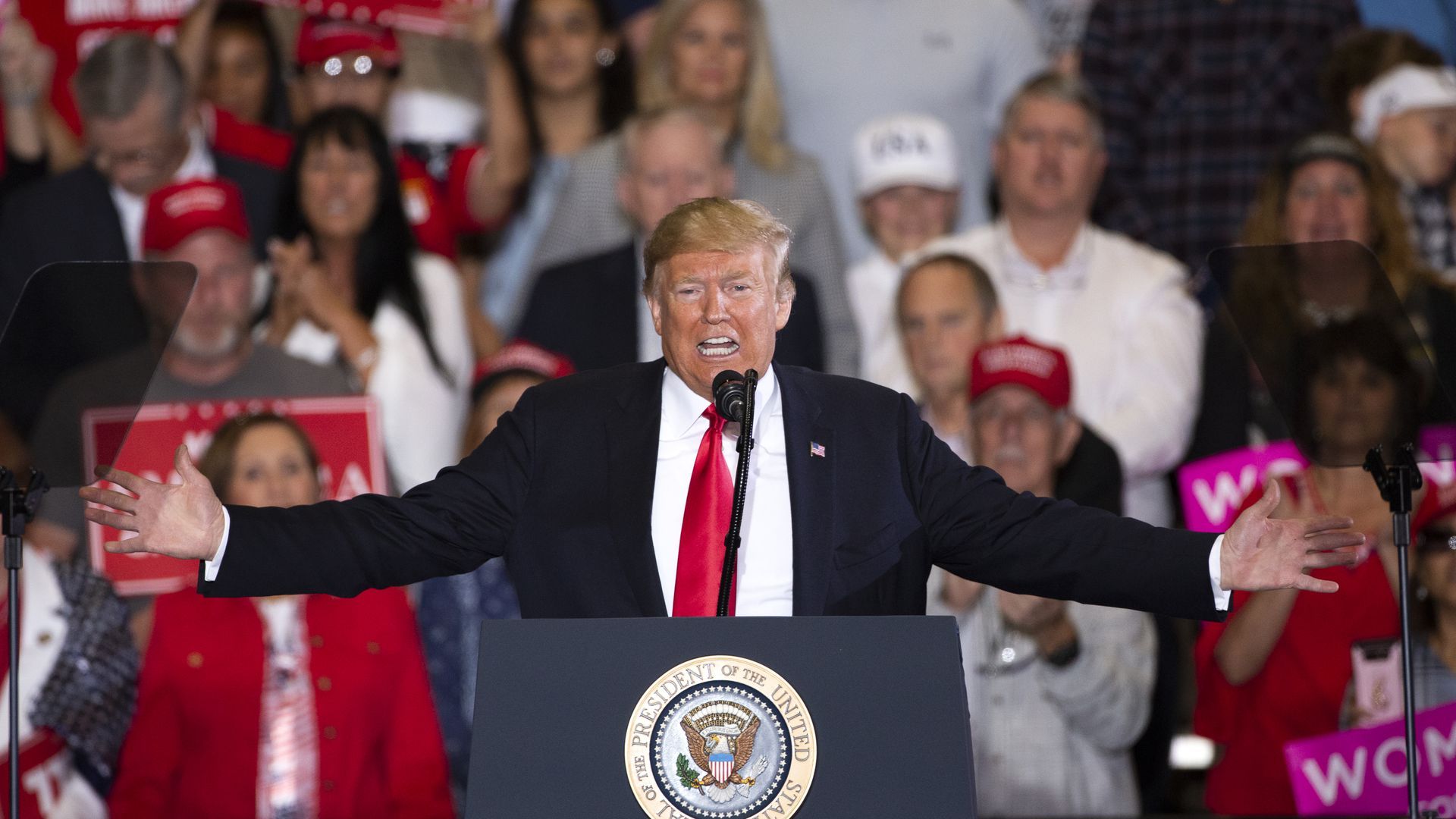 Today, President Trump ends his pre-midterm blitz of 11 rallies across eight states in six days. Top elections analysts say they doubt they'll move the needle for Republicans.
What they're saying: Cook Political Report's Dave Wasserman pointed to Pennsylvania's 18th district, which Trump won by 20 points in 2016. Even though Trump visited the district twice before the special election earlier this year, Democrat Conor Lamb still flipped it. "I'm not convinced their [Trump and VP Mike Pence] visits make much of a difference," Wasserman told Axios.
Kyle Kondik of Larry Sabato's Crystal Ball at the University of Virginia shared that skepticism. "I'm not sure what happens in the final days of the campaign should cause someone to dramatically change their previous thinking too much," he said. "It's kind of the silly season in politics."
Wasserman added that the in-person rallies are perhaps less effective because "it's not clear that the president feels personally invested in any individual races."
Instead, "his efforts to stoke the base on Twitter and on cable news are more consequential than personal visits to states/districts," said Wasserman.
Why it matters: Republicans are betting on Trump to boost their chances, especially with crucial Senate and gubernatorial races. But there are other factors outside of his control (history, for one) that could thwart the energy you see at his rallies.
By the numbers: Last-minute midterms forecasts unanimously predict Democrats winning the House and Republicans keeping the Senate. Strategists from both parties have predicted Dems will win around 35 House seats (they need 23 to take control of the House.) That'd be better for Trump than the 37 seats lost on average for a president with an approval below 50% during his first midterm election.
Consider this: On Sept. 4, Democrats led by 8.9 points; on Oct. 4 they led by 7.7; and today they're leading by 8.1.
The Senate is still an uphill battle for Dems, and some key races are tightening. The best example is Sen. Claire McCaskill in Missouri, one of the most vulnerable Democrats, who's now tied with challenger Josh Hawley in a new poll out yesterday. And in Indiana, Sen. Joe Donnelly (who's been the target of Trump's tweets lately) is in a dead heat with Mike Braun, per a new NBC poll. A Fox News poll from the end of October showed Donnelly up by 7.
The bottom line: If a Republican wins any race where Trump made a last-minute visit by a small margin, his presence could ultimately be the deciding factor. But these tightening polls suggest we could be in for a few surprises on election night.
Go deeper