With sanctions renewal, Trump administration bets on pressuring Iran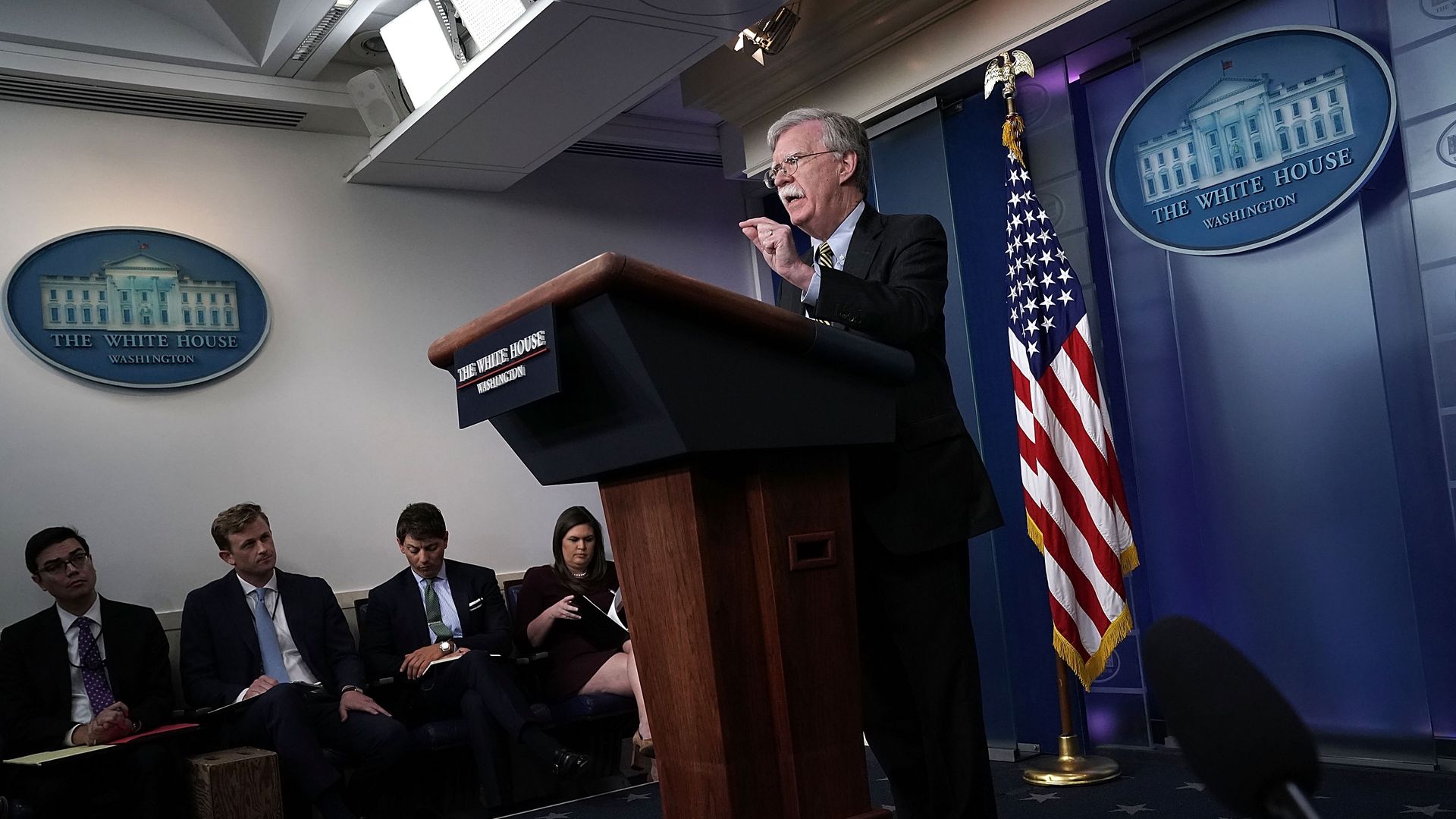 The Trump administration reimposed sanctions on Iran on Monday morning, marking another step in its maximum pressure campaign. Foreign companies have already decamped from Iran, with oil sales plunging even before this tranche of sanctions came into effect.
The big picture: The administration's ostensible end goal is not only to harm Iran's economy, but also to bring about a change in the country's policies — namely its ballistic missile program and regional expansionism — or to its regime. While this latest round of sanctions will doubtless inflict considerable economic pain, the administration's bigger gamble is more uncertain.
Differences exist within the Trump team, but all agree that an Iran under severe economic pressure is better than an Iran that's not. There seems to be a spectrum of views within the administration about possible desired outcomes:
At minimum, the regime will have fewer resources to project its power in the region and will curb its activities in Syria, Iraq, Yemen and Lebanon.
Better yet, it might face serious internal unrest.
Best possible, in their view, the unrest will lead to regime change.
Trump himself seems to think that Iran will come begging for a new deal; others are more skeptical. But the strategy is straightforward: Raise the heat and see what will happen.
Reality check: The administration's desired outcomes face long odds. Historically, there is little evidence that Iran's economic performance correlates with its regional policy. For four decades, Iran has engaged in activities it deems central to its national security, however severe the sanctions and economic hardship it bears. As for regime change, the U.S. track record in the Middle East speaks for itself: Whether in Afghanistan, Libya or Iran itself, U.S. efforts have never met expectations and typically backfire.
Against the low probability of altering Iran's behavior, changing its regime or initiating negotiations on a new deal, the potential negative consequences are manifold. Facing economic warfare, Iran might use proxies against the U.S. presence in Iraq and Syria or violate the nuclear deal, forcing the U.S. to decide whether to use military force to halt its progress. The more effective U.S. sanctions are, the likelier these scenarios become.
The bottom line: The Trump administration undoubtedly will succeed in hurting Iran. It's far less clear if it will be helping itself.
Robert Malley is president and CEO of the International Crisis Group.
Go deeper