Dozens of companies speak out for transgender rights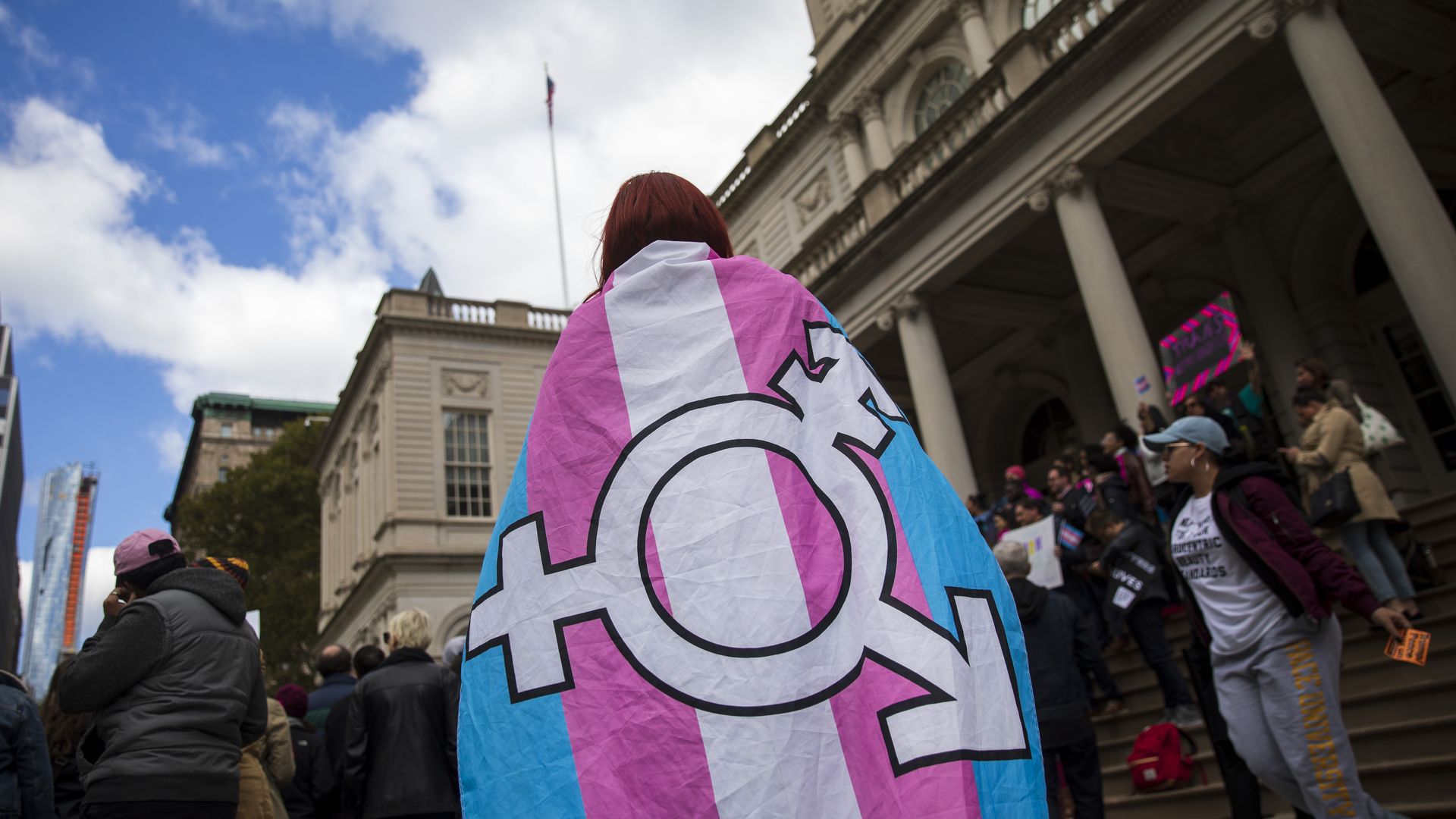 More than 50 companies, many of them tech firms, have signed a letter opposing any effort by the Trump Administration to roll back transgender rights. The list includes Apple, Amazon, Cisco, Facebook, Google, Intel and Microsoft as well as non-tech firms including Nike, Dow Chemical, JP Morgan Chase, Levi Strauss, MGM Resorts and Sodexo.
Why it matters: A leaked memo, reported last month by the New York Times, suggests the administration may be looking to rigidly define sex as binary and determined at birth.
Such a move could have a broad impact on the lives of transgender Americans, as well as those who identify as outside traditional binary gender and those who are born with any of a number of intersex conditions.
The letter states:
"We oppose any administrative and legislative efforts to erase transgender protections through reinterpretation of existing laws and regulations. We also fundamentally oppose any policy or regulation that violates the privacy rights of those that identify as transgender, gender non-binary, or intersex."
What they're saying:
Cisco Chief People Officer Francine Katsoudas: "We must protect and advocate for the equality of transgender, intersex, and gender-expansive people inside and outside the workplace."
Levi Strauss Chief Human Resources Officer Elizabeth Wood: "Equality is not a right for some, but for all. Executive actions and laws that allow discrimination erode our ability to foster vibrant, competitive workforces, which halts growth, creativity, and innovation."
IBM Chief Diversity and Inclusion Officer Tia Silas: "We believe no one should be discriminated against for being who they are. That's why we're proud to stand in support of the transgender and entire LGBT+ communities, and it's why we will continue advocating for Congress to pass the Equality Act and ensure transgender individuals are treated equally under the law."
Our thought bubble: In the past, when states have passed laws limiting gay or transgender rights, some companies have declined to do business there. It's less clear what U.S. companies can do to fight such moves when they come at the federal level.
Go deeper: A timeline of Trump's plan to eliminate transgender rights (Broadly)
Go deeper