How long the world's most powerful leaders are likely to last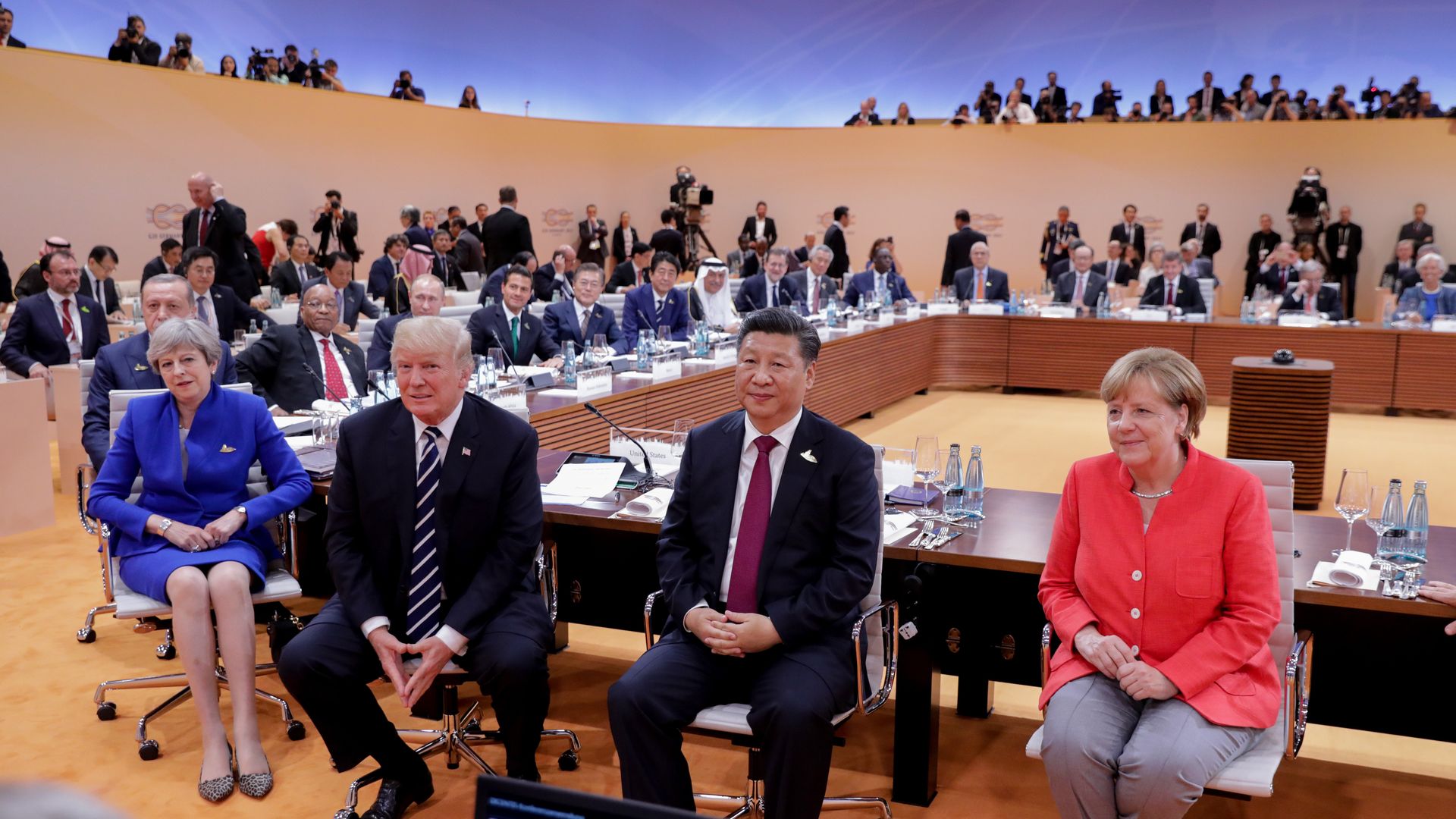 Five years from now, Germany's Angela Merkel and the U.K.'s Theresa May will have faded from the political scene, while Turkey's Recep Tayyip Erdogan and China's Xi Jinping will continue to dominate domestically and shape geopolitics.
The big picture: That's according to Bloomberg's World Leaders' Political Health Check, which shows France's Emmanuel Macron and potentially Saudi Arabia's Mohammed bin Salman (MBS) slipping over the past six months. Other prominent world leaders have held steady, with President Trump projected to carry on through 2024.
Most vulnerable: South Africa's Cyril Ramaphosa and Argentina's Mauricio Macri are in tough positions heading into elections next year, while May faces constant speculation about her job security an uphill battle to get a Brexit deal by March.
Writing on the wall: Japan's Shinzo Abe is expected to step down in 2021. Merkel has now said she'll do the same — though she might not last that long.
Hard to gauge: Israel's Benjamin Netanyahu could end up in jail, but Bloomberg's timeline suggests it's more likely he'll serve another term. Nigeria's Muhammadu Buhari is in ill health but nonetheless favored to win another term next year. The verdict for Macron is that he's "unlikely to win re-election" in 2022 if his popularity doesn't improve.
Not leaving yet: The authors give Trump a strong chance of re-election. They also find it likely that Venezuela's Nicolas Maduro will serve at least through 2024 — though that's far from guaranteed. Iran's Ayatollah Ali Khamenei, 79, is "likely to be in power until he dies," and their calculations "suggest he'll live another nine years."
Strongmen sticking around: Erdogan is likely to dominate Turkish politics through 2028, or even beyond, while Russia's Vladimir Putin is term limited but unlikely to simply fade away after 2024. Xi could be "leader for life."
Young autocrats with long futures: North Korea's Kim Jong-un is in his mid-30s. MBS' iron grip might be slipping, but at just 33 there's every chance he'll be in power for decades.
Go deeper:
Go deeper