Dispatch from Georgia: Oligarch humbled in Russia-tinged election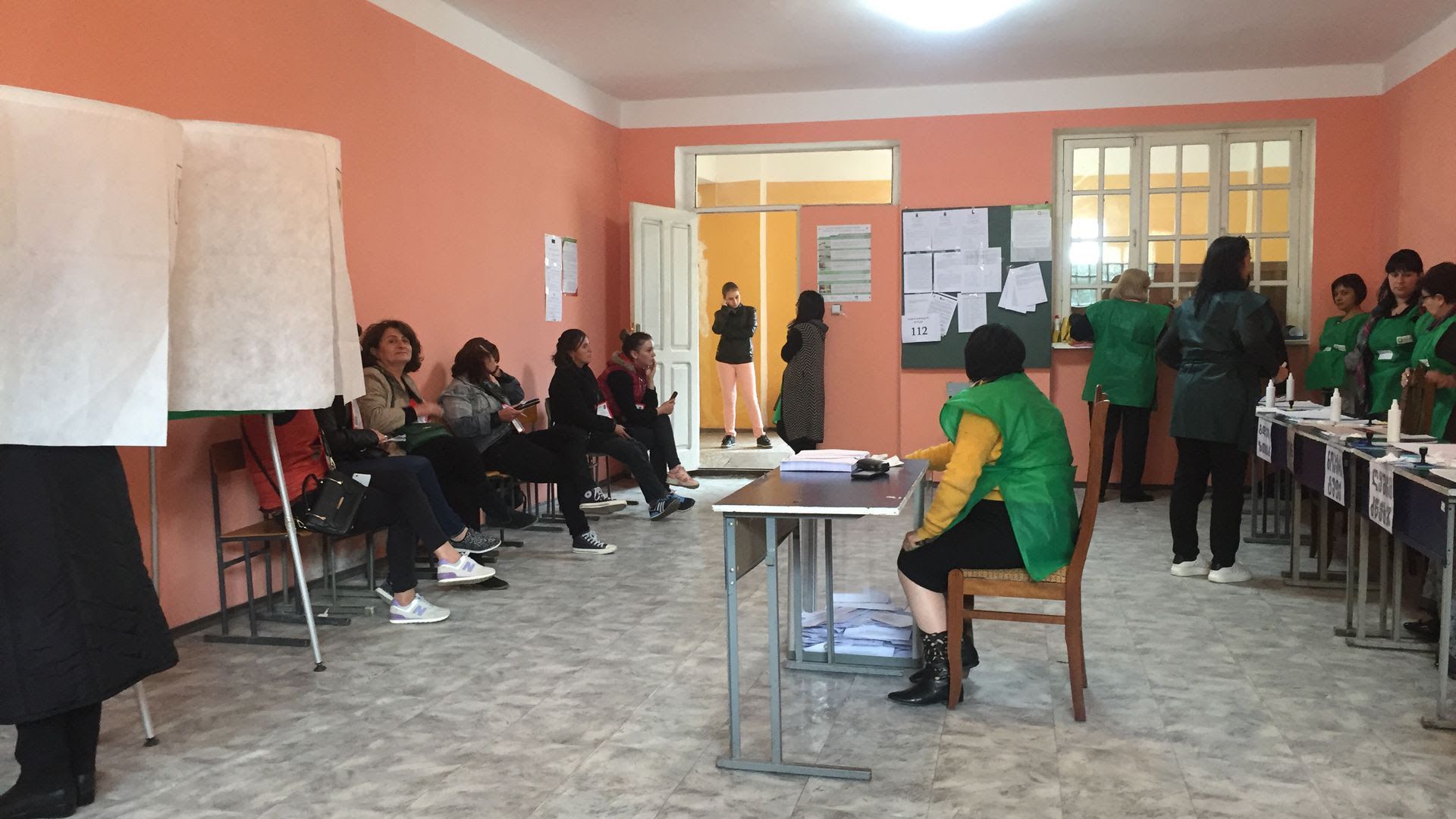 TBILISI and RUSTAVI — The strength of Georgia's democracy and of its all-powerful ruling party will be put to the test over the next two weeks after a deadlocked presidential election on Sunday necessitated what is sure to be a bitter runoff.
Why it matters: In Georgia, it goes almost without saying that Moscow is the enemy, the West provides the path forward and strengthening democracy is the way to get there. But leading figures in the former Soviet republic's politics and society are fearful that this consensus is beginning to break down. In four days here I heard the phrase "existential crisis" more than once. As always, one chief fear is Russia. Another is that the fragile system will begin to implode through some combination of corruption, hopelessness and political score-settling.
Sunday's election was supposed to matter little, except as a show of strength ahead of crucial parliamentary elections in two years time. Georgia's next president will have greatly reduced powers as the country transitions to a new political system, and the ruling party — Georgian Dream (GD) — was expected to win fairly easily.
Instead, GD backed Salome Zurabishvili, an unpopular, French-born "independent" candidate who was decried by her political enemies as a racist and, based on comments she made about the 2008 war with Russia, a traitor.
Grigol Vashadze, her fairly uninspiring opponent from the United National Movement (UNM), meanwhile, was labeled a puppet and a Russian mole because he'd lived and served in Moscow. The letters "KGB" were sprayed across many of his campaign posters.
The ruling party in Georgia has enormous institutional advantages, which were on display in the industrial town of Rustavi. "Observers" lingered outside polling places, crossing the names of those expected (or pressured) to vote for GD off their lists. Still, Zurabishvili fell short of 50%.
The election was ultimately a proxy war between one man who lost power and wants it back, UNM leader-in-exile Mikheil Saakashvili, and another who has tremendous power and exerts it largely from the shadows.
It felt appropriate that among the only leading Georgians we did not meet was Bidzina Ivanishvili. An oligarch who built his $5 billion fortune in Russia, founded GD (which he now chairs), served briefly as prime minister after toppling Saakashvili and then retreated to his glass palace above Tbilisi, Ivanishvili seemed to linger in the background of our conversations with officials but rarely entered them directly without prodding.
Outgoing president Giorgi Margvelashvili, who was hand-selected by Ivanishvili before falling out with him spectacularly early in his term, claims even he doesn't know how involved the oligarch is in day-to-day governing. "People say, 'this is a message from the ultimate truth, from God," he told me, referring to Ivanishvili. "I have no way of knowing if it's true. It's all only rumors."
Zurabishvili told me she has met with Ivanishvili only three times, but expects to consult him before taking major decisions as president in order to avoid a political schism with a man who has churned through three prime ministers in the past three years.
Unlike in much of the former Soviet Union, there is real suspense to Georgian democracy. I found myself on an elevator with Vashadze after a pre-election meeting in which he exuded all the anger and exhaustion of a man who believed he would be robbed of an election. I mumbled a question about the polls, and whether they'd match the official results. He grabbed me by the arm as I went to leave:
"You're in Georgia! Anything can happen."
Go Deeper...
I spent the past four days as part of a German Marshall Fund delegation observing Sunday's presidential election and meeting with the leading candidates, the current president, foreign minister and speaker of parliament and leaders in civil society, the clergy and business.
Go deeper