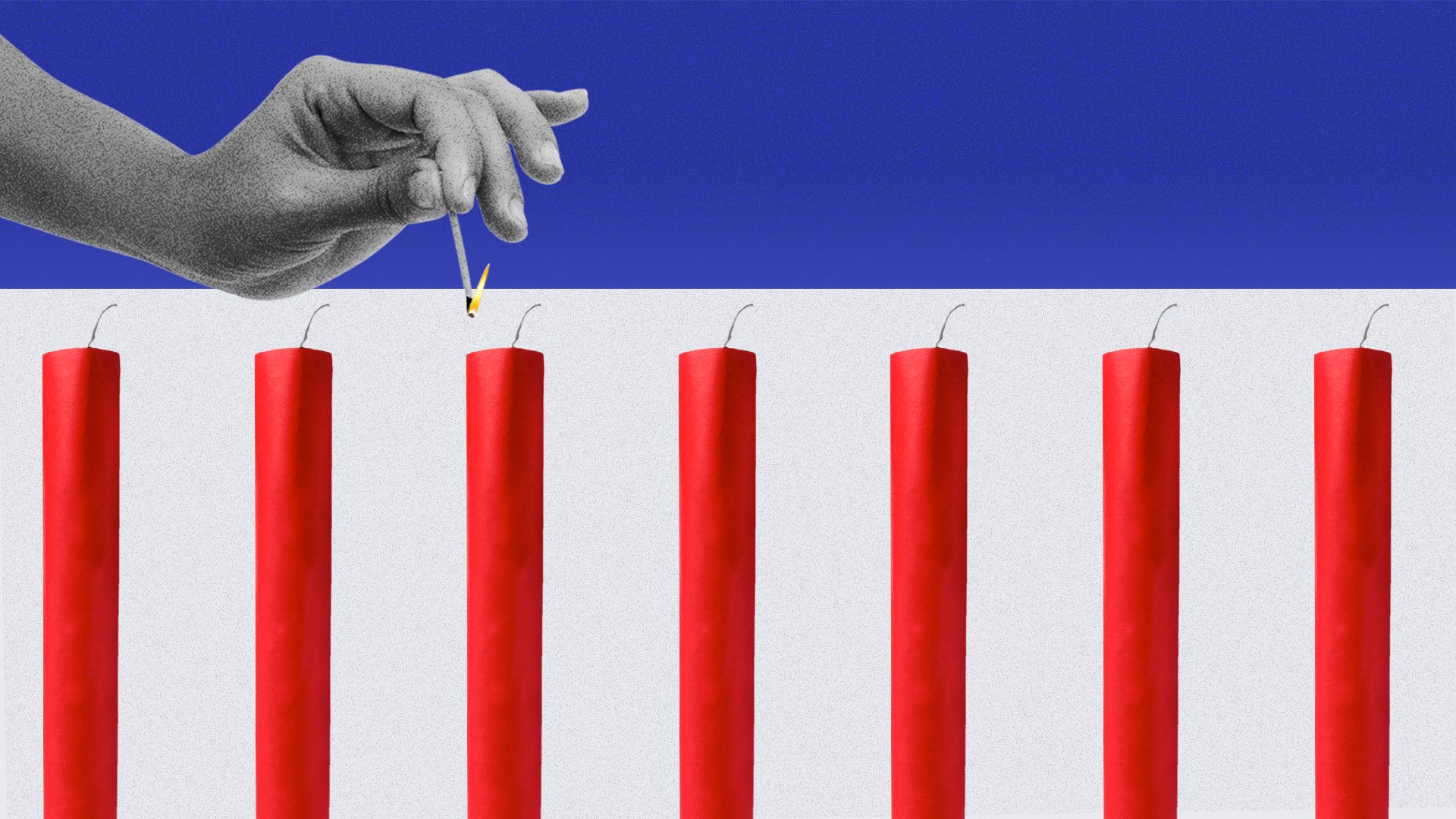 Pipe bombs sent to prominent Democrats were a wired manifestation of the toxic trajectory of the country's politics, with President Trump and the media blaming each other for the worst terror-by-mail campaign of the post-9/11 era.
The big picture: With President Trump fanning fear ahead of the midterms a dozen days from now, the nation's political discourse is on track to be even hotter and more volatile during the 2020 campaign than it was when he ran the first time. We are playing with fire — and there are piles of dry kindling stacked throughout America and American politics right now. 
Right wingers, led by radio hosts, quickly claimed (without evidence) a conspiracy against them.
"On the pro-Trump Internet, ... the once-fringe idea of politically motivated 'false flag' attacks [was pushed] into the mainstream," per the WashPost.
Extreme language can inspire extreme deeds.
When Trump calls the media the "enemy of the people," some are bound to take that literally.
Why it matters: "The discovery of pipe bombs targeting prominent Democratic politicians and CNN is raising the threat of election-season violence largely unknown in the U.S. — and prompting uncomfortable questions about the consequences of leaders' increasingly vitriolic rhetoric," AP's Steve Peoples and Ken Thomas write.
The WashPost's Dan Balz calls it "a time of the politics of the apocalypse — an all-or-nothing view of the difference between winning and losing an election and of holding power or not holding it. ... This has been on the rise for a long time."
Capturing the mood of these times of fury on both wings, the N.Y. Times' lead headline is: "Bombs in Envelopes Jolt A Nation Riven by Vitriol."
The WashPost lead: "Bombs targeting Democrats leave U.S. on edge."
At a rally in Wisconsin last night, Trump followed a message of unity with an attack: "The media ... has a responsibility to set a civil tone and stop the endless hostility and constant negative and oftentimes false attacks."
The feeling was mutual. Shortly afterward, the headline on CNN was: "TRUMP ATTACKS MEDIA HOURS AFTER BOMB SENT TO CNN."
Fox News' Sean Hannity, with graphics saying "MEDIA BIAS" and "DOUBLE STANDARD," said in his opening monologue: "We have been saying for months that the rhetoric we're seeing, the mobs we're seeing in this country, that everybody needs to calm down ... before someone gets hurt — or worse."
CNN Worldwide President Jeff Zucker said in an extraordinary statement for a news executive: "There is a total and complete lack of understanding at the White House about the seriousness of their continued attacks on the media."
Sarah Sanders replied on Twitter that Trump "asked Americans 'to come together and send one very clear, strong, unmistakable message that acts or threats of political violence of any kind have no place in the USA' Yet you chose to attack and divide. America should unite against all political violence."
Be smart: A sad, highly predictable cycle ignites with every new spark: attacks on the media, wild claims of conspiracy, Twitter taunts and tirades, and breathless, endless cable coverage.
Spark this much dry kindling, and it's easy to see this burning into something far worse than mail bombs. 
Go deeper:
Go deeper