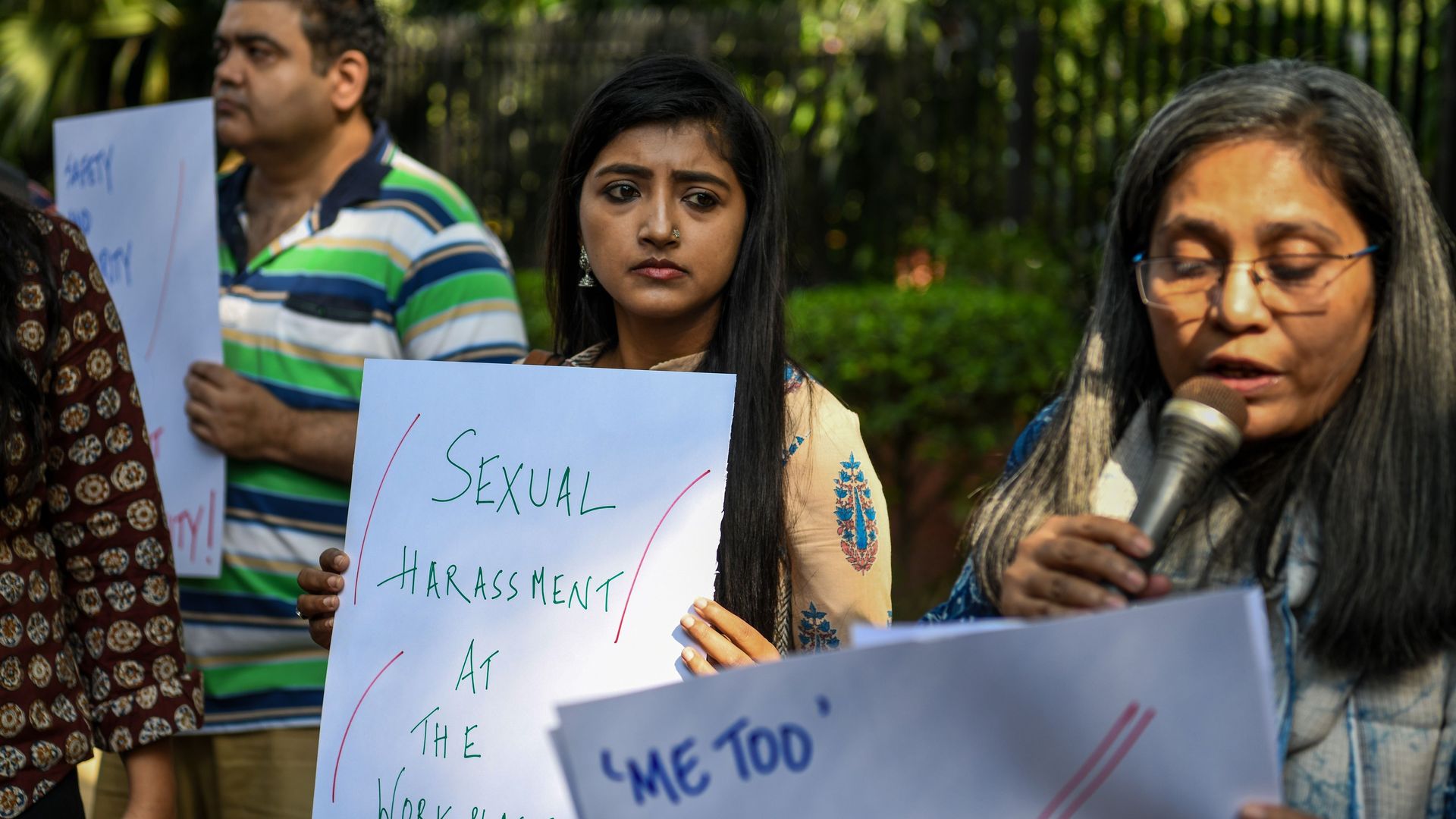 While the United States continues to grapple with the #MeToo movement, India is experiencing a reckoning which was a long time coming.
The big picture: In India, only 6.6% of sexual harassment cases in 2016 resulted in a conviction, according to the Times of India. Accusing a sexual harasser or abuser is hard enough no matter where the victim is — but in India, where men hold even more prominent cultural power, the challenge is greater, Sonia Faleiro writes in Foreign Policy.
What's happening: Women in India were wary of putting their hope in the kind of #MeToo reckoning they saw in the U.S. But after actress Tanushree Dutta publicly spoke of her assault by another actor in 2008, "Indian Twitter blew up," FP reports, leading to a wave of other allegations against powerful men.
Last week, India's junior foreign minister M.J. Akbar was forced to step down after at least 20 women alleged that he sexually harassed them.
A HuffPost India article last week detailed sexual assault allegations against well-known Bollywood director Vikas Bahl.
A Times of India editor in Hyderabad, KR Sreenivas, was put on "administrative leave" earlier this month after seven women accused him of sexual misconduct, FirstPost reports.
What's next: Indian Prime Minister Narendra Modi "has never been held to account...for his behavior towards women," FP reports. He was challenged by the Indian National Congress, an opposition party, over Akbar's alleged victims and his defamation filing against one of the women who accused him, FirstPost reported.
Keep in mind: India has a general election in 2019 — during which Modi is up for re-election — and according to the Carnegie Endowment for International Peace, women are a key demographic because they vote in much higher numbers than men.
The bottom line, from Foreign Policy: "Indian women have identified their predators, and they will determine what happens next."
Go deeper:
Go deeper