Scrapping INF Treaty would spell trouble, but it could get even worse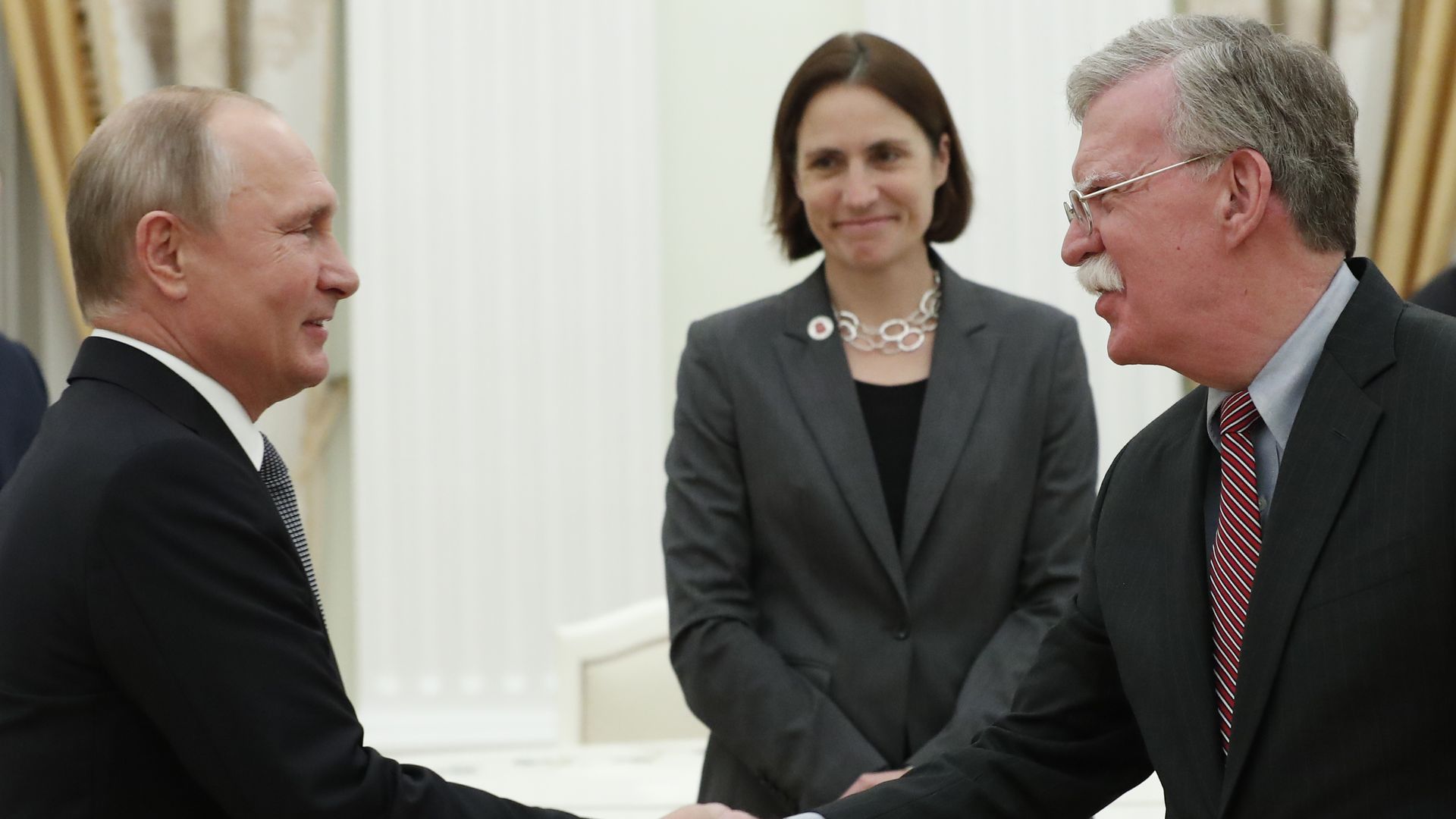 In a visit to Moscow on Tuesday, national security adviser John Bolton delivered President Trump's message that the U.S. will withdraw from the 1987 Intermediate-Range Nuclear Forces (INF) Treaty, a Reagan-era nuclear deal that has been credited with helping end the Cold War. If the INF Treaty collapses, which seems likely, there will exist only one remaining treaty — the New Strategic Arms Reduction Treaty (New START) — regulating U.S. and Russian nuclear stockpiles.
Why it matters: In addition to the INF Treaty, the U.S. and its allies now risk losing another, more vital arms control agreement that provides predictability and transparency regarding Russia's nuclear arsenal. If Trump and Putin fail to extend New START, an even more dangerous phase in U.S.-Russia relations will be on the horizon.
The details: New START caps the countries' strategic nuclear arsenals at 1,550 deployed warheads and 700 bombers and missiles equipped to carry them. The treaty is due to expire in 2021 unless Trump and Putin agree to extend it by 5 years, as allowed for in Article XIV of the agreement. Without New START, there would be no legally binding constraints on the world's two largest nuclear arsenals for the first time since 1972.
The INF Treaty is the second nuclear nonproliferation agreement, after the Iran nuclear deal, that Bolton has urged Trump to scrap, in what appears to be another step down a path of renewed global nuclear competition. Unconstrained U.S.-Russian nuclear competition — in both numbers and technology — could spark an arms race as dangerous as that of the early 1980s and add billions in additional costs to an already unrealistic U.S. nuclear upgrade plan.
The bottom line: Key Republican and Democratic senators are on record in support of a New START extension. When Trump and Putin meet in Paris this November, they could take advantage of a vital opportunity for nuclear-arms restraint by extending New START and renewing talks on further verifiable reductions in their deadly nuclear arsenals.
Greg Thielmann is board member of the Arms Control Association and a former State Department adviser.
Go deeper