Bolsonaro could be Brazil's Duterte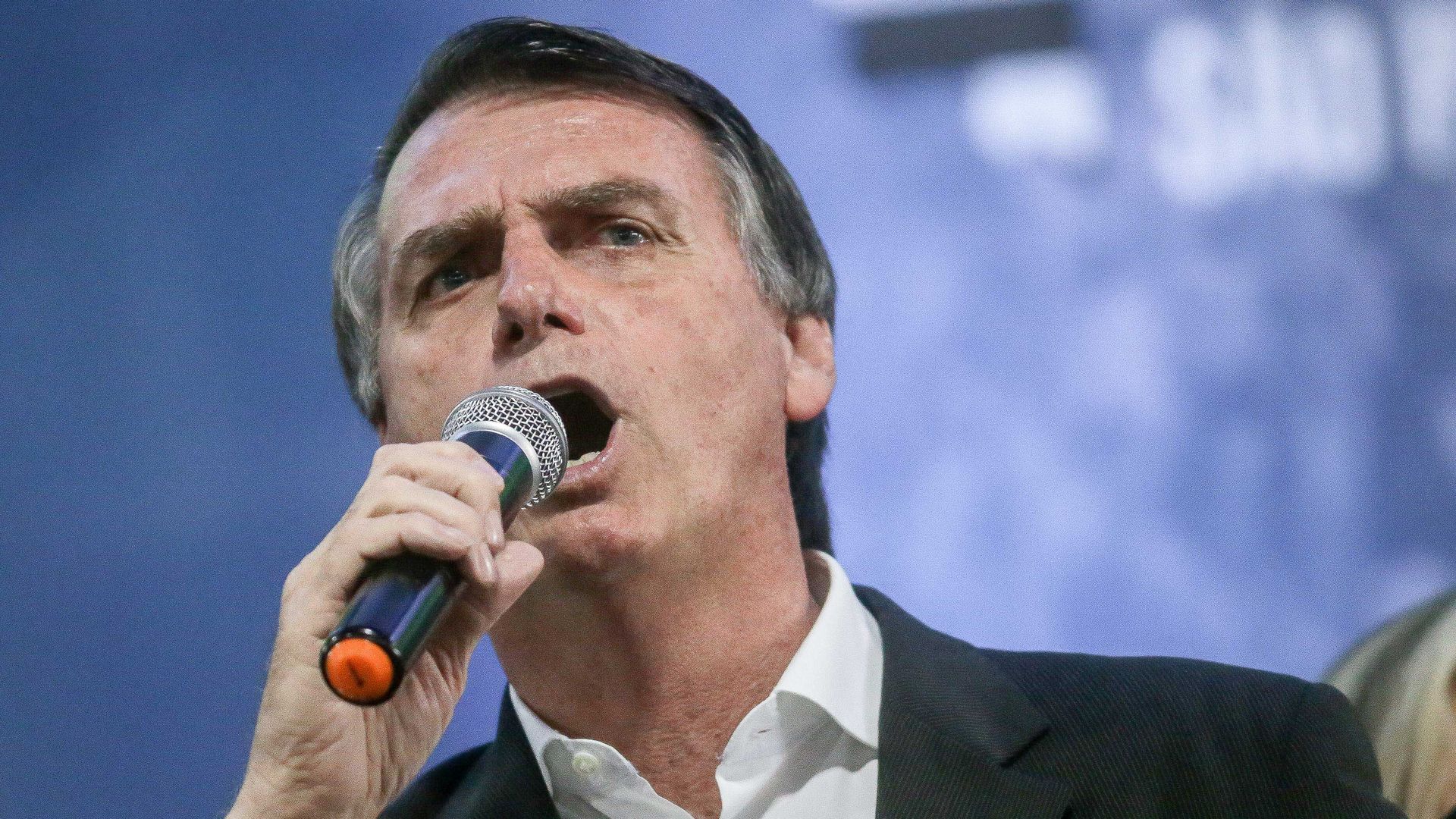 Jair Bolsonaro, the far-right candidate for Brazil's presidency, is heading into this weekend's runoff elections with a 14-point lead over his competitor, Fernando Haddad, after garnering a 46% plurality in the first round three weeks ago. Although Bolsonaro has drawn comparisons to a wide range of populist figures, including President Trump, he may have the most in common with Philippine President Rodrigo Duterte.
The big picture: The two come from different ideological backgrounds — Bolsonaro a conservative former army captain, Duterte a professed socialist and champion of some liberal social programs. But they share an authoritarian, populist style that promises tough action, simple solutions to complex problems, and a strongman's determination to fight crime and right the economy — ignoring democratic norms if needed.
The background: Brazil and the Philippines were both autocracies in the mid-1980s. But Duterte and Bolsonaro emerged in relatively abnormal circumstances in their countries' modern histories, capitalizing on weak political parties and positioning themselves as outsiders who can bring radical change when elites and democracy itself have lost public trust.
In the Philippines, despite strong growth under Duterte's predecessor, inequality remained high and state institutions fragile or nonexistent, infuriating working- and middle-class Filipinos.
In Brazil, a massive spike in violent crime, a record-high murder rate, graft, and an economic downturn led to a curdling of popular support for mainstream parties and candidates, paving the way for Bolsonaro's breakthrough.
Both men have appealed to citizens with promises of extreme responses to crime and corruption and, in Duterte's case, action:
Duterte has waged a "war" on drugs, condoning widespread extrajudicial killings of drug traffickers, drug users and many people without any drug connection at all.
Bolsonaro has pledged to give the Brazilian police, already some of the most militarized in South America, freer rein to shoot at suspects and has at least hinted at approving Duterte-style killings while waxing nostalgic about Brazil's dictatorship.
More than leaders in Poland and Hungary, Bolsonaro and Duterte thrive on brutal and misogynistic rhetoric, such as rape jokes, and remain largely invulnerable to public outrage against norm-breaking.
What's next: Like Duterte, Bolsonaro will probably try to assume vast power from day one if he wins. And since scandal and offensive rhetoric fail to dent his public image, his opponents will have all the more trouble combating him.
Joshua Kurlantzick is Senior Fellow for Southeast Asia at the Council on Foreign Relations.
Go deeper: This piece first appeared in earlier form as "Bolsonaro Ascendant" (I and II) at cfr.org.
Go deeper