Report: Amazon, Palantir play "key" role in immigration enforcement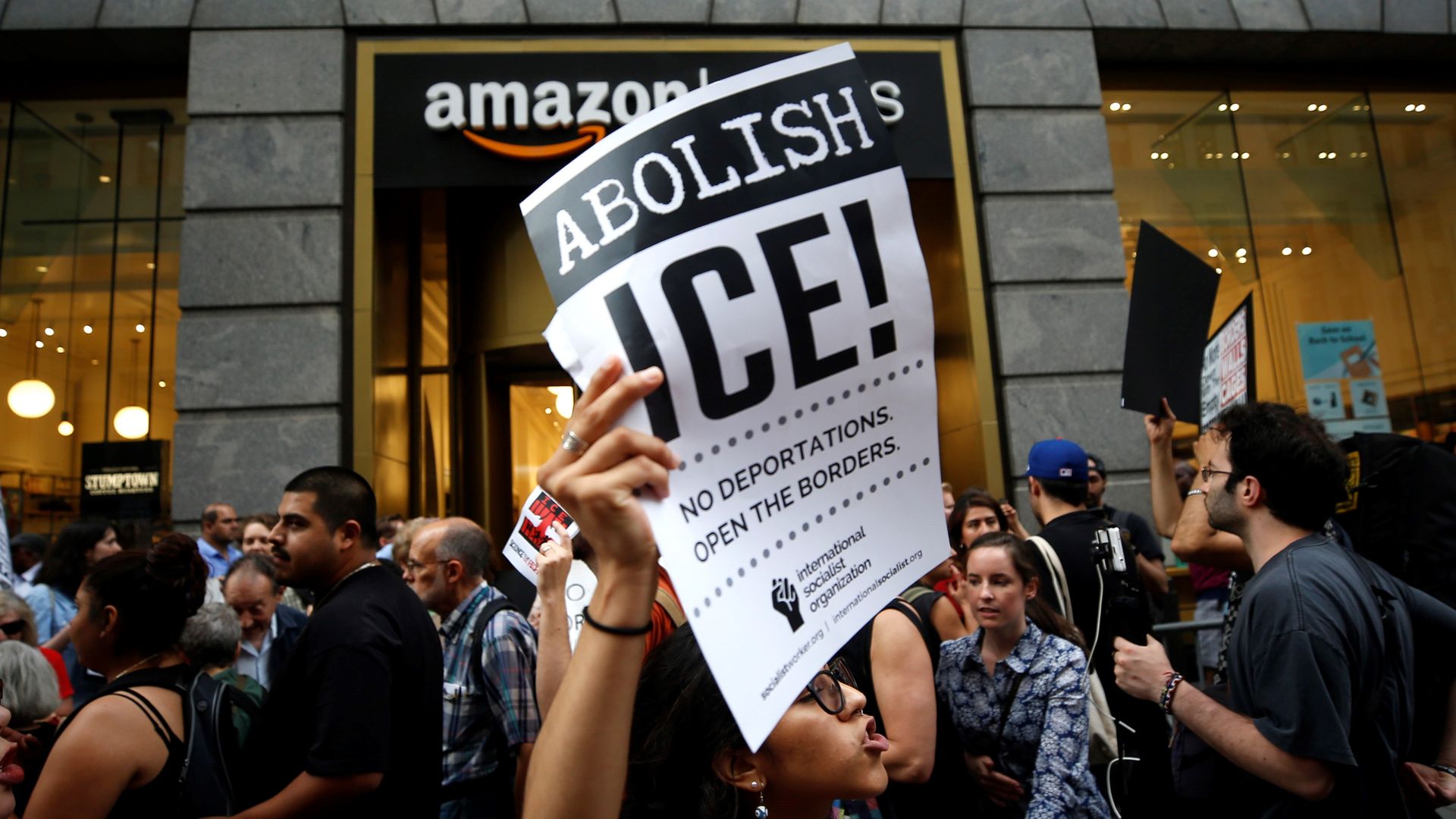 A new report commissioned by advocacy groups finds that multiple tech companies, including Amazon and Palantir, are of special importance to immigration authorities "due to their involvement at multiple points in the profiling, tracking and apprehension of undocumented persons."
Why it matters: Contracts between major tech companies and immigration enforcers have drawn attention from the companies' employees, some of whom object to playing a role in the Trump administration's immigration crackdown.
The report draws on various sources, including congressional testimony, contracting records and agreements between agencies.
It was backed by Mijente, the National Immigration Project, and the Immigrant Defense Project and produced by Empower LLC, an outside research firm.
Details:
"Recent changes in policy and contracting at ICE have heightened the importance of two key tech companies: Amazon, as the primary cloud service provider for the agency, and Palantir, as a provider of case management that can be integrated with key DHS fusion centers and local and state law enforcement agencies," says the report.
It describes how the companies work with United States immigration authorities.
Palantir provides "management and analysis software for local, regional and federal law enforcement, including key ICE systems" and Department of Homeland Security facilities in California.
Amazon hosts "numerous state and federal data systems key to immigration enforcement, including Palantir's Integrated Case Management system at ICE," the report says, and works with state and local law enforcement that feed into DHS systems.
Amazon is also under pressure from competitors who say it has an unfair advantage to win a Pentagon cloud computing contract known as JEDI.
Winning government contracts typically requires authorizations for handling government data in the cloud, and Amazon has far more of those than many of its competitors — including Oracle, Microsoft and Akamai.
"[Amazon] has made wide use of these authorizations, serving as DHS's database for immigration case management systems and biometric data for 230 million unique identities, mostly fingerprint records, as well as 36.5 million face records and 2.8 million irises," said Mijente in a blog post.
Neither Amazon nor Palantir responded to requests for comment.
Big picture: Opponents of the Trump administration's immigration policies have focused on the relationship between Silicon Valley companies and immigration enforcement.
Mijente sponsored a protest earlier this year at Palantir's offices.
The Refugee and Immigrant Center for Education and Legal Services in Texas decided not to accept a donation from Salesforce unless the company cancelled any contracts with Customs and Border Patrol.
Go deeper: Read the full report
Go deeper