Landmark of Cold War I cast aside for the next one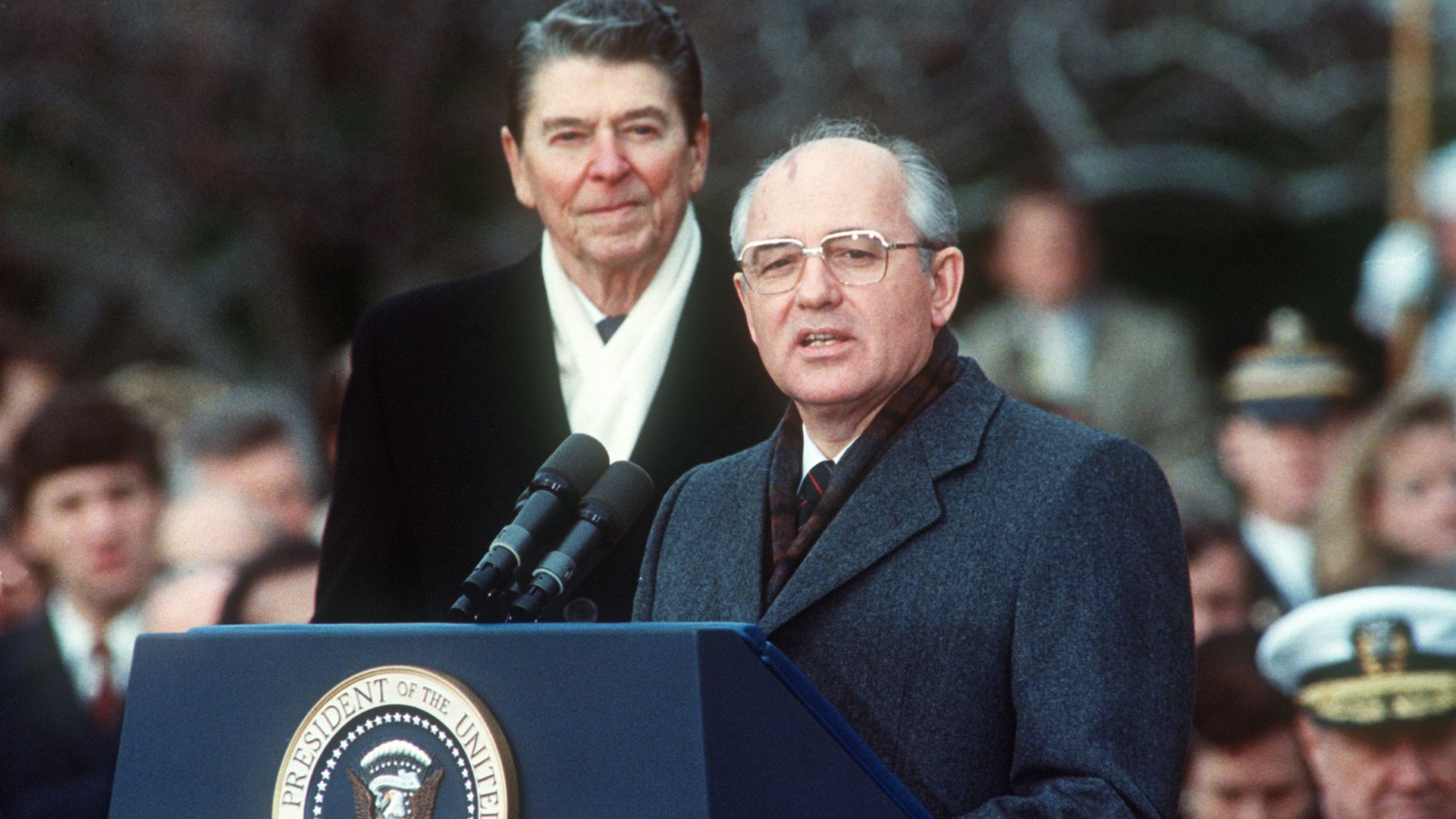 National Security Adviser John Bolton reiterated to his Russian counterpart today in Moscow that the U.S. is pulling out of an arms control treaty signed in 1987 by Ronald Reagan and Mikhail Gorbachev, Axios' Jonathan Swan reports.
The big picture: Trump isn't just walking away from a landmark of the last Cold War, he's looking ahead to the next one. One of the key arguments for withdrawing from the treaty is that the U.S. will need every tool at its disposal to confront the military rise of China.
The backdrop: The Obama administration first accused Russia in 2014 of violating the treaty — which bans ground-launched ballistic and cruise missiles with ranges of 500 to 5,500 kilometers — after the test of a prohibited cruise missile. The Trump administration announced last year that instead of returning to compliance under U.S. pressure, Russia had begun deploying the missile.
After Trump told reporters "we're going to terminate the agreement" on Saturday, the Kremlin accusedTrump of a reckless step that "will make the world more dangerous." Gorbachev has also spoken out against the move:
"Do they really not understand in Washington what this can lead to?"
— Gorbachev to the
Interfax
news agency
Steven Pifer of the Brookings Institution argues for Axios Expert Voices that Trump has made a mistake and "it is not evident that the administration tried hard to save the treaty, perhaps because Bolton has long favored ditching it." His argument against:
"Withdrawal entails significant costs for U.S. and Western security. Russia will be free to deploy without constraint the 9M729 and other land-based intermediate-range missiles, for which the U.S. military currently has no counterpart." 
"The decision has already sparked controversy within NATO, with officials in Berlin, Rome and Paris criticizing Trump's announcement. Finally, absent a strong public case regarding the Russian violation — that information is highly classified — Washington will widely be seen as responsible for the INF Treaty's demise."
Matthew Kroenig of the Atlantic Council contends that while consulting with allies and staging a formal policy rollout would have been more effective, Trump has ultimately made the right decision. His argument for:
"Why be single-handedly constrained by an agreement that Russia has no intention of complying with?"
Kroenig says as great power competition with China heats up, ground-based missiles positioned in Asia — perhaps in Japan or Australia — will be cheaper and more effective than the alternatives. If you agree that "the rise of China is the major threat of the 21st century," he says, this is the logical step.
What to watch: Kroenig says because it takes 7-10 years to develop a new missile system, steps like adapting sea-launch missiles for use on shore might be needed. "It doesn't look great to say, 'we're pulling out of this treaty. Wait for an update from us in 10 years,'" he says.
Go deeper