What could happen if the Brexit negotiations break down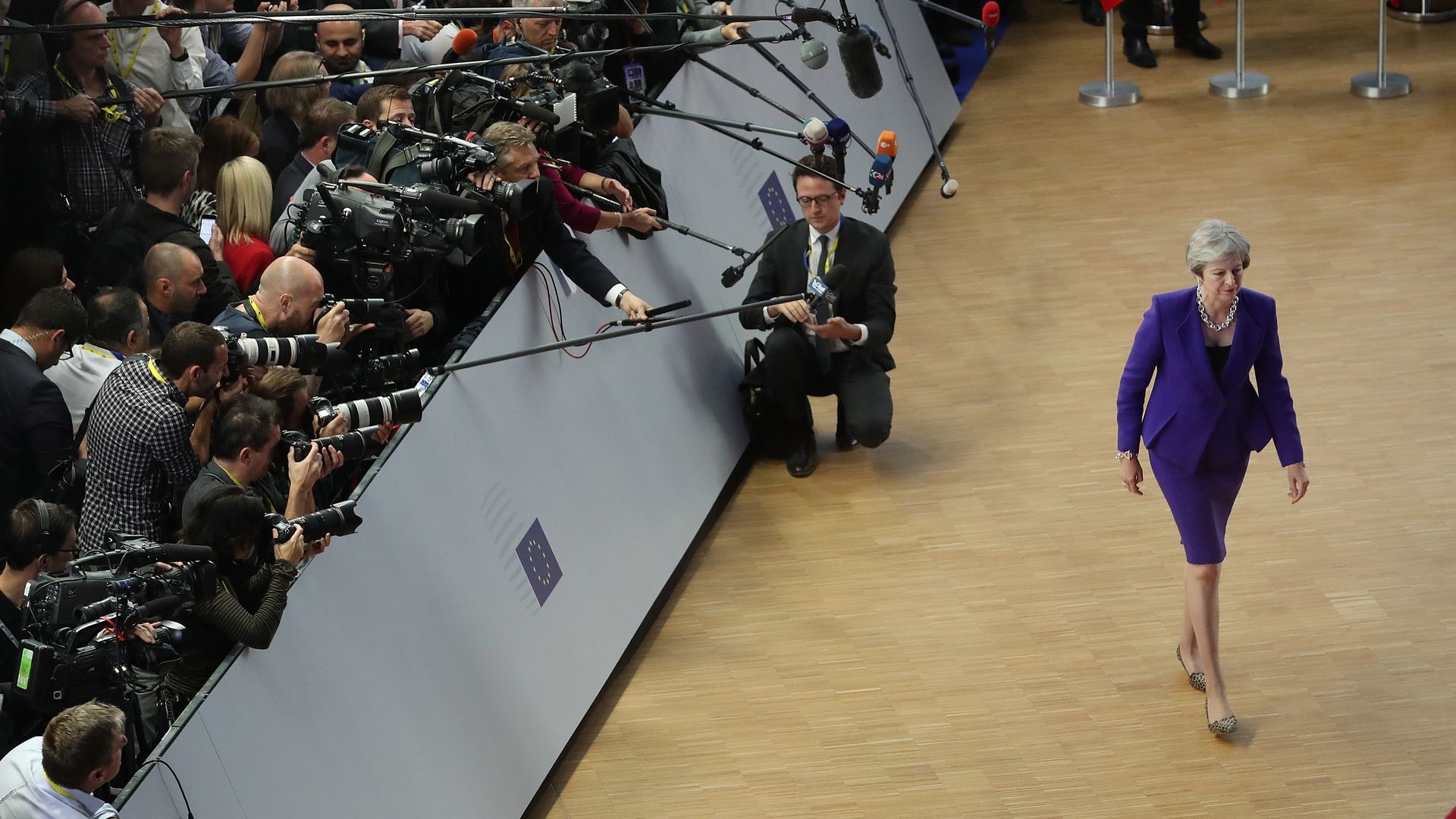 Wednesday's summit of European leaders, which followed another meeting last month, failed to produce a breakthrough in the Brexit talks. If the negotiations fall apart, it could precipitate a major crisis for Britain's government and Parliament.
The big picture: If the March 29, 2019, withdrawal date comes without an agreement on the day-to-day U.K.–EU relationship, MPs would urgently seek a way to resolve the crisis. All potential solutions are likely to involve a U.K. request to delay withdrawal, with a new referendum being the most likely outcome.
Delaying the withdrawal is allowed under Article 50 of the Lisbon Treaty. However, it would need the unanimous consent of the other 27 members of the EU. Beyond this commonality, there are various ways in which events could unfold:
Continued talks. This would meet resistance in both London and Brussels: If no agreement has been made in the past two years, why should we expect one in a few months?
Theresa May's resignation. Whether the prime minister resigns or gets deposed, her replacement could seek to re-open talks with the EU and ask for more time. But Conservative MPs might be reluctant to depose May: There is no consensus about who should replace her, and her successor would face the same intractable problems.
A new general election. There has been some speculation that May might call a snap election, and seek a mandate to go back to Brussels to break the deadlock. However, a general election might lead to a Labour government (or Labour-led coalition), a possibility that terrifies virtually all non-Labour MPs. The chances of MPs' voting for an election that might produce this outcome are negligible, but May could propose it as a way of frightening her party into line.
A new referendum. A "People's Vote" march is taking place in London this weekend in what is likely to be the largest demonstration since the march against the Iraq war 15 years ago. There's a growing sense that a referendum could be the best way to resolve Britain's greatest peacetime crisis in living memory. May opposes the idea, but could have little choice if engulfed by crisis.
The bottom line: A referendum would likely generate a majority vote to remain in the EU: The UK's demographics are moving in a pro-EU direction, and some voters have changed their minds. Faced with the prospect of a no-deal Brexit and its economic harm, more voters may opt for the safety of the status quo. But, as in 2016, the outcome would be far from certain.
Peter Kellner is a visiting scholar at Carnegie Europe.
Go deeper