This EV startup for adventurers has a two-part strategy for success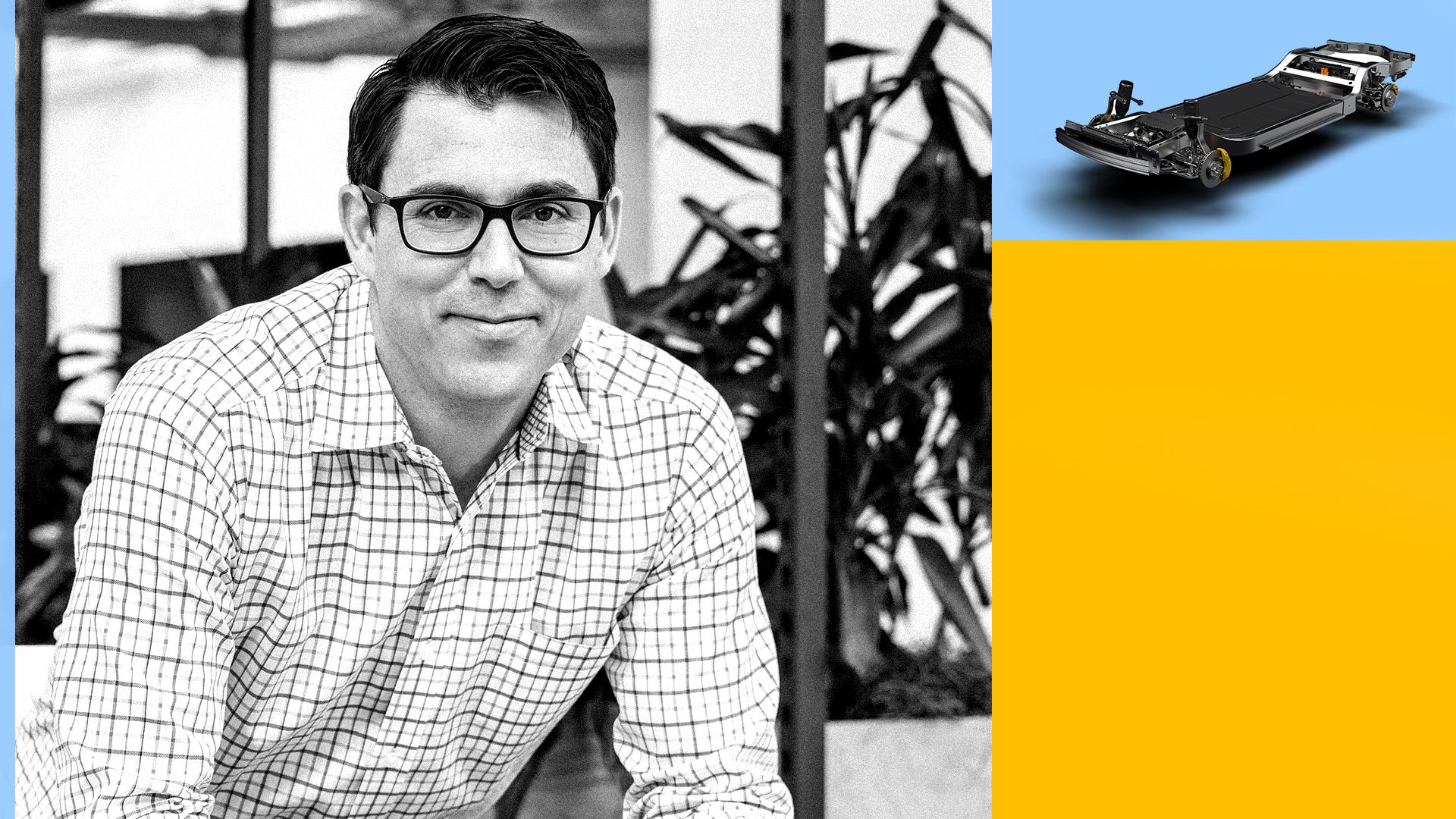 RJ Scaringe thinks he's figured out the smart play for his electric-vehicle startup Rivian: make EVs for outdoor adventurers and then license his battery-powered "skateboard" to other companies that want to sell automated EVs, but lack their own technology.
Why it matters: After 100 years, automobiles are shifting away from gasoline, steering wheels and personal ownership. But there are a lot of electric-vehicle startups out there, and most have had a rocky go of it. You'd better have a solid business plan, innovative technology, manufacturing chops and plenty of capital. Scaringe — a lifelong car nut and a Clark Kent lookalike — claims to have it all.
"We're building a business in the middle of an earthquake."
— RJ Scaringe
The details:
Rivian will launch two battery-electric vehicles in 2020: a five-seat pickup and a seven-passenger SUV. They'll be unveiled at the Los Angeles auto show in November.
The vehicles will offer a choice of three battery packs under the floor, the largest good for up to 450 miles of range, and four wheel-mounted motors for exceptional torque and maneuverability.
That EV "skateboard" will be the foundation for as many as six Rivian vehicles.
The first vehicles will launch with semi-automated (Level 3) capability, but the digital architecture will support fully self-driving technology (Level 4).
For well above $75,000, you can probably buy your own Rivian. But you're more likely to subscribe to Rivian's lifestyle services: hire an off-road EV for a ski weekend, camping trip and other adventures.
Yes, but: Rivian has plenty of competition. Tesla proved electric cars can be cool, inspiring copycats like Faraday Future, NIO and Lucid Motors. There are even some EV truck manufacturers, Workhorse and Bollinger.
The twist:
Rivian is also plotting a B2B play to share its technology with other companies.
The EV skateboard can be modified to suit many types of vehicles, as well as things like jet skis or snowmobiles.
Rivian has raised $500 million to date, mostly from Dubai-based conglomerate Abdul Latif Jameel, a big Toyota and Lexus distributor with ties to MIT. Scaringe says he's currently in talks with six potential strategic investors, both tech giants and automakers, but won't name them.
The backstory:
Scaringe grew up restoring classic Porsches in Florida, and went to MIT for a Ph.D. with the intention of starting a car company.
He founded Rivian in 2009, in the middle of the global recession, and managed to raise a few million dollars for a sporty battery-powered coupe.
By 2011, he realized he was off track and redefined the company's mission around the future of mobility.
Today Rivian has 450 employees, half at its engineering center in Plymouth, Mich., the rest in Silicon Valley and Irvine, Calif. Its board and management team are led by auto industry veterans from companies like McLaren, Fiat Chrysler, Toyota and Ford.
The bottom line: If Rivian succeeds, the sharing of its technology could be one of the biggest reasons. Imagine companies like Amazon, Starbucks or Apple launching their own mobility fleets on top of a generic platform.
Go deeper