May moves to buy time as Brexit deadlock continues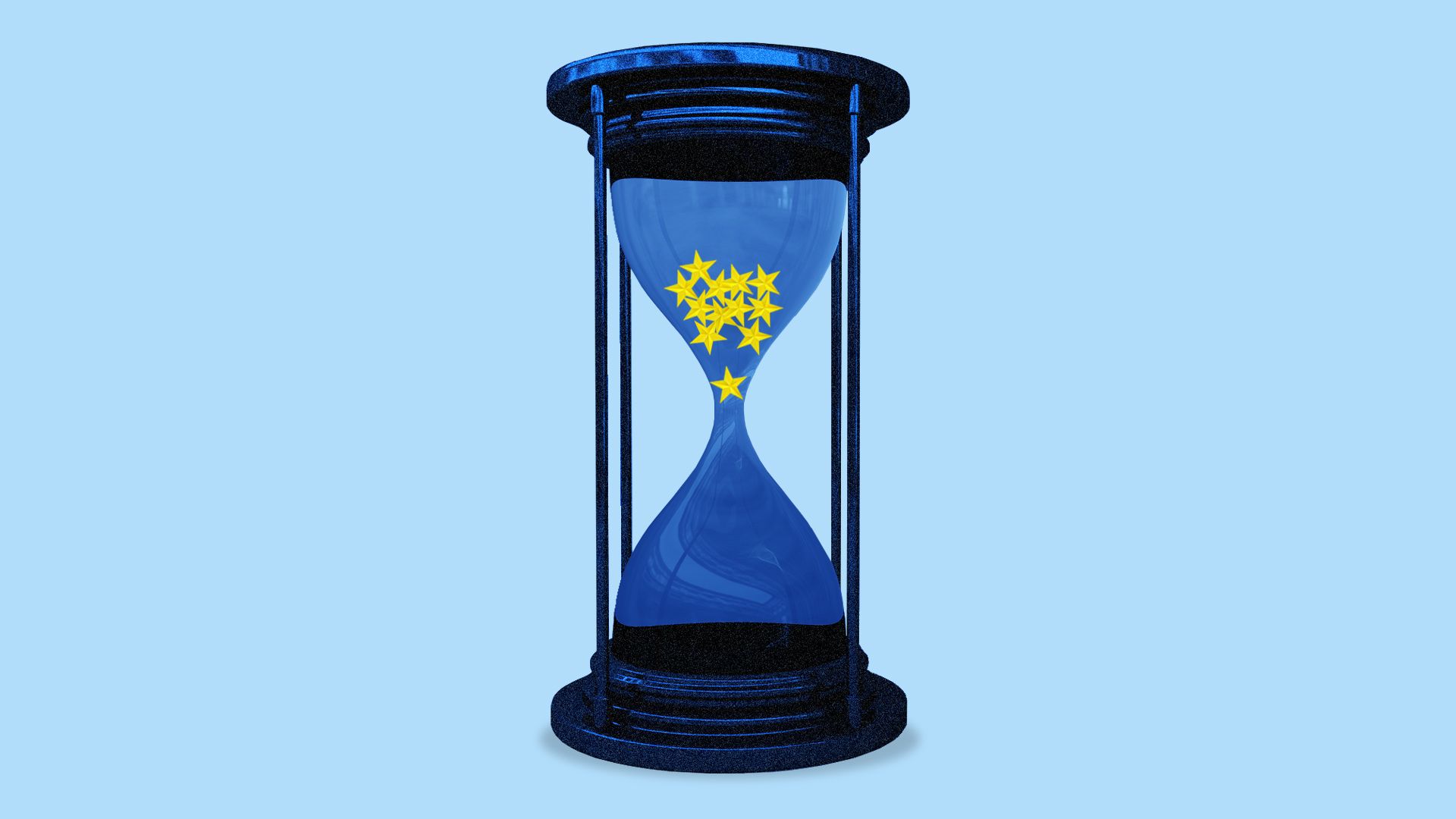 With Brexit talks still deadlocked, U.K. Prime Minister Theresa May has been forced to admit she may need more time to finalize a divorce agreement with the EU.
The bottom line: "May is under increasing pressure from her colleagues to take a tougher line, but in reality she is going to have to accept more compromises to broker any deal with Brussels," the FT's Sebastian Payne emails. "The outlines of a withdrawal agreement are clear. Now it is all about the tricky politics of selling it to a cabinet, party and country that are running out of patience."
The key remaining issue is what will happen on the border between Northern Ireland, a constituent of the U.K., and the Republic of Ireland. A "hard" border could have implications not only for economics, but for peace. But the EU's terms for a "soft" border don't past muster with many in Northern Ireland and May's Conservative Party.
Payne says that May "went to Brussels this week desperate for a Brexit breakthrough and left empty-handed."
"She has now suggested extending the so-called 'transition' phase, in which the U.K. remains closely tied to the bloc but with no say in its laws and regulations. She hopes that this will give her the political space to advance her proposals for the future of the Irish border and make progress on a long-term free trade deal. "
The problem: "Her party's already skeptical members of parliament are very skeptical of her plan."
"Negotiations will pick up again shortly, but May's breakthrough won't come until the Irish border conundrum is resolved. EU negotiators are standing firm, knowing that time is on their side and the U.K. will suffer more if it leaves the bloc next March without a formal agreement. The markets have yet to wake up to the real prospect of a messy 'no-deal' exit. If they do, it could focus the minds of the prime minister and her party."
Peter Foster, the Telegraph's Europe Editor, has this withering analysis of where things went wrong for May:
"Right from the start... when she made herself hostage to totally unrealistic promises on completely leaving the single market, customs union and European Court of Justice, May has failed to explain that the Brexit process must be taken one step at a time."
"It could have been conceived as a series of 'lily-pads' to take us safely to the other side of the pond. Instead the fantasy of a giant leap was preserved. ... This indeed, is the story of the political mishandling of Brexit. A catalogue of desperate denials many of which have, over time, turned out to be false."
Meanwhile, Stephen Paduano argues in Foreign Policy that "Britain isn't just losing Brexit. Europe is winning it."
"The biggest winners of Brexit — Dublin, Frankfurt, and Paris — have proved to be at least as effective at pulling business in as the Brexiteers have been at pushing business out."
Go deeper