Saudi crown prince betting on Trump to help resolve Khashoggi crisis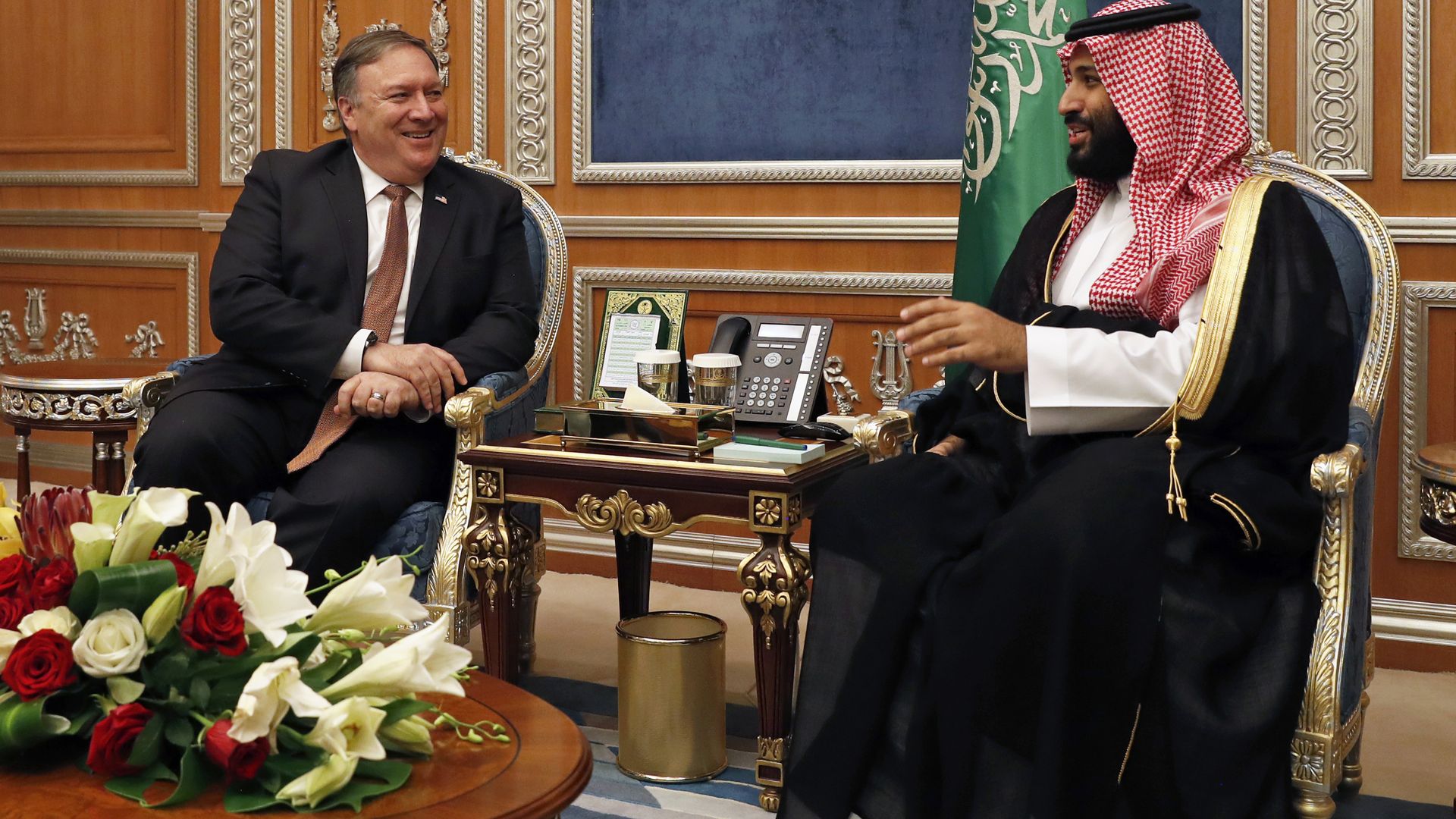 If U.S.–Saudi relations depended solely on President Trump's and Crown Prince Mohammed bin Salman's (MBS) wishes, the tragic Khashoggi affair would likely have blown over by now. But Congress and the U.S. media appear unwilling to let that happen, while MBS' opponents in Saudi Arabia might seize on this fiasco to question his fitness to rule.
The big picture: MBS is gambling that he can escape this crisis by doubling down on support for the Trump administration's policies — confronting Iran, making up for lost Iranian oil, and bankrolling U.S. efforts in northeast Syria, among others. This approach could work with Trump, who concocted the story of potential rogue agents as culprits and compared the unjust treatment of MBS to that of Justice Brett Kavanaugh. But it remains to be seen whether attempts to smooth relations at the top can withstand tensions from below.
Members of Congress have increasingly become convinced that Khashoggi was murdered in the Saudi consulate in Istanbul on high-level orders. This is true not merely for Democrats, and not merely for known Saudi critics. Senator Lindsey Graham, for example, voiced his unqualified condemnation, along with Senators Bob Corker, Marco Rubio and others. This crowd will only expand if the House changes hands next month. The crown prince is about to find out whether his investment in Trump will protect him from potential Congressional action, such as blocking arms sales or defunding support for Saudi-Emirati operations in Yemen.
On the Saudi side, internal debates are far less public and media reports of dissent within the royal family far less substantiated. Still, MBS' remarkable ascent, coupled with his rash decisions on Yemen, Lebanon and Qatar, has undoubtedly rankled some, and the fallout from Khashoggi's murder validates their concerns.
Reality check: U.S. and Saudi internal dynamics are closely intertwined: If the Trump approach prevails, and U.S.–Saudi relations revert to quasi-normalcy, dissenting Saudi voices likely will remain quiet; if Congress acts, the domestic Saudi case against a crown prince who mismanaged the country's most important bilateral relationship will strengthen.
The bottom line: It would be foolhardy to bet against the Trump–MBS duo getting its way: While a penchant for fabrication on Trump's part and for intimidation on MBS' has gotten both men into trouble, it's also what put them in power. But Trump's rush to look past Khashoggi's murder paradoxically has made any cover-up harder for other Americans to swallow or the administration to pull off — as evidenced by Treasury Secretary Mnuchin's last-minute decision not to attend a financial conference in Riyadh. The foundation of the bilateral relationship has doubtless gotten shakier.
Robert Malley is president and CEO of the International Crisis Group.
Go deeper