Trump's "Pocahontas" power play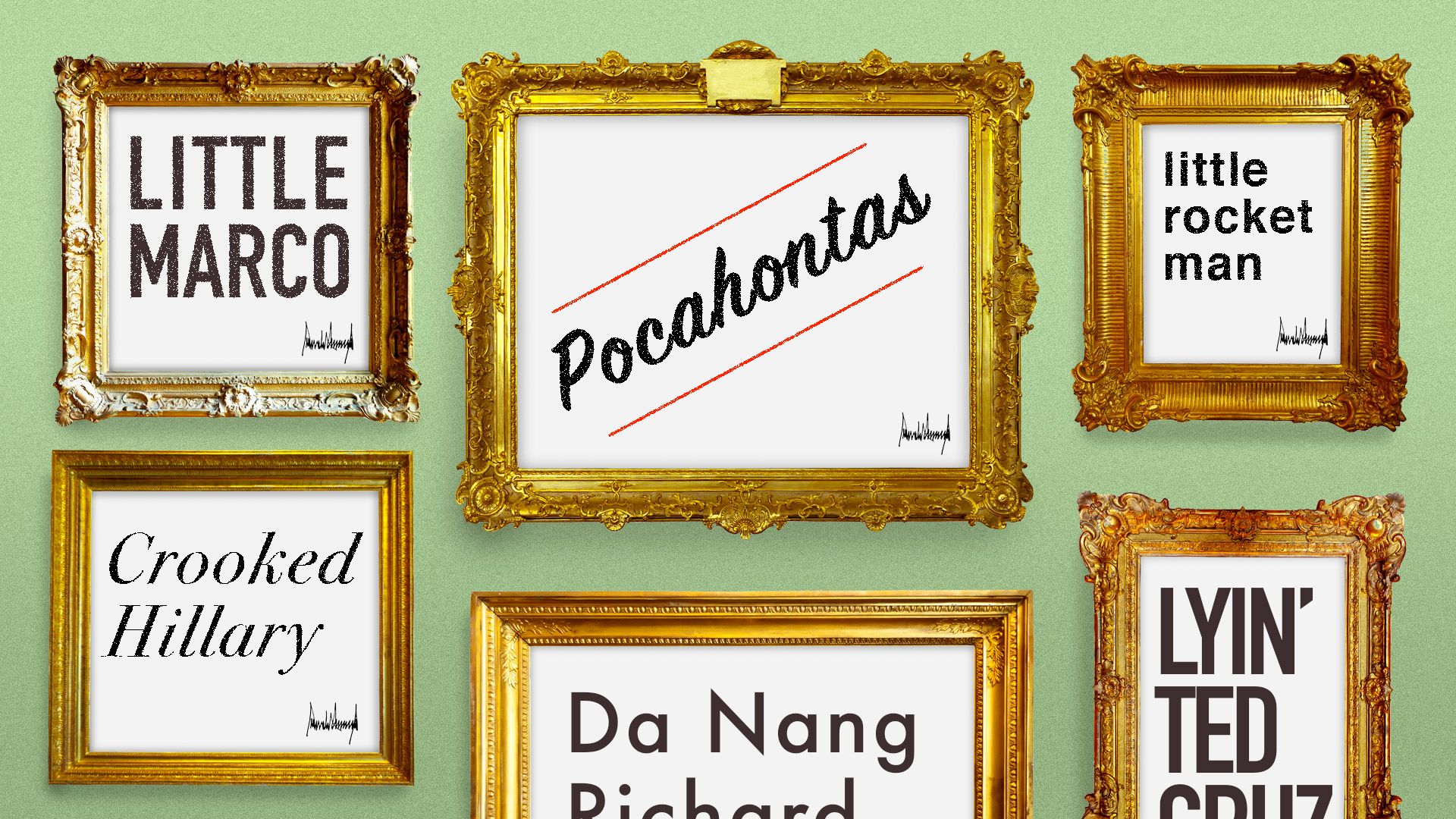 President Trump loves nothing more than when his opponents try to litigate his insults, as Sen. Elizabeth Warren (D-Mass.) is trying to do with "Pocahontas," a staple riff at his rallies.
The big picture: Trump's never more comfortable than on this terrain, and "Pocahontas" is one of his all-time favorites, according to aides.
But he also is especially proud of "Da Nang Dick" Blumenthal, for the exaggerated military record of the Democratic senator from Connecticut.
Trump also regularly hits "Sleepy Joe" Biden these days.
In Trump's mind, his 2016 nicknames weren't a sideshow, but were one of the central reasons he crushed his primary opponents ("Little Marco" Rubio, "Low Energy Jeb" Bush, "Lyin' Ted" Cruz) and ultimately beat "Crooked Hillary."
Trump thinks names matter — in retail marketing and in politics:
The president spends inordinately more time thinking about how to brand and sell policies than he does studying the details of the policies themselves.
For example, one of the moments that most animated him during the tax reform debate was when he came up with the idea of calling the bill the "Cut, Cut, Cut Act." He still rues that the "stiffs" in Congress insisted on calling it "the Tax Cuts and Jobs Act of 2017."
Trump's nicknames slyly capitalize on and exacerbate a real or perceived weakness:
A former aide said: "You hear them and laugh, and then they say: 'You know what? He's kinda right!'"
Be smart ... Trump's "Pocahontas" nickname, as offensive as it may be, has been wickedly effective from his point of view:
It clearly got in Warren's head: The fact that she got a DNA test, let alone is doing a massive rollout of the results, shows how much it's on her mind.
It's both evocative and provocative: It now becomes a symbol of whether she's honest. Did she lie to advance her academic career?
P.S. Tweets by a couple of leading Dems:
Jim Messina, Obama's 2012 campaign manager: "Argue the substance all you want, but why 22 days before a crucial election where we MUST win house and senate to save America, why did @SenWarren have to do her announcement now? Why can't Dems ever stay focused???"
David Axelrod, Obama's strategist, on a video Warren posted about her heritage and the DNA test: "Pretty extraordinary video to surface even before you enter the race. It says: 1) @SenWarren is 100% running. 2 ) She thinks this Pocahontas crap is a potential problem. 3) She wants to dispose of it now, lest she be Birtherized. The risk I'm sure she considered? This elevates it."
Go deeper