Khashoggi crisis: The "rogue killers" escape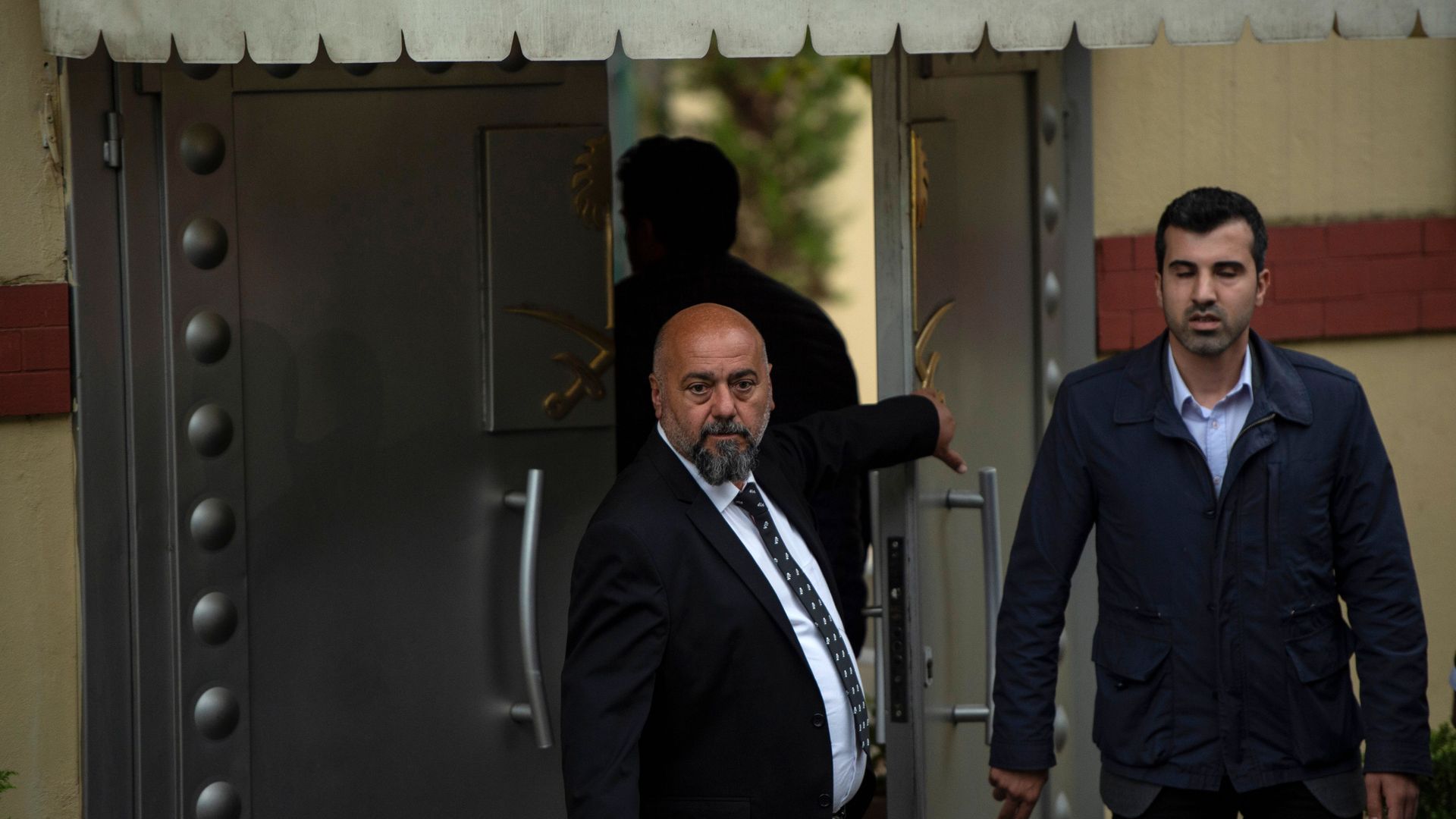 A day after President Trump's "60 Minutes" interview, in which he said there'd be "severe punishment" if Saudi Arabia were responsible for the alleged murder of Washington Post columnist Jamal Khashoggi, he appeared to give the Saudis an out:
"The king firmly denied any knowledge of it. ... It sounded to me like these could have been rogue killers, who knows?"
— Trump to reporters Monday
Between the lines: That a team of "rogue killers" would infiltrate the Saudi consulate and murder an opponent of the regime seems a pretty far-fetched explanation, particularly as the Washington Post has reported that Crown Prince Mohammed bin Salman himself sought to lure Khashoggi back to the kingdom for capture. But Trump isn't the only one who seems to be offering the Saudis a graceful way out.
As Soner Cagaptay of the Washington Institute points out, Turkish President Recep Tayyip Erdogan would need Trump's backing to confront the Saudis head on. Instead, the rogue killers "exit ramp" allows Erdogan to avoid two bad outcomes:
A blow to his strongman image due to an assassination inside Turkey's borders going unchallenged.
An economically damaging rupture with the Saudis if he does call them out.
We seem to be drifting toward the exit ramp. CNN is reporting that "the Saudis are preparing a report that will acknowledge ... Khashoggi's death was the result of an interrogation that went wrong, one that was intended to lead to his abduction from Turkey ... [but] was carried out without clearance and transparency."
The bottom line: The Saudis initially claimed that Khashoggi left the embassy unharmed. There's no reason to believe them now. But even if this is as bogus as it sounds, all three countries involved might decide a politically expedient lie is preferable to an inconvenient truth.
What to watch: Trump has dispatched Secretary of State Pompeo to Saudi Arabia.
Go deeper