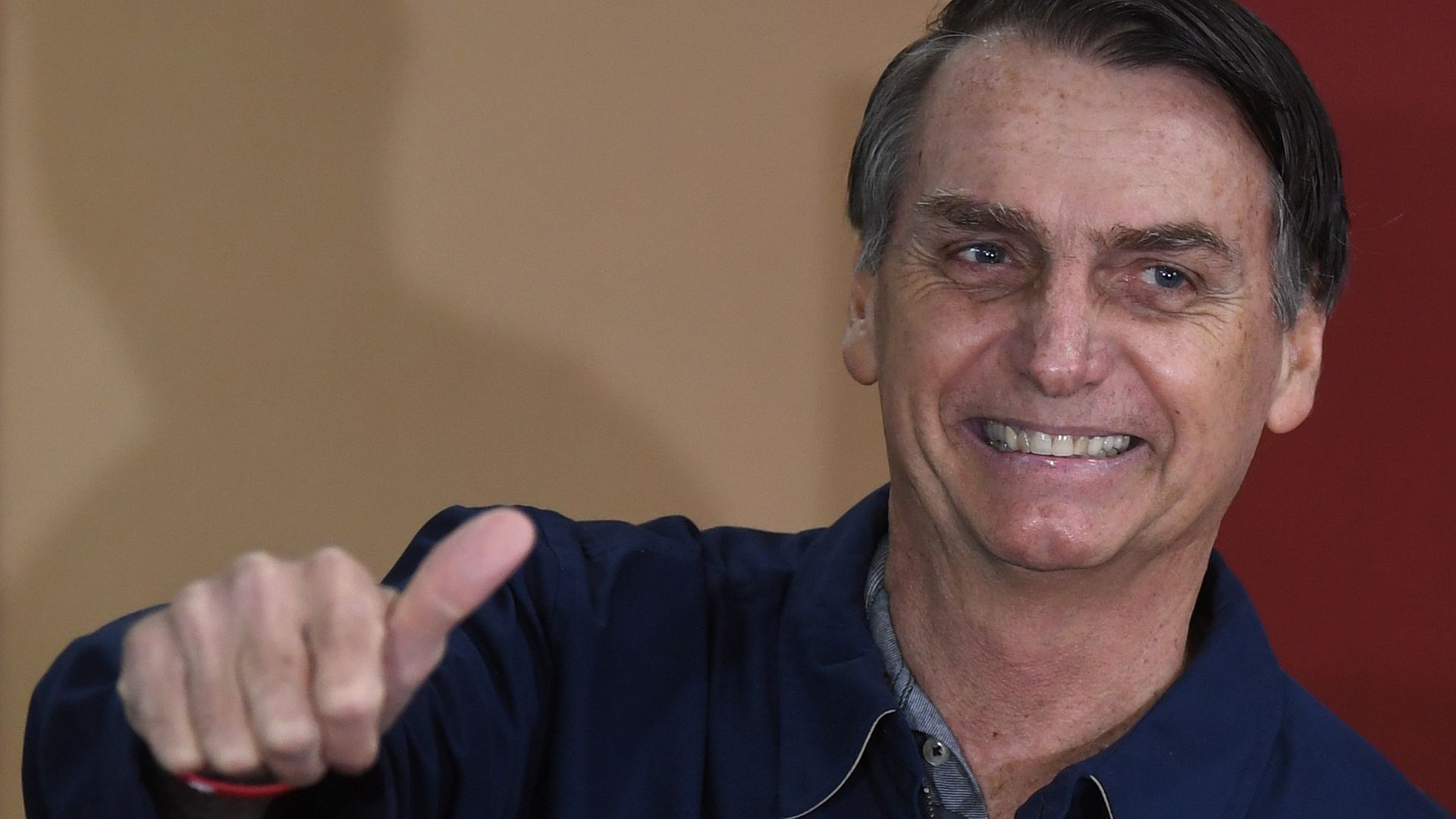 It feels like the Cold War is back. States are engaging in shadowy extrajudicial killings on foreign soil, even as the world watches the rise of authoritarian strongmen like Rodrigo Duterte, in the Philippines, and Jair Bolsonaro, in Brazil.
What's happening: Bolsonaro handily won the first round of presidential elections last week and is expected to similarly win the runoff on Oct. 28. Brazil's stock market jumped 6% at Monday's open, greeting the election result with glee, although it then fell back in line with global stock-market losses.
Bolsonaro, who served in the military during the Brazilian junta, first came to international prominencein 1993, when he attacked "irresponsible democracy" in front of the national parliament and proclaimed that he was "in favor of a dictatorship."
If Bolsonaro becomes president, expect more bloodshed and less democracy in Brazil. Also, expect the kind of pro-business economic policies that have been meet with the resounding approval of the Wall Street Journal's editorial page.
The chart of the Chilean stock exchange under the Augusto Pinochet dictatorship below shows that markets are gruesomely amoral. Bolsonaro knows that one of the most effective ways of holding on to power is to keep the capitalists on his side.
Driving the news: Big business also loves China and (at least until this week) Saudi Arabia. Neither country has ever had democracy, and both are major human rights abusers.
Financial attendees, on the other hand, seem to be less squeamish about consorting with the Saudi regime. Still attending, as far as we know (but probably secretly hoping that the conference will end up being canceled): TPG's David Bonderman, JPMorgan's Jamie Dimon, BlackRock's Larry Fink and, of course, Treasury Secretary Steven Mnuchin.
The bottom line: It's very easy to proclaim oneself a believer in "responsible capitalism." But when forced to make a choice, business tends to stick with anything that looks profitable.
Very few businesses are actually cutting ties with Saudi Arabia. Pulling out of a single conference is relatively easy virtue-signaling.
If businesses do change their minds about projects there, it's more likely to be because of expropriation risk than it is to be a triumph of high-minded democratic idealism.
Go deeper