Fightin' words are getting out of hand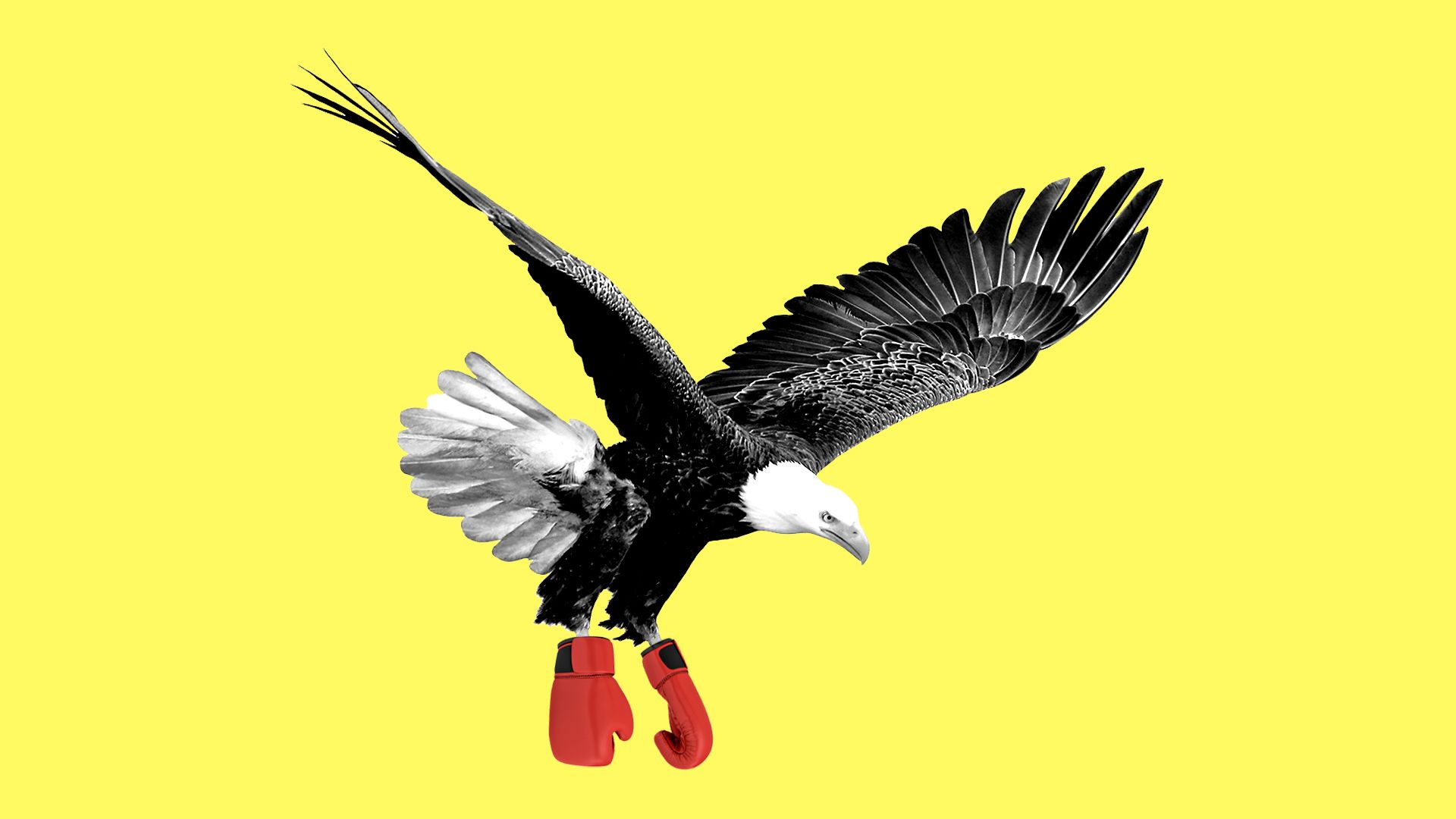 America's fresh wave of tough-guy politics, coupled with protests that harass unpopular public servants who appear in the public sphere, has encouraged a dramatic escalation in political rhetoric.
Why it matters: Norms are hard to create, and easy to unravel. The shock factor of hearing grown men use such charged metaphors may have worn off, but that doesn't mean Americans have to resign themselves into accepting this as normal.
Driving the news: Pennsylvania's Republican gubernatorial candidate, Scott Wagner, is featured in a new video where he tells his opponent:
"You better put a catcher's mask on your face because I'm going to stomp all over your face with golf spikes because I'm going to win this for the state of Pennsylvania."
Flashback to Wednesday: Eric Holder said Michelle Obama's "when they go low, we go high" slogan was too soft, and should instead be:
"No, when they go low, we kick them... When I say we kick them, I don't mean we do anything inappropriate, we don't do anything illegal, but we have to be tough and we have to fight."
Between the lines: Politicians are not to blame for the actions of others, but they can do their part to cool the rhetoric in these abnormally heated times.
Remember: In the past two years, we've had a gunman attempt to assassinate Republicans on a baseball diamond, and a white supremacist kill a woman with his car in Charlottesville.
What's next: Rep. Steve Scalise, who was nearly killed on that diamond, has pushed back on the recent rhetoric:
On Holder: "As a survivor of a politically motivated attack, it is tragic to think this is an acceptable state of political discourse in our country. I refuse to stand for it. Democratic leaders need to condemn, rather than promote these dangerous calls to action."
On Wagner: "These comments are totally unacceptable. As I've said many times before, there is absolutely no place in our politics for this kind of rhetoric."
Go deeper