American pastor at center of U.S.-Turkey standoff to be released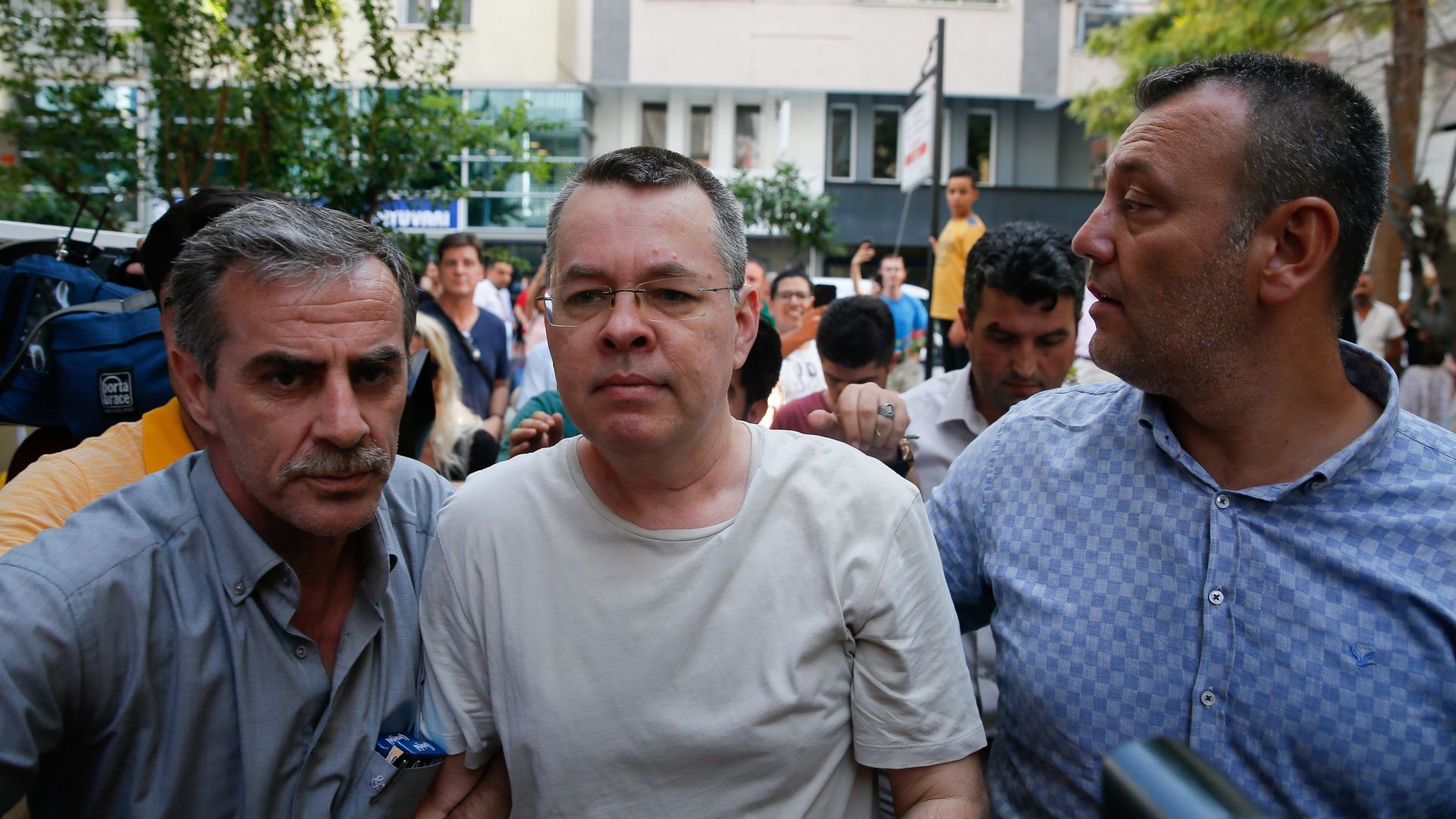 American pastor Andrew Brunson is to be released from custody in Turkey and allowed to travel to the United States, a move that could end a crisis which pushed U.S.-Turkey ties to a breaking point over the past two months, AFP reports. Brunson was sentenced to prison time but restrictions on his travel have been lifted.
Catch up quick: Brunson has been held since 2016 on terrorism charges the U.S. says are baseless. Trump fumed publicly and slapped sanctions on Turkey after the pastor was moved to house arrest in August, rather than released as the U.S. expected. Erdogan seemed shocked by the response and refused to back down.
During today's court proceedings, witnesses who had testified against Brunson withdrew those statements. And while prosecutors sought his conviction for "membership in a terror organization," they also asked that he be removed from house arrest. Brunson stated that he was innocent.
NBC News reported last night that the U.S. and Turkey had reached a deal on Brunson that "includes a commitment by the U.S. to ease economic pressure on Turkey." Axios has not independently confirmed that report.
This comes as Turkey weighs how forcefully to confront Saudi Arabia over the alleged murder of Jamal Khashoggi in Istanbul.
Soner Cagaptay of the Washington Institute tells me "if a reset happens, Saudi Arabia will have played a big role in it."
"I think the [Jamal] Khashoggi incident has inserted a window of opportunity into Erdogan's wait-and-see cycle. He doesn't want to go up against Saudi Arabia unless he knows he has U.S. backing. Enter the unrelated Brunson situation."
Where things stand: Cagaptay says that both Trump and Erdogan left "a door open to having a personal relationship again." But relations won't completely reset overnight given several points of tension remain (see item 3).
Go deeper: Jarrett Blanc of the Carnegie Endowment writes for Axios Expert Voices that, despite strained ties, the Trump administration "needs to work closely with Turkey to address" Khashoggi's disappearance.
Go deeper