Why Trump needs to visit Pennsylvania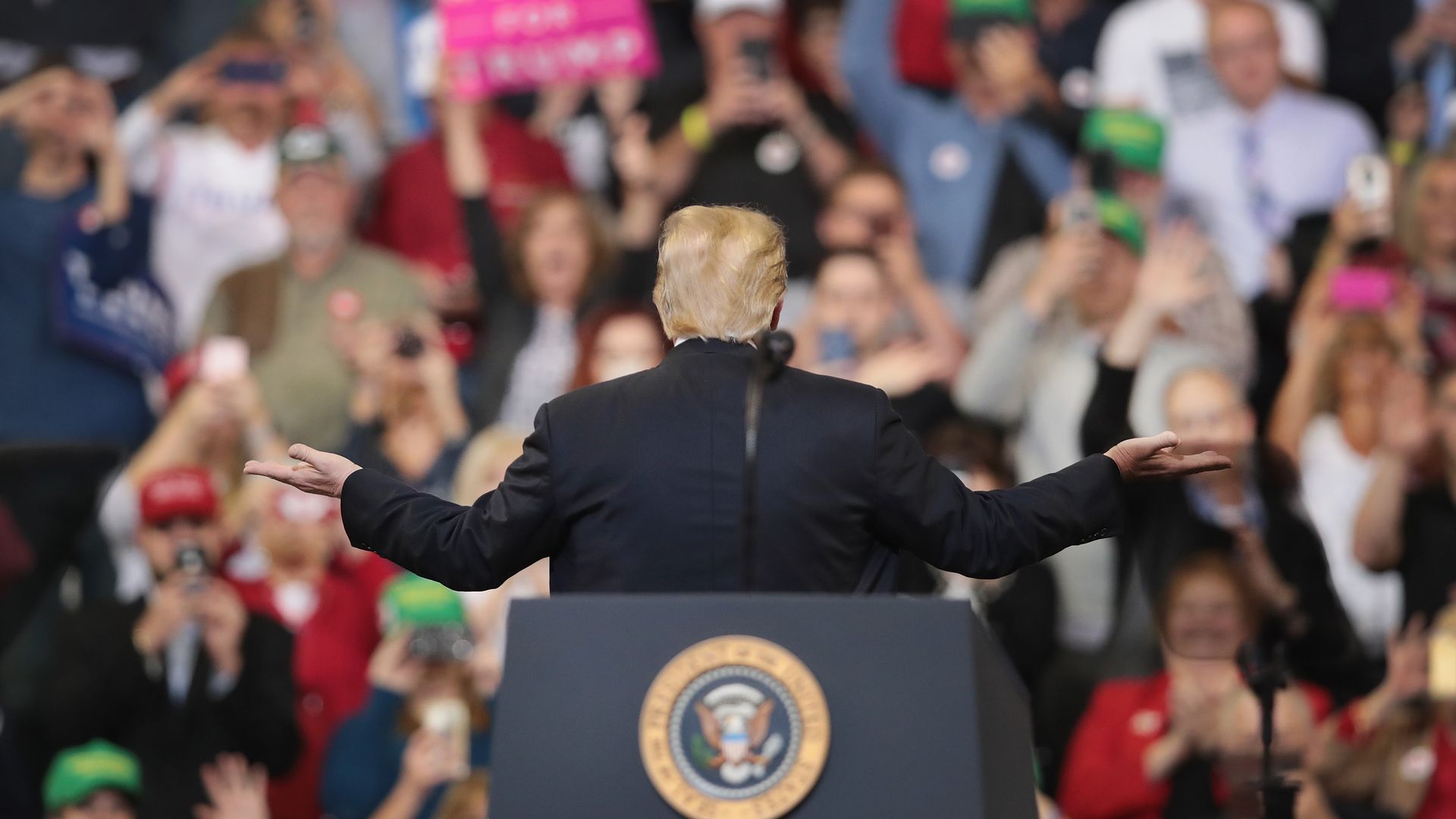 President Trump is heading back to Pennsylvania for a "Make America Great Again" rally tonight, and it's all about his base.
Why it matters: Republican candidates are not in the best position here in at least four districts. Democrats view the state, especially after the new congressional maps, as crucial to their path to taking back the House in November. And Trump was the first Republican to win the state of Pennsylvania in a general presidential election since 1988.
The state of play: FiveThirtyEight's latest analysis says four GOP-held districts (the 5th, 6th, 7th and 17th) are nearly guaranteed to flip to Democrats. That's especially bad for incumbent Rep. Keith Rothfus in the 17th district, who's facing Rep. Conor Lamb in the general after the redrawn maps.
The National Republican Congressional Committee (NRCC) pulled its planned advertising for Rep. Rothfus from Oct. 8 through Election Day.
Congressional Leadership Fund (CLF), the GOP super PAC working to keep House control, never reserved ads for Republican House candidates in Pennsylvania's 5th, 6th and 17th districts.
The Cook Political Report rates all four of those districts as favorable to Democrats. Two more GOP-held seats in Pennsylvania (in the state's 1st and 16th districts) are also competitive, per Cook.
FiveThirtyEight's Nathaniel Rakich writes: "Republicans are almost certainly correct to give up hope about the Pennsylvania 5th." After the new congressional maps, "it is now 26 percentage points more Democratic-leaning than the country as a whole."
As far as the state's Senate race, all recent polling has shown Rep. Lou Barletta trailing behind Sen. Bob Casey by double digits.
Be smart: President Trump knows he needs to get his base excited in places like Pennsylvania, where he won in 2016 despite all odds, but where his party is facing an uphill battle in 2018. Expect to hear more talk about all "Democrats are radical socialists."
The bottom line: It's going to take a lot more than just one Trump rally four weeks before the election for the GOP to turn things around.
Go deeper