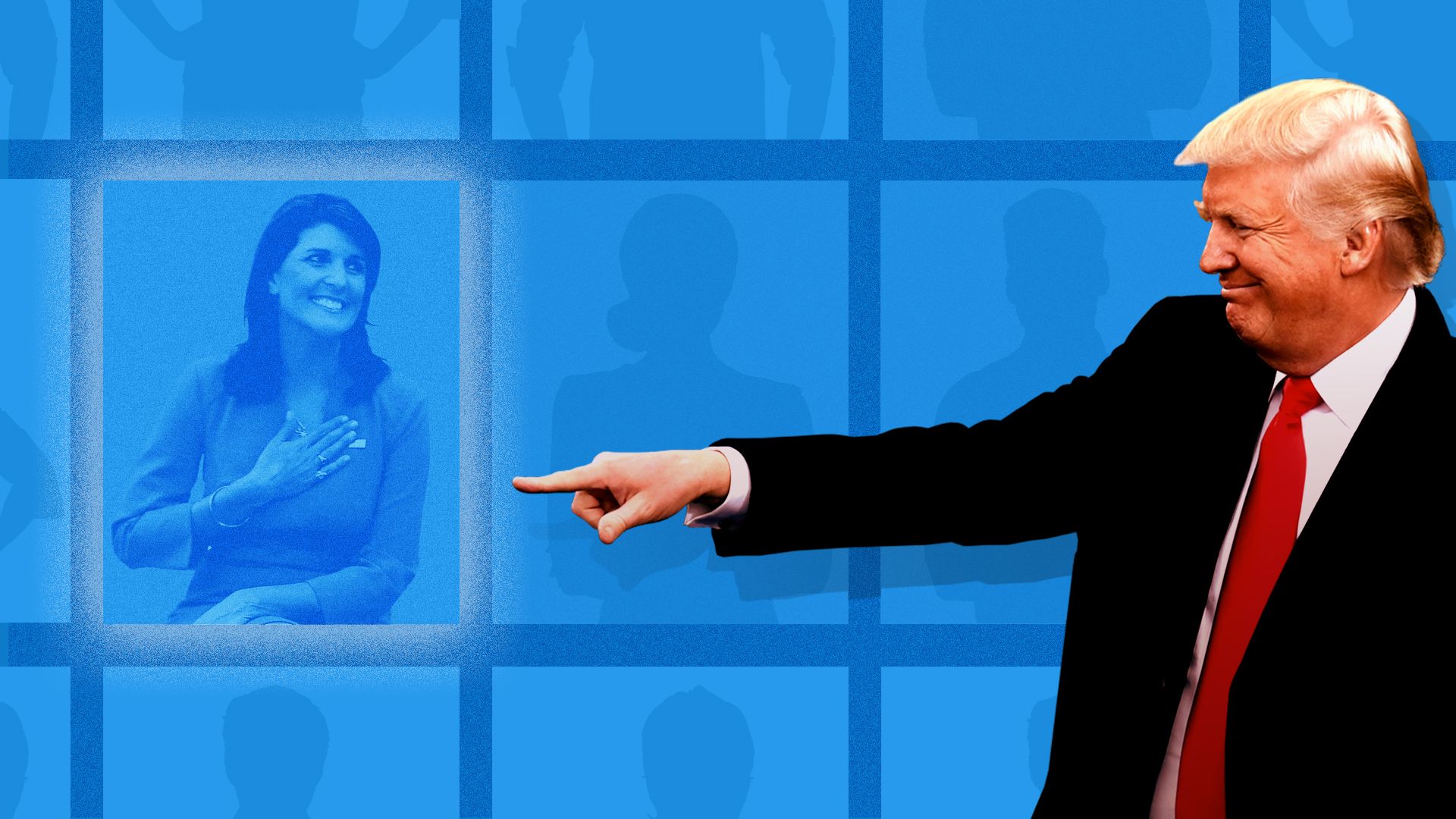 UN Ambassador Nikki Haley doesn't seem like a natural fit for President Trump's administration: As the first female and first minority governor of South Carolina, she had nearly opposite views on trade, immigration and globalism.
The bottom line: The key is that Trump sees hiring as casting, so it's clear why Haley became such a high-profile member of his Cabinet — with him praising her yesterday, during her Oval Office departure announcement, for making it "a very glamorous position."
The president is largely untethered from ideology or policy considerations.
A former senior administration official said Trump "likes picks who will ultimately be well-received on the outside."
He constantly polls people around him, crowdsourcing from a wide range of people who "may or may not have any expertise, knowledge or insight into that particular position," said a source close to Trump.
He runs on pure gut instinct — how he feels when he's in a room with somebody, whether he judges them to be loyal.
"He likes people that don't need him," said a second source close to Trump. "And he likes killers. ... He thought [former lawyer Michael Cohen had been] successful on his own. ... He likes to have leverage over people" — but not if he thinks they're taking advantage of him or getting rich off of him.
People in the "they don't need him" category: former economic adviser Gary Cohn, Commerce Secretary Wilbur Ross (initially) and former Secretary of State Rex Tillerson (initially).
His personal chemistry with the potential pick trumps everything else:
"The perfect example is [Rex] Tillerson," said a source who discussed Tillerson with Trump back when he first picked him (and before he hated him). "Trump had talked to other people about perhaps being secretary of state. Tillerson walks in the room, Trump feels a certain way about him in the span of about 15 minutes, and next thing you know that's his secretary of state."
Being "straight out of Central Casting," as Trump often says, is an advantage:
A classic example is Ric Grenell, Trump's ambassador to Germany — who was mentioned yesterday for Haley's job, but Trump said he wants to keep him where he is.
"One of the things [Trump] loves about [Grenell] is the guy's overseas stirring stuff up, and he's on TV, and [Trump] is like, 'Oh, there's my beautiful Grenell,'" said a source who has discussed Grenell with Trump. "There he is again. Great looking guy. He can't say two sentences about Grenell without saying how great of a looking guy he is."
The source recalled conversations they had with Trump amid the battle over Grenell's confirmation. "It would be," the source said, recounting Trump's comments, "'great looking guy.' He literally called him 'my beautiful Grenell,'" the source added. "He said it with, just, a great deal of pride. Like, 'Look at him go.' He loves it."
To be clear, the president loves what Grenell is doing substantively, according to sources with direct knowledge. Trump particularly enjoys it when Grenell announces that yet another European company has stopped doing business in Iran in order to comply with U.S. sanctions.
Be smart: The former senior administration official said, "It is in conflicts and rivalries between his advisers that Trump feels (and is) most in control."
Go deeper