The Supreme Court cases Brett Kavanaugh will hear this week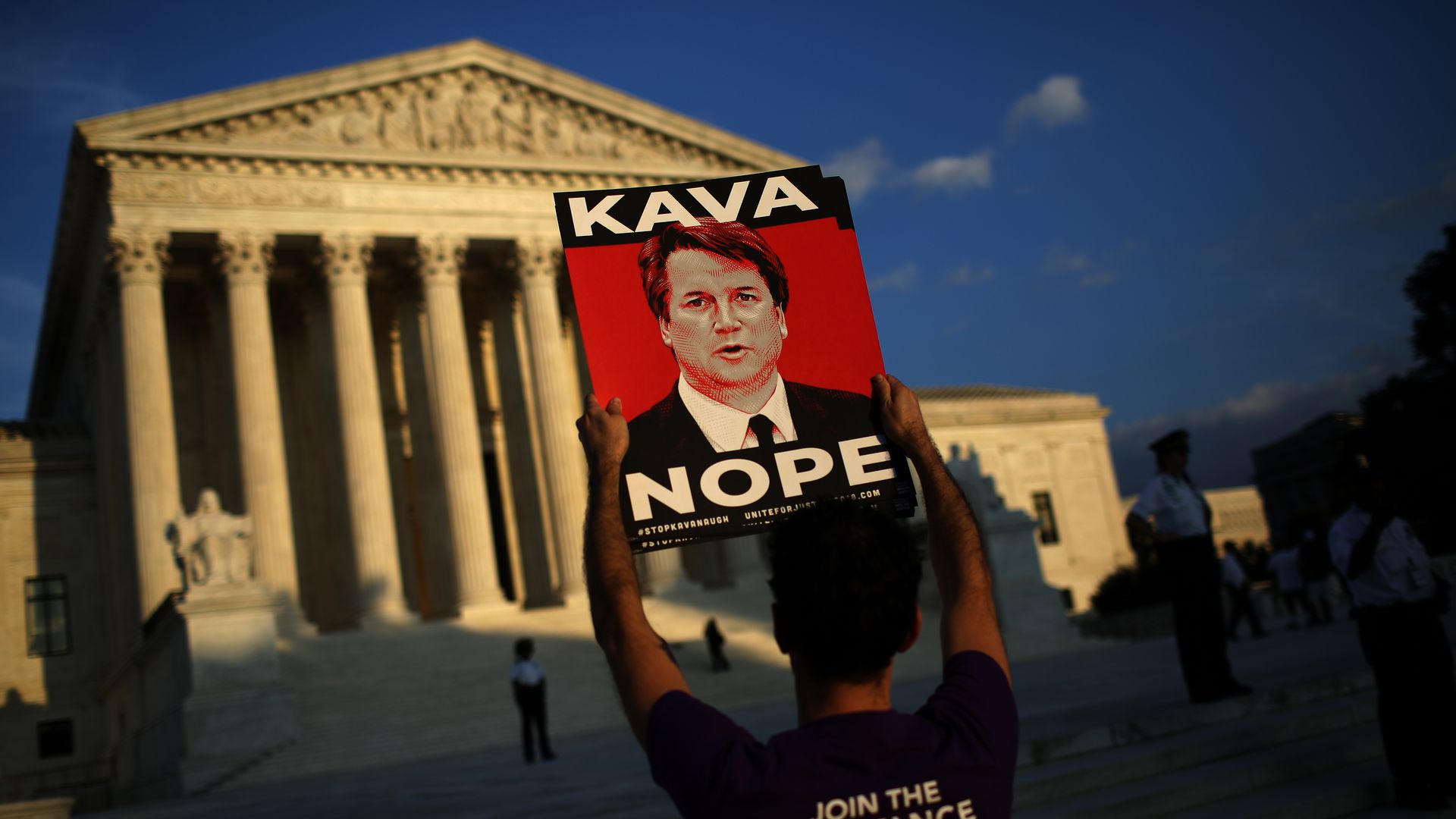 Brett Kavanaugh will hear his first Supreme Court cases this week — involving asbestos, immigration and a 1984 firearm law — with more high-profile cases to come in the future.
What's next: The Trump administration also wants the Supreme Court to hear cases involving Trump's attempt to end DACA, the Commerce Department's addition of a citizenship question to the 2020 census and the White House's restriction of transgender service members in the U.S. military, reports the LA Times' David Savage.
The state of play
The cases Kavanaugh and the court will hear this week, per USA Today:
Tuesday: Justices will look at the Armed Career Criminal Act, a 1984 law that mandates a minimum of 15 years in prison for crimes involving firearms if there are three previous violent or serious convictions on the offender's record. There are questions "regarding what crimes are 'serious' or 'violent.'"
Wednesday: The court will hear a case involving an immigrant with a criminal record and grapple with the question of "which undocumented immigrants can be detained during deportation proceedings."
Another case on Wednesday deals with Navy sailors who hope to recover damages for being exposed to asbestos.
Note: Kavanaugh will not weigh in on cases heard on Monday or last week.
Looking ahead
Potential abortion fight:
Supreme Court reporter Robert Barnes in the Washington Post: There "has not been a recent Supreme Court case directly challenging [Roe v. Wade]." However, abortion rights supporters believe Kavanaugh "would be a justice in the same vein" as the other conservative Justices, and "make it more difficult for a woman to obtain the procedure."
The Times' Savage: "[W]ith Kennedy gone and Kavanaugh sitting as his replacement, antiabortion lawyers in conservative states will press to prohibit abortion. Those laws will almost surely be struck down. ... But the eventual appeal will then head to the Supreme Court."
Potential LGBTQ fight:
Reuters reports that a new case involving businesses that refuse service to gay couples could come before the court.
While the court already decided the Colorado baker case, siding with a Christian baker who would not bake a custom cake for a same-sex couple, another case regarding a Christian florist in Washington state could come before the Supreme Court.
What they're saying
Brian Fallon, executive director of Demand Justice and former Hillary Clinton campaign spokesman, told Axios' Mike Allen: "I expect far-reaching, sweeping decisions. I think they'll set out to harpoon a bunch of white whales — unions, voting rights, economic regulation."
David Savage: Kavanaugh's influence "will be seen soon in small cases ... as well as in larger constitutional conflicts about the limits of presidential power or the rights of individuals against the state."
Go deeper