Polarized Brazil votes for a strongman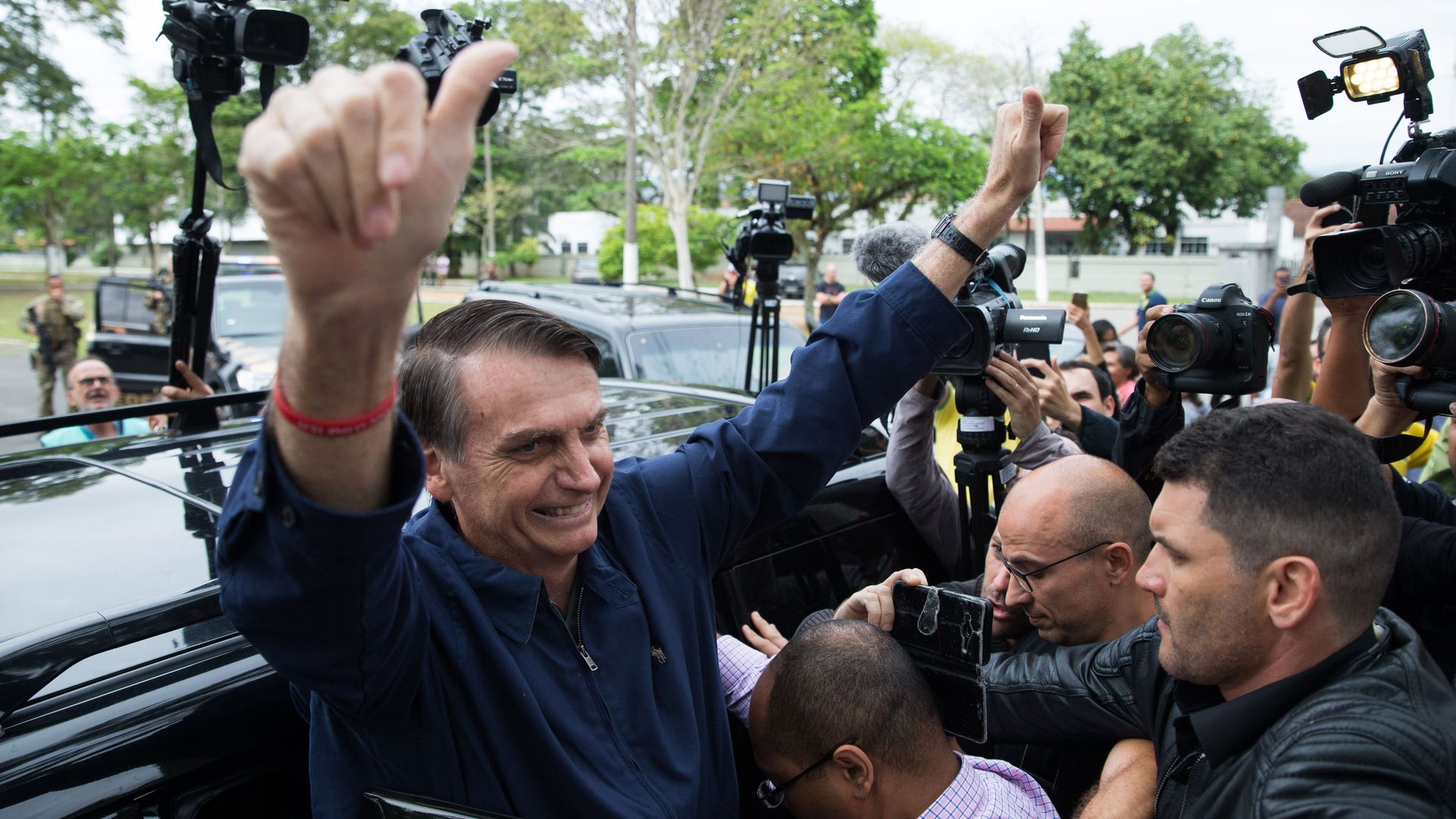 In Brazil's October 7 election, right-wing populist Jair Bolsonaro, whose candidacy has further inflamed economic and social divisions, scored a first-round victory (46%). Though his hope of clinching the presidency off the bat fell short, Bolsonaro holds a commanding lead over center-left Fernando Haddad (29%) ahead of the October 28 runoff.
The big picture: In Brazil's second vicious presidential contest in a row, first-round voting reflected mass disillusionment with establishment politics and the endorsement of a strongman approach to turning around the world's seventh-largest economy.
With the margin of victory crucial to legitimizing a mandate, the second round will hinge on coalition-building. Bolsonaro has described the stakes as "prosperity, liberty, family on God's sides or Venezuela's path." Market cheer for Bolsonaro's ascendance may help him draw more support from centrist voters.
Haddad, a former mayor who also served in former President Luiz Inácio Lula da Silva's government and has been dogged by links to the Car Wash corruption scandal, will look to create an anti-Bolsonaro front. His coalition will likely include third-place finisher Ciro Gomes (12.5%) and will have to mobilize voters who sat out the first round. Haddad needs non–first round participants more than Bolsonaro, and though his campaign did save resources for a runoff, he will face an uphill battle to break through with voters hungry for fresh faces.
In the previous presidential vote, turnout slightly declined in the runoff round, but those candidates had failed to enthuse the public. In this case, the public seems to perceive the stakes as much higher, even if disillusionment is rampant.
Brazil's political system is a hybrid between presidential and parliamentary rule, so the platform of the prevailing candidate will likely be moderated in forming a governing coalition. Bolsonaro's Social Liberal Party (SLP) is poised to win just over 50 seats in the 513-seat lower house of congress, while Haddad's PT is expected to win a few more seats than the SLP in the same body.
Why it matters: Whoever wins, Brazil will remain bitterly divided and too weak to fulfill its dream of becoming a global power. A Bolsonaro government would also be on a collision course with Maduro, setting up a tense situation in which Venezuela's neighbors to the West and South take tougher lines toward Caracas.
Michael McCarthy is a research fellow at American University's CLALS, an adjunct professor at George Washington University's Elliott School for International Affairs and the founder and CEO of Caracas Wire.
Go deeper