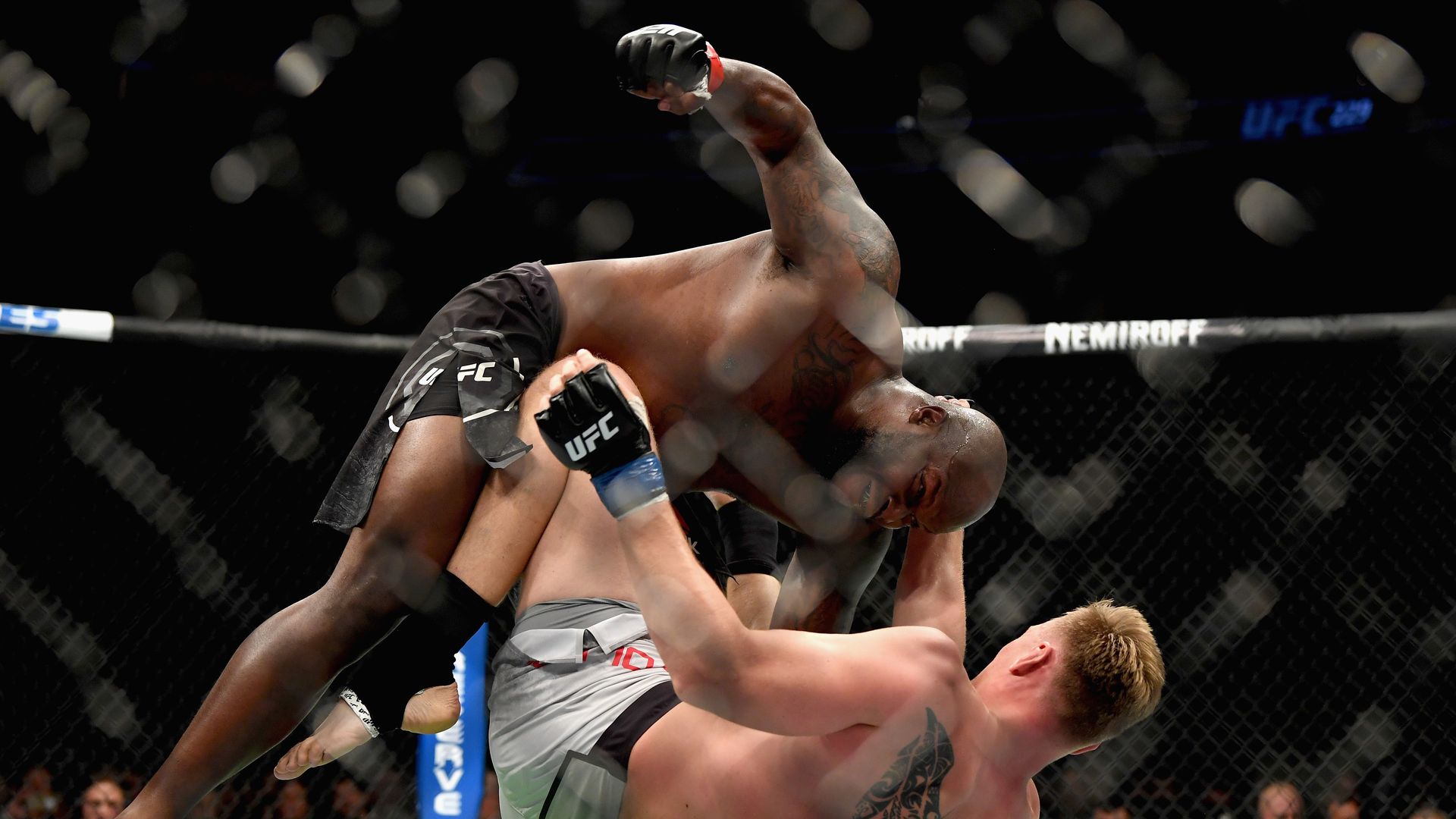 While Hollywood mourns the Kavanaugh confirmation, another group of entertainers seems surprisingly enthusiastic about the happenings in Washington. This weekend, two UFC fighters gave shout-outs to the Trump administration after winning mixed martial arts fights.
USA Today reports: "Heavyweight destroyer Derrick Lewis stunned the crowd in Las Vegas with a brutal knockout with seconds remaining in the third round against Alexander Volkov, then proceeded to deliver one of the wildest post-fight interviews of all time ...
In an extremely profane interview with Joe Rogan, Lewis said that President Donald Trump ordered him to knock out Volkov. 'A few hours before the fight, Donald Trump called me and told me I gotta knock this Russian mother-----r out because they make him look bad on the news. You know, him and Putin and s--t.'"
We asked the White House press shop if they could confirm whether such a call took place. No word by deadline.
But that's not all. Lewis wasn't the only UFC fighter to wax political this weekend after knocking out an opponent. Nik Lentz, a vocal Trump supporter, praised the newest Supreme Court justice in his post-fight interview.
"I think this fight really highlighted the improvement and the development of your striking," said interviewer Joe Rogan. But Lentz had something else on his mind.
"First and foremost, I want to give out a shout to my homie Brett Kavanaugh," Lentz said, waving a thumbs-up. "Way to go, Special K."
Between the lines: UFC President Dana White, who has been a staunch Trump booster for years, spoke at the RNC and recently told The Hill he will never say anything bad about the president. And Trump's relationship with the sport goes back decades. When mixed martial arts was largely relegated to the cultural fringe, Vice reports that Trump helped it "take its first step into cultural legitimacy in the U.S., opening the doors of his Trump Taj Mahal casino in Atlantic City to the UFC on November 17, 2000."
Steven Cheung, a former Trump White House official who was previously communications director at the UFC, told Axios he was at the fight Saturday night in Vegas.
"They see what Trump is," Cheung said. "He's a counter-puncher, and that translates to the fight world."
Go deeper