Suspicious disappearances test West's ties to Saudi Arabia, China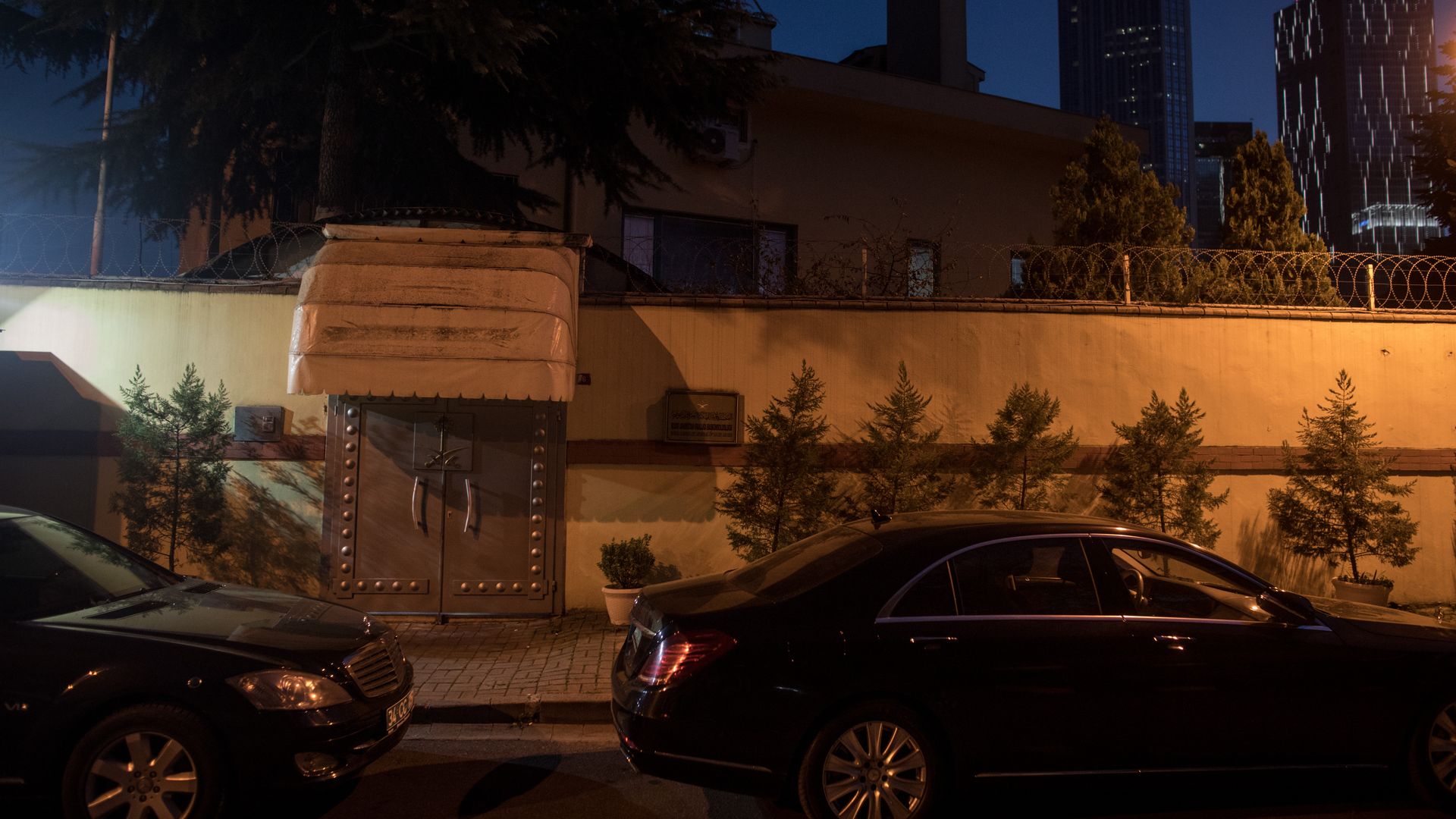 Two men with large international profiles and powerful enemies vanished. Two repressive regimes were reportedly responsible.
What we know: Jamal Khashoggi, a Saudi journalist and insider-turned-critic who wrote a Washington Post column from exile, vanished after entering a Saudi consulate in Istanbul last Tuesday. Two days later, Interpol President Meng Hongwei was reported missing while traveling in China. It later emerged that the government was holding him.
Did the Saudis kill Khashoggi?
Khashoggi, 59, lost his marriage, his home and many of his possessions when he moved from Saudi Arabia, where he felt he was no longer safe, last summer. He had been increasingly critical of Crown Prince Mohammed bin Salman, and shared his concerns with his readers and followers (1.68 million on Twitter). According to the New Yorker's Robin Wright, he feared that criticism could cost him his life.
Khashoggi planned to get married last week, and traveled to the Istanbul consulate with his fiancée to retrieve a necessary document. She says she waited outside for 11 hours. He never emerged.
Turkish officials have privately told U.S. and international news outlets Khashoggi was murdered inside the consulate by Saudis sent specifically to kill him. At least one source said his body was dismembered.
Where things stand: Prince Mohammed denied Khashoggi was even detained, and Saudi Arabia invited Reuters journalists to tour the consulate. Turkey hasn't presented any evidence to back the anonymous claims and publicly says it's still investigating. President Trump weighed in this evening:
"I am concerned about that. I don't like hearing about it and hopefully that will sort itself out. Right now nobody knows anything about it. There's some pretty bad stories about it. I do not like it."
Disappearance #2: Why did the Chinese arrest Meng?
Meng, 64, became the first Chinese head of Interpol in 2016, a breakthrough for China on the world stage. A year later, a "proud" President Xi Jinping addressed the agency, the NYT points out.
Meng's wife, with whom he lived in Lyon (where Interpol is based), last heard from him on September 25 when he texted a knife emoji — an apparent signal he was in danger. She reported his disappearance to French authorities on October 4. Yesterday, after Interpol announced his resignation, China revealed it was holding him.
Today, a government spokesman said Meng faces charges for corruption and other crimes. The State Department says it urges China "to uphold international rules and norms, and to pursue an investigation that is based in transparency."
That seems unlikely. A foreign ministry spokesman has indicated that China — after detaining the leader of an international law enforcement organization and keeping it secret for days — doesn't expect significant pushback:
"As a permanent member of the United Nations Security Council and as a responsible great power, China will continue playing the role that it should in international affairs, especially multilateral bodies."
What to watch: If the reports prove accurate, both countries have sent a brazen message that no one who runs afoul of the government is safe. And two regimes with no tolerance for internal criticism seem to be risking censure from the world.
Khashoggi's case poses a particular test for the Trump administration, which has cosy ties with the Saudis and doesn't consider promoting human rights a priority.
Sen. Lindsey Graham is one of a few senators speaking out. He says there'll be "a heavy price to be paid" if the reports are accurate. Time will tell.
Go deeper: Khashoggi disappearance could impact Saudi Arabia's business deals.
Go deeper