Brazil's presidential election cleaves along sharp ideological lines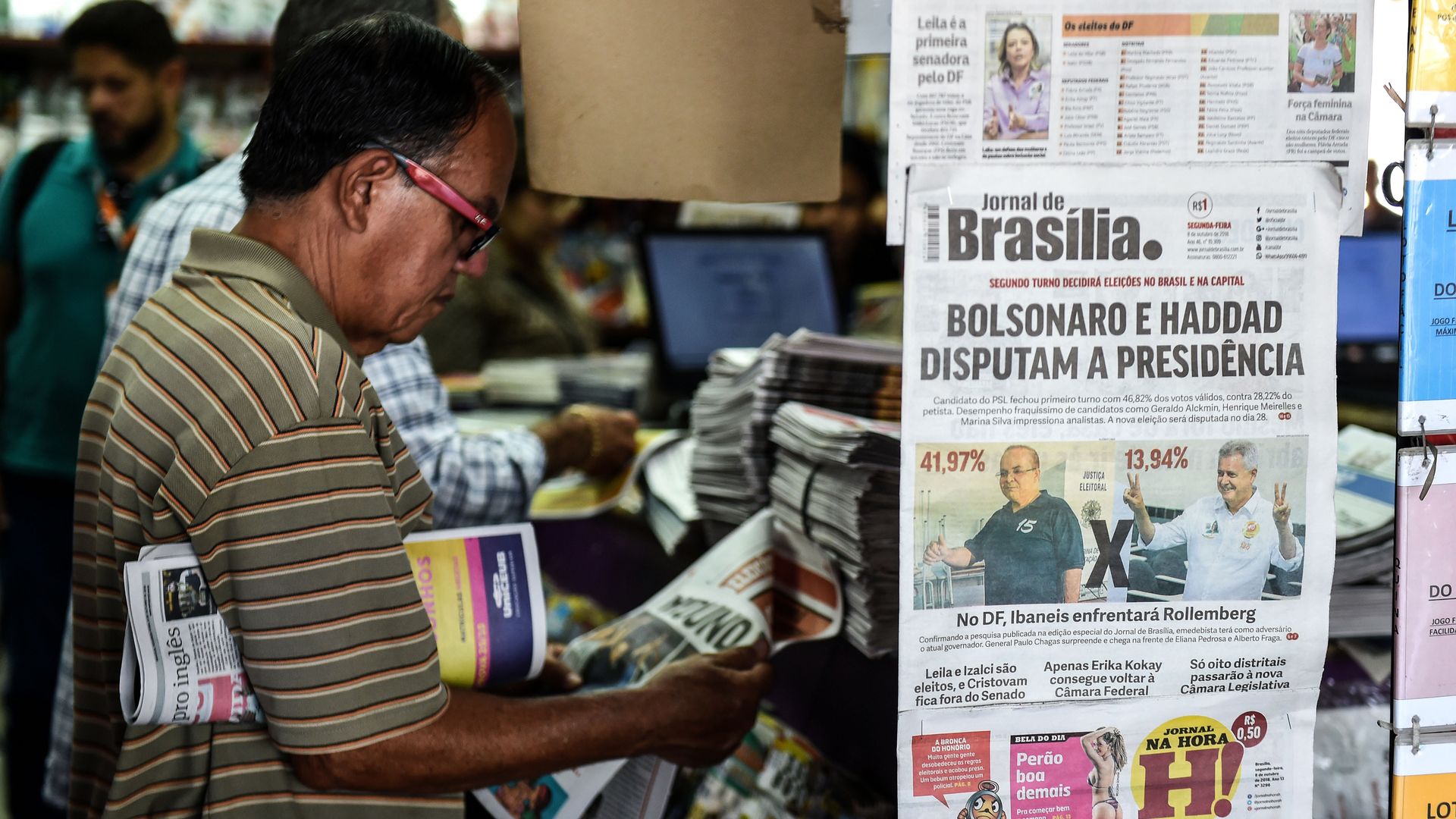 On Sunday, October 7, Brazil's controversial right-wing populist candidate Jair Bolsonaro won a convincing 46% plurality of the presidential vote and came close to achieving a first-round upset, followed by left-wing candidate and former mayor of Sao Paulo Fernando Haddad's 29%.
Why it matters: The first-round results set up a stark ideological contrast for the October 28 runoff election, as the future of Brazil hangs in the balance. In addition to running one of the world's top 10 economies, its next president will be an important interlocutor for the United States on global trade, the role of China in Latin America, and the political and humanitarian crisis in neighboring Venezuela.
Where it stands: Despite being hospitalized for several weeks due to serious stab wounds from a September 6 attack, Bolsonaro dramatically extended his lead in the polls in the final weeks of the campaign. However, the highly contested field of 13 presidential candidates denied him the 50% majority required for an outright victory. In the runoff he will face Haddad, a Worker's Party loyalist who was only named as a candidate on September 11, after courts barred former president Luiz Inácio Lula da Silva from running. Moderate figures lost in the crowded race were former minister and ex-governor of Ceara state Ciro Gomes (12.5%), former governor of Sao Paulo state Geraldo Alckmin (4.8%), and business leader and political neophyte João Amoêdo (2.5%).
The backdrop: Brazil was once among the fastest-growing emerging markets, before entering a prolonged recession in 2014 that coincided with a sprawling corruption scandal known as "Operation Car Wash" that has ensnared dozens of officials and resulted in a 12-year prison sentence for Lula da Silva. Another former president, Dilma Rousseff, was impeached on unrelated charges in August 2016.
For the past two years, President Michel Temer, Rousseff's former vice president, has struggled with low approval ratings, corruption scandals, rising crime and violence, a weak economy and an inability to move key pension and fiscal reforms through congress. Brazil's next president will face the challenge of restoring fiscal health and attracting foreign direct investment while improving security and cleaning up corruption.
What's next: The presidential runoff election will decide whether the government of Latin America's largest country will shift sharply to the right, and possibly become more allied with the Trump Administration, or to the left, as occurred in Mexico's recent election. Either outcome will have enormous implications for U.S. relations with the region.
Daniel P. Erikson is managing director at Blue Star Strategies and a senior fellow at the Penn Biden Center for Diplomacy and Global Engagement.
Go deeper