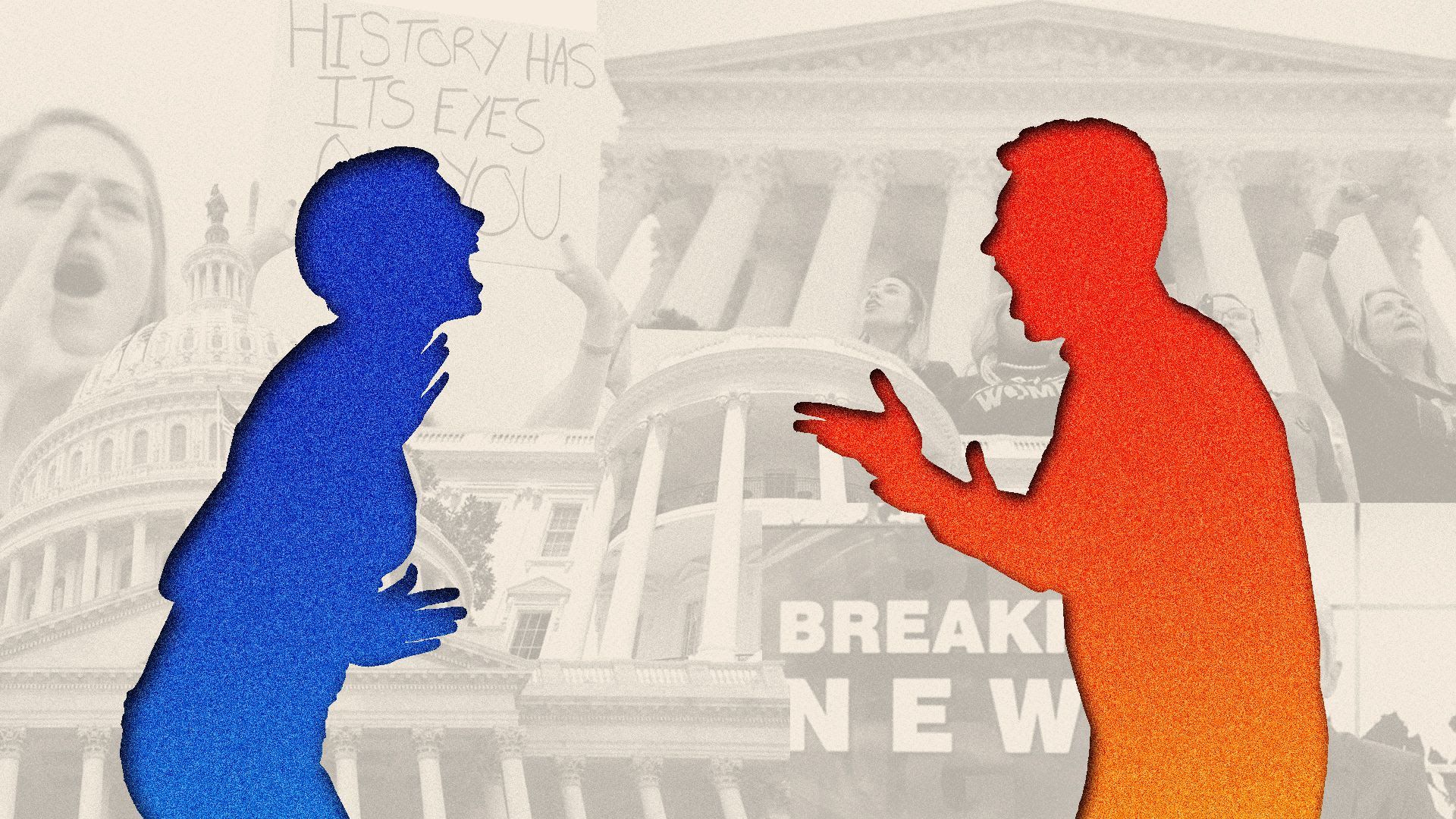 It's going to get worse. Virtually every major American institution is being radicalized — or being reshaped by the radicalization of our public lives.
You see this most vividly in politics, where the White House and Congress are often the cause and effect of the radicalization. You now see it in the courts and the Supreme Court, in particular, where a narrow, party-line vote made Brett Kavanaugh the next justice after a nasty, personal political brawl. Already, lawyer Michael Avenatti is calling for a new Democratic litmus test: increasing the size of the court to 11 from nine.
Thanks to the Kavanaugh fight and the Merrick Garland shenanigans before it, there are three new fair-game realities: 1) The parties feel free to delay nominations a year-plus if necessary. 2) High school actions are "fair game." 3) Partisan-line votes for the Supreme Court are fine.
Watch for court fights to surpass congressional races in terms of partisanship.
You see this in the traditional media, where the cable news networks are racking up record ratings around the sideshow of politics. Reporters, who previously kept their personal views private, suddenly pick sides on Twitter.
Since the president's election, reporters on both sides of the political aisle, and from markets big and small, have shown less restraint on social media when it comes to their personal political viewpoints. 
Just this past week, a Minnesota journalist was fired from a local NBC station for wearing a "Make America Great Again" hat while covering Trump rally. A longtime Palm Springs anchor was forced to resign after defending Kavanaugh from sexual assault allegations. The New York Times conceded it made a mistake when the news story about a Kavanaugh bar fight at Yale was co-bylined by a writer who had tweeted her disapproval of the nomination. 
Since Trump was elected, by our colleague Sara Fischer's count, nearly a dozen reporters have either been fired or lost their jobs for incendiary social media posts, mostly all of them over politically-charged subjects. 
You see this on social media, especially Facebook, where the algorithm pumps endless partisan, emotional garbage into our faces all day, every day. People then jump to Twitter to duke it out.
Sara has the data: A new study of hyper-partisan publishers, from social media analytics company NewsWhip, finds that the top Facebook Pages for mainstream political content were Fox News and Occupy Democrats, by a considerable distance. Both publishers have driven nearly 100 million engagements on their Facebook-native content for 2018 so far.
On Facebook, the N.Y. Times' Kevin Roose points out, many of the most engaged with posts on Facebook around Kavanaugh come from fringe, alt-right websites.
On Twitter, a new study out last week found that more than 80% of accounts that were exposed as fake in 2016 are still active on the platform. (Twitter says the data the authors retrieved may not have reflected what the users actually see.)
Tragedy is quickly radicalized:
Traumatic school shootings reignite a red-hot gun control debate.
Deadly fires and storms stir emotion at first, then spark climate-change arguments. 
Even normal, trivial, pass-the-popcorn stuff gets radicalized:
TV shows ("Roseanne"), sports (kneeling at NFL games), award shows (Robert De Niro's "F—- Trump" intro at the Tony Awards), eating out (Republican officials heckled in D.C. restaurants). 
Be smart ... All the incentives on social media and in politics favor the radical: If you want clicks, viewers, donors, followers, retweets or votes, there's no market for moderation or the middle.
Radical rules.
You might not have started the fire, but you're surely living in it. 
Go deeper