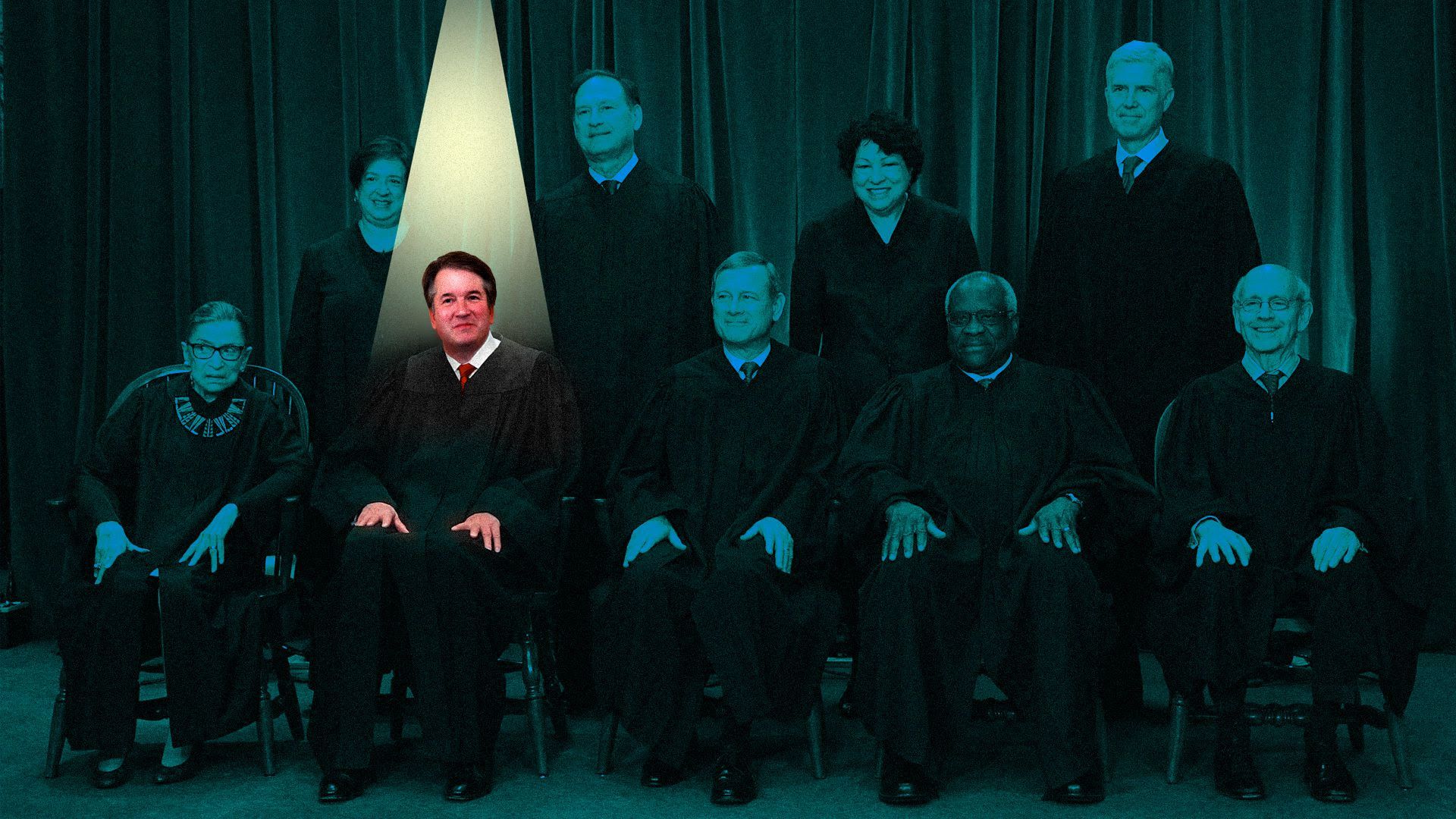 If Brett Kavanaugh is confirmed later today, as looks all but certain, he'll be numerically one-ninth of the Supreme Court. But he'll draw a vastly disproportionate share of attention and speculation, controversy and criticism.
Why it matters: Both sides made it clear last night that they plan to keep Kavanaugh in the news for political purposes, deepening and prolonging the most divisive new issue of the Trump era.
As the decisive vote tipping the justices to the conservative side, he effectively makes this the Kavanaugh Court.
"Abortion, affirmative action, campaign finance, gay rights — all those are going to go in a very different direction because Anthony Kennedy is gone and Brett Kavanaugh will be there," legal analyst Jeffrey Toobin said on CNN.
President Trump was ecstatic last night — very fired up and happy, an aide tells Jonathan Swan.
Trump has been briefed on the polling impact — on his own approval rating, and on the "Brett bounce" that is closing enthusiasm gap between Rs and Ds for midterms, 31 days from now.
So look for the president to trumpet the win and continue to brag about the Kavanaugh confirmation, as he continues to do about Justice Neil Gorsuch.
"It feels like the narrative of what's going on in 2016," a White House official told Swan. "The reality is probably more mixed."
Top Dems tell me that the impeachment of Kavanaugh, however impractical, will be an irresistible applause line for the party's 2020 hopefuls in New Hampshire and Iowa in the months after Nov. 6.
Look for Democrats to try to hold off on a Kavanaugh impeachment crusade for the next month, though, to avoid elevating a painful issue for Senate Democrats running in red states.
Republicans are already fanning that fire. Donald Trump Jr. was the first political figure on the right to come out pushing the impeachment message after it became clear that Kavanaugh had the votes:
"Trump supporters - The fight isn't over. You better believe that Democrats are going to do everything in their power to impeach Kavanuagh from the Supreme Court if they take control of Congress in November. This is war. Time to fight. Vote on Nov 6 to protect the Supreme Court!"
Andy Surabian, a GOP strategist who ran the Trump Tower war room in 2016, tells us: "[T]o keep the base enthused through November 6th, Republicans must now turn the midterms into a referendum on Democrats attempting to impeach Judge Kavanaugh from the court."
"Fortunately for Republicans, Democrat activists ... are already openly talking about the possibility." (Surabian sent a slew of D tweets that do just that.)
"The threat of Democrats impeaching Kavanuagh creates the all-important 'fear of a loss' needed among Republican voters to keep them supercharged for the next five weeks. ... Kavanaugh is rocket fuel to Republican voters."
Don't expect the 5-4 decisions by the Kavanaugh Court to be "humble, meek, narrow," said Brian Fallon, executive director of the progressive Demand Justice:
"I expect far-reaching, sweeping decisions. I think they'll set out to harpoon a bunch of white whales — unions, voting rights, economic regulation."
"That'll be like rubbing an open sore. People are going to raise their fist and growl: "Kavanaugh!'"
Go deeper