What they're saying: Senators react to Collins' Kavanaugh decision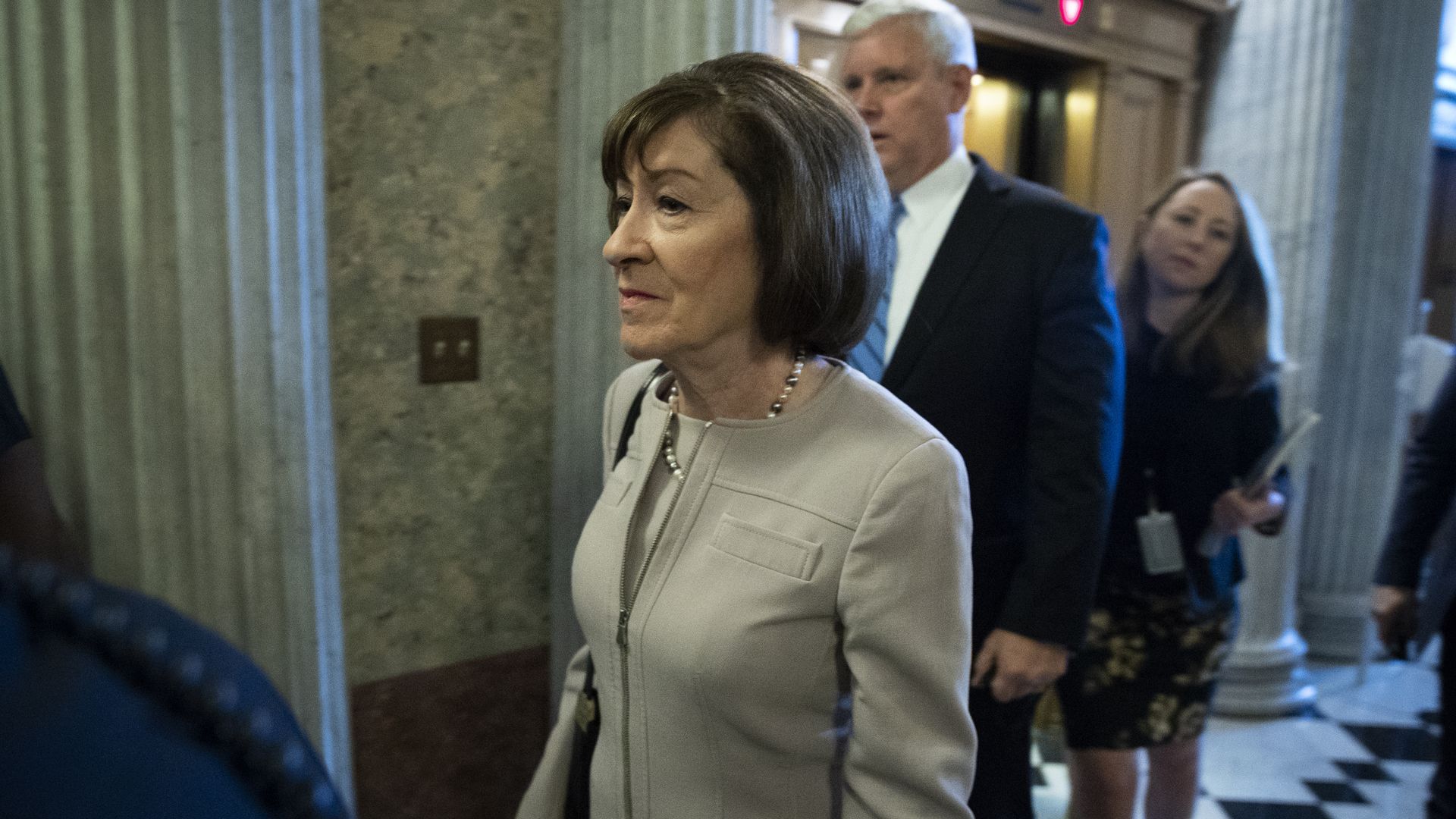 Moments after Senator Susan Collins announced her decision to confirm Supreme Court Justice nominee Brett Kavanaugh, reactions from her peers poured in.
The big picture: Republicans couldn't be happier, while Democrats walk away virtually defeated. The left was holding out for Collins, a Republican from Maine, and minutes after her announcement Sen. Joe Manchin followed suit securing the votes needed to pass Kavanaugh through to the Supreme Court.
"I listened carefully to Christine Blasey Ford's testimony before the Judiciary Committee. ... I believe that she is a survivor of a sexual assault and that this trauma has upended her life. Nevertheless, the four witnesses she named could not corroborate any of the events of that evening gathering where she says the assault occurred."
— Sen. Collins
What they're saying
Sen. Dianne Feinstein: "Judge Kavanaugh's views on guns are extreme. In a dissent he would have struck down D.C.'s assault weapons ban because they have not historically been banned. This logic means that as weapons become more advanced and more dangerous, they cannot be regulated at all."
Sen. Chuck Grassley: "I never knew Sen Margaret Chase Smith of Maine but I know her reputation for her trailblazing spirit & taking leadership positions on tough issues...I think Sen Collins in the same spirit did more to expose the ugliness of the controversy around the Kavanaugh nom process than any other senator. I commend Sen Collins for her thoughtfulness."
Sen. Orrin Hatch: Collins' speech "was the best analysis of Judge Kavanaugh's record we have heard, a thorough review of questions raised, and a powerful explanation as to why he is worthy of consideration."
Sen. Tim Scott: "What a speech by @SenatorCollins. Well researched, clearly spent a lot of time thinking through all of the information before us."
White House Press Secretary Sarah Sanders: "Thank you @SenatorCollins for standing by your convictions and doing the right thing to confirm Judge Kavanaugh."
Former President George H.W. Bush: ".@SenatorCollins — political courage and class. I salute my wonderful friend and her principled leadership."
Former Ambassador to the UN Susan Rice:
One more thing
After Sen. Murkowski announced her decision to vote against Kavanaugh, former Governor of Alaska Sarah Palin hinted at her re-election date:
Go deeper