Where it stands: The latest allegations against Brett Kavanaugh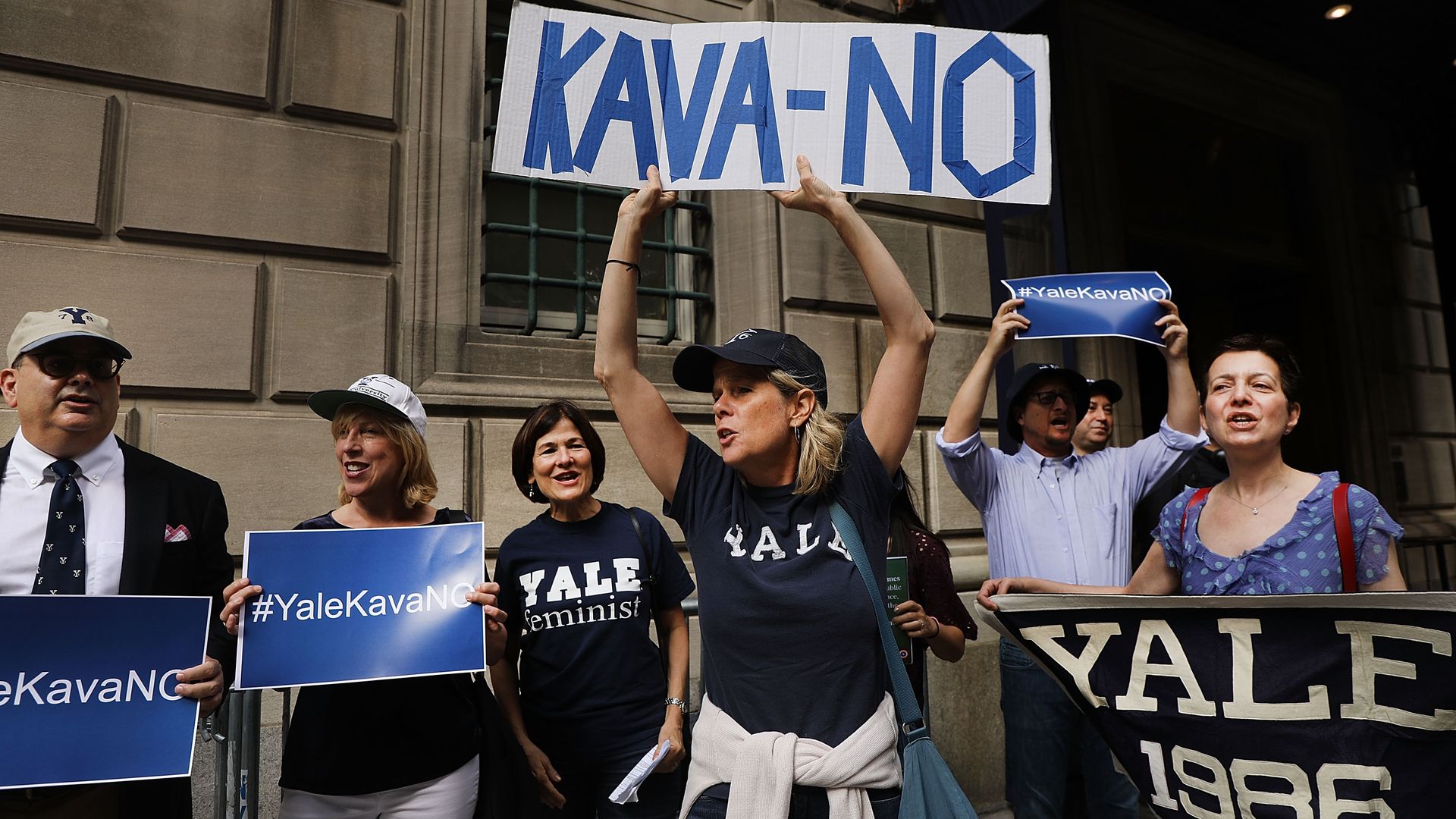 Since Sen. Jeff Flake's (R-Ariz.) call for a one-week FBI investigation into the claims against Judge Brett Kavanaugh, more developments have unfolded about Trump's Supreme Court pick leading up to the conclusion of the report which may finish as soon as Wednesday.
Catch up quick: Accusers Deborah Ramirez and Julie Swetnick have been interviewed by the FBI, but not Christine Blasey Ford; Bloomberg released a report detailing a drunken bar fight involving Kavanaugh; The New York Times published a copy of a 1983 letter allegedly penned by Kavanaugh about plans for a "Beach Week"; Trump mocked Ford at a rally and Senators were not happy.
Sept. 28: The Senate Judiciary Committee votes to send Kavanaugh's confirmation to the Senate floor, on Sen. Jeff Flake's condition for a one-week FBI investigation into the claims made against Kavanaugh. (What happened.)
Sept. 29: White House limits the scope of the investigation to only the sexual assault claims made by Dr. Christine Blasey Ford and Deborah Ramirez, not Julie Swetnick.
Sept. 30: Ford's legal team says they have yet to be contacted by the FBI. Ramirez speaks with investigators.
Oct. 1: The White House directs the FBI to interview anyone deemed relevant to their investigation of Kavanaugh, broadening the scope of the investigation beyond the allegations made by Ford. (What Trump said.)
Oct. 1: Bloomberg releases a report detailing a drunken bar fight involving Kavanaugh and three other young men during his time at Yale, which resulted in a call to the police. The New York Times then released the police report. (Bloomberg.)
Oct. 1: Julie Swetnick appears to walk back some of her claims in a sit-down MSNBC interview. (Go deeper.)
Asked if she specifically saw Kavanaugh or his friend spike drinks, Swetnick said she saw Kavanaugh "around the punch containers" and had seen him "giving red cups to quite a few girls during that time frame." She added, "I don't know what he did. But I saw him by them, yes."
In the interview, Swetnick also said that boys at the parties she described in the affidavit were not "lined up" but "huddled by the doors."
Oct. 2: Ford's legal team sends a letter to FBI Director Chris Wray and Deputy Attorney General Rod Rosenstein explaining they learned through media reports that the FBI does not intend to interview Ford or Kavanaugh but reiterates Ford's willingness to cooperate with an investigation.
A letter penned by Kavanaugh in 1983 was released by The New York Times that showed a written reference to binge drinking.
Oct. 3: In an interview on Today Show, Flake said Trump's mockery of Ford at his rally on Tuesday night was "appalling."
Sen. Susan Collins called Trump's comments "just plain wrong."
Sen. Lindsay Graham told The Atlantic's editor-in-chief Jeff Goldberg: "President Trump went through a factual rendition that I didn't particularly like, and I would tell him, 'Knock it off. You're not helping.'"
In a White House press briefing Wednesday, Sarah Sanders said the White House strives for transparency, but it is still unclear if the full report from the FBI investigation will be released to the public. Sanders also defended Trump's comments mocking Ford's testimony claiming he was "stating facts."
The FBI report, which may wrap up as early as Wednesday, is expected to include summaries of interviews about Kavanaugh's conduct in high school, and will go to the White House and then to the Senate Judiciary Committee. Sen. McConnell has remained committed to holding a vote this week.
Go deeper