How we got here: The Kavanaugh timeline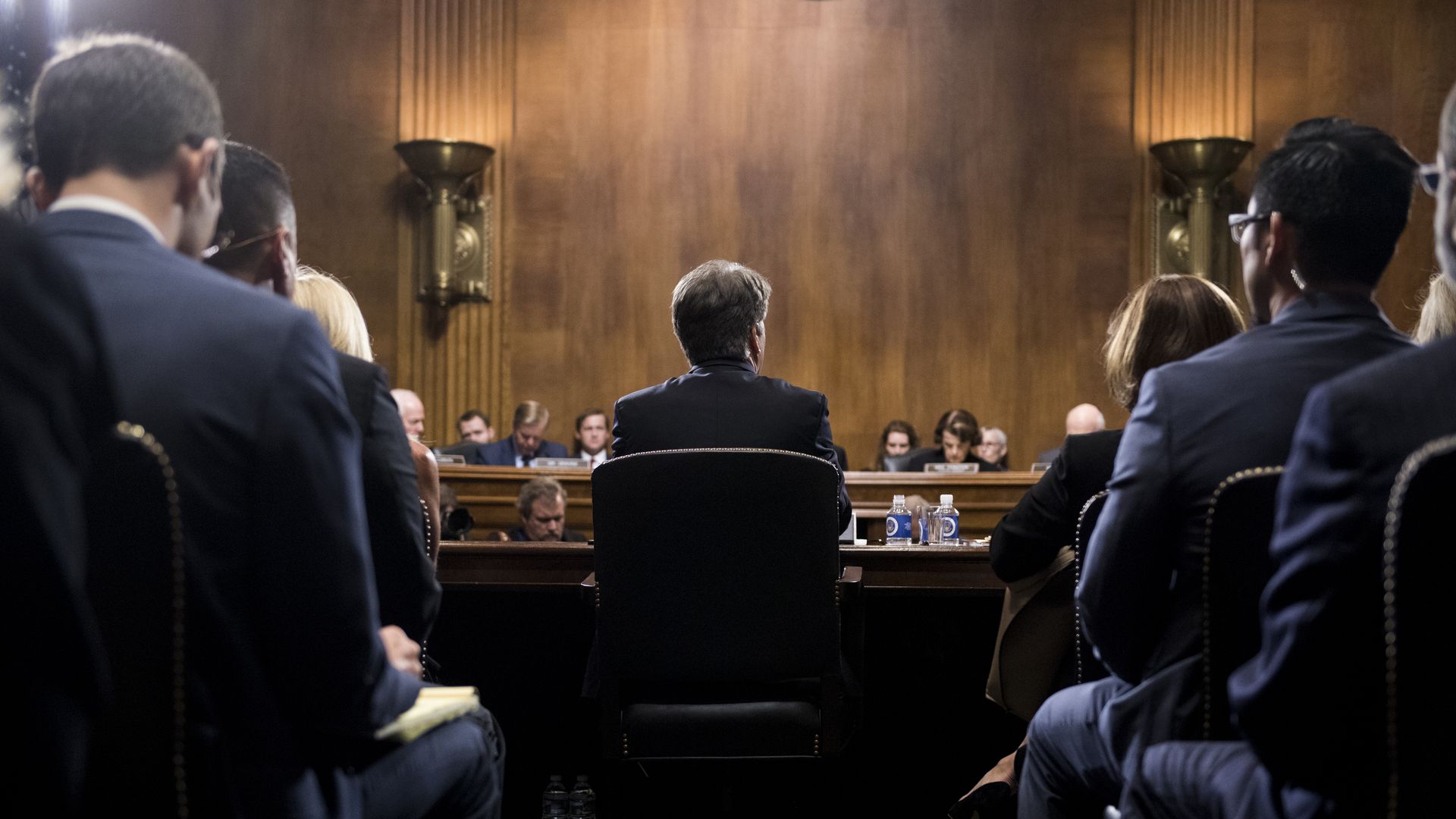 After a dramatic few weeks surrounding Supreme Court nominee Brett Kavanaugh's confirmation process, including several allegations of sexual assault and misconduct, a hearing and an 11th-hour FBI investigation, Sen. Mitch McConnell is promising a vote by the end of this week.
Between the lines: The allegations were unfolding behind the scenes, so it's useful to see them paired up against public events.
The timeline
July 6: Christine Blasey Ford reaches out to her congresswoman, Rep. Anna Eshoo (D-Calif.), regarding her concerns about Kavanaugh's nomination to the Supreme Court. (Her letter.)
July 9: President Trump announces Brett Kavanaugh as his pick to replace Justice Anthony Kennedy on the bench. (His announcement.)
July 30: Ford sends Sen. Dianne Feinstein (D-Calif.) a letter detailing her alleged assault.
Sept. 16: Ford's accusations are made public in a Washington Post report. (The allegations.)
Ford alleges that Kavanaugh and his friend Mark Judge pushed her into a bedroom at a party, where Kavanaugh pinned her down, attempted to remove her clothing, held his hand over her mouth when she tried to scream for help and — as she believes it — attempted to rape her.
Sept. 17: Kavanaugh issues a statement denying Ford's allegations, saying he has "never done anything like what the accuser describes — to her or to anyone." (His statement.)
Sept. 19: Ford's lawyer, Debra Katz, emails the Senate Judiciary Committee that Ford has agreed to testify before them. (Katz's email.)
Sept. 23: A second woman, Deborah Ramirez, details new allegations of sexual misconduct in the New Yorker, which she said took place while her and Kavanaugh were students at Yale. (Her allegations.)
Ramirez alleges that Kavanaugh waved his penis in front of her at a dorm party.
Kavanaugh denied the allegation.
Sept. 26: Kavanaugh releases his 1982 summer calendars as a way to dispute Ford's timeline. (Kavanaugh's calendars.)
Later in the day, Attorney Michael Avenatti releases a sworn declaration from his client, Julie Swetnick, who says Kavanaugh targeted girls for sexual assault. She is the third accuser to come forward. (Avenatti's tweet.)
Swetnick alleges that Kavanaugh and his friends would spike drinks with drugs to make girls more vulnerable to sexual assault. She also said Kavanaugh was present when she was gang raped at a party. "They would line up outside rooms at many of these parties waiting for their 'turn' with a girl inside the room."
Kavanuagh denies the allegations.
Sept. 27: Both Ford and Kavanaugh testify before the Senate Judiciary Committee. (Key moments from Ford's and Kavanaugh's hearings.)
Sept. 28: The Judiciary Committee votes to send Kavanaugh's confirmation to the Senate floor, with Sen. Jeff Flake calling for a one-week FBI investigation into the claims made against him. (What happened.)
Sept. 30: Ford's legal team says they have yet to be contacted by the FBI.
Oct. 1: The White House directs the FBI to interview anyone deemed relevant to their investigation of Kavanaugh, broadening the scope of the investigation beyond the allegations made by Ford. (What Trump said.)
Trump holds a press conference during which he reiterates his support for Kavanaugh. (Trump's comments.)
Oct. 1: Bloomberg releases a report detailing a drunken bar fight involving Kavanaugh and three other young men during his time at Yale, which resulted in a call to the police. The New York Times then released the police report. (Bloomberg.)
Oct. 1: Swetnick appears to walk back some of her claims in a sit-down MSNBC interview. (Go deeper.)
Asked in the interview if she specifically saw Kavanaugh or his friend spike drinks, Swetnick said she saw Kavanaugh "around the punch containers" and had seen him "giving red cups to quite a few girls during that time frame." She added, "I don't know what he did. But I saw him by them, yes."
In the interview, Swetnick also said that boys at the parties she described in the affidavit were not "lined up" but "huddled by the doors."
Oct. 2: Ford's legal team sends a letter to FBI Director Chris Wray and Deputy Attorney General Rod Rosenstein explaining they learned through media reports that the FBI does not intend to interview Ford or Kavanaugh but reiterates Ford's willingness to cooperate with an investigation.
Go deeper