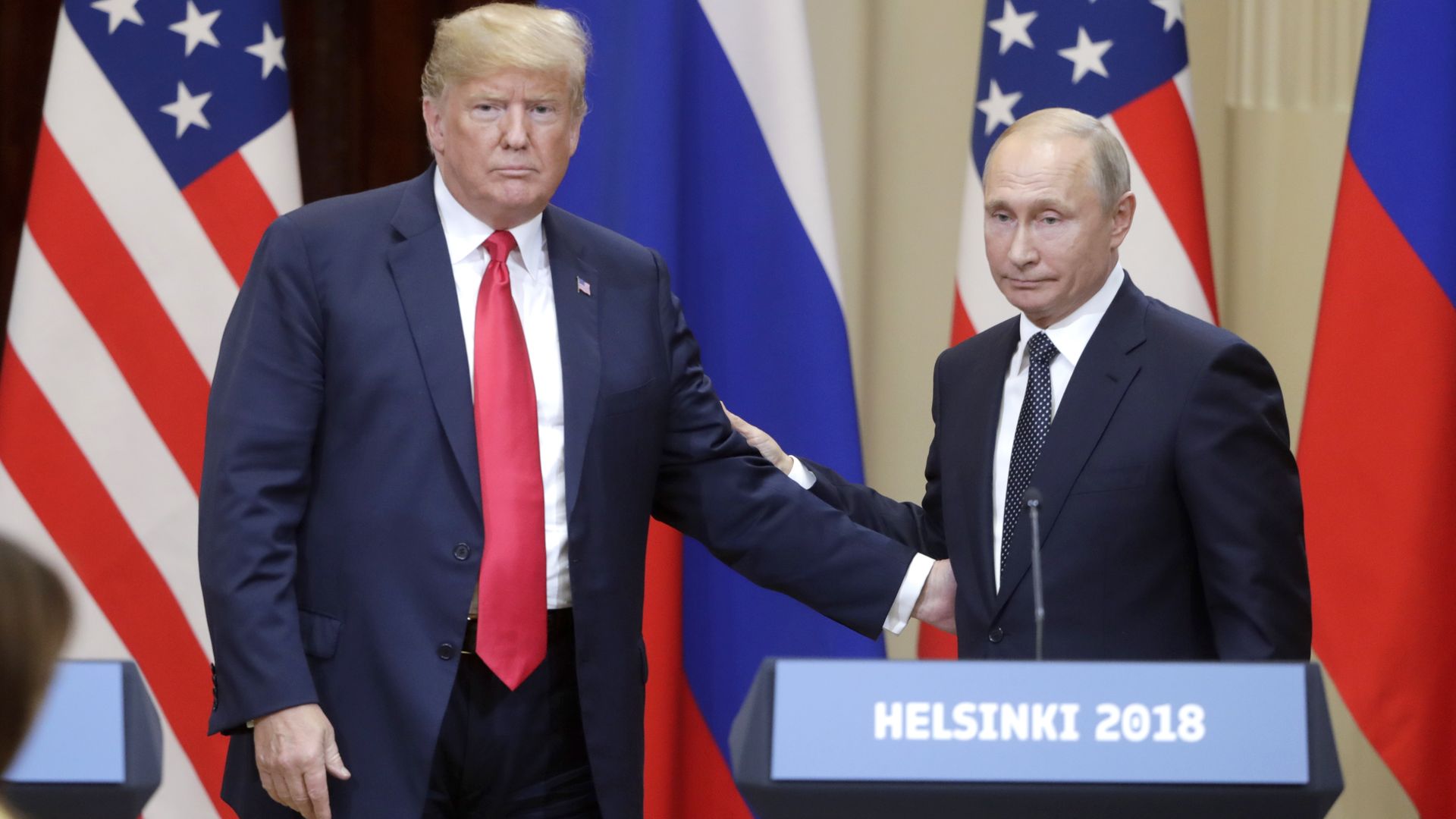 The percentage of Russians who are confident President Trump will "do the right thing regarding world affairs" plummeted over the last year from 53% to 19%, according to Pew's annual Global Attitudes survey.
By the numbers: Trump's campaign push for warmer ties with Moscow clearly broke through, with 41% of Russians viewing the U.S. favorably in the months after he took office — up from 15% at the end of Barack Obama's tenure. That number has now fallen to 26%.
Alina Polyakova of the Brookings Institution notes that last year's survey was taken at a time when there were real hopes of detente in Russia. What has followed has been a "much more hawkish Russia policy than I think the Russians expected to see."
Russia's state-controlled media has changed its tone on Trump accordingly, she notes. He's mentioned less often and less positively. "The tone now is nothing negative about Trump, but he's seen as hampered or boxed in by the bureaucracy," she says. The government and media also like to depict Washington as "a mess" to make Vladimir Putin "appear like a professional manager by contrast."
The bigger picture: Across the 25 countries sampled, 70% lack confidence in Trump, on average. Views of the U.S. remain narrowly positive, though, with 50% approving and 43% disapproving. In some key allied countries, meanwhile, we're sinking further into uncharted territory ...
Just 30% in Germany and 38% in France view the U.S. favorably, down from 35% and 46% last year and 57% and 63% in 2016, respectively.
Views of the U.S. have tumbled in Canada (39% favorable) and in Mexico (32% favorable), where Trump's approval rating is just 6%. That's a big change: Majorities in both countries viewed the U.S. favorably throughout the Bush and Obama presidencies.
The flipside: Views of the U.S. rebounded in South Korea and Japan over the past year, back to levels similar to those seen under Obama. Confidence in Trump has also ticked up in both countries.
What to watch:
Across the 25 countries surveyed, including among many close U.S. allies, there is more confidence that Chinese President Xi Jinping will "do the right thing" than Trump will. Several European countries even view China more favorably than the U.S.
But when asked whether it would be better for the world to have the U.S. or China as the leading power, big majorities in nearly every country sampled picked the U.S.
Go deeper