New anti-Kavanaugh strategy: The angry drunk argument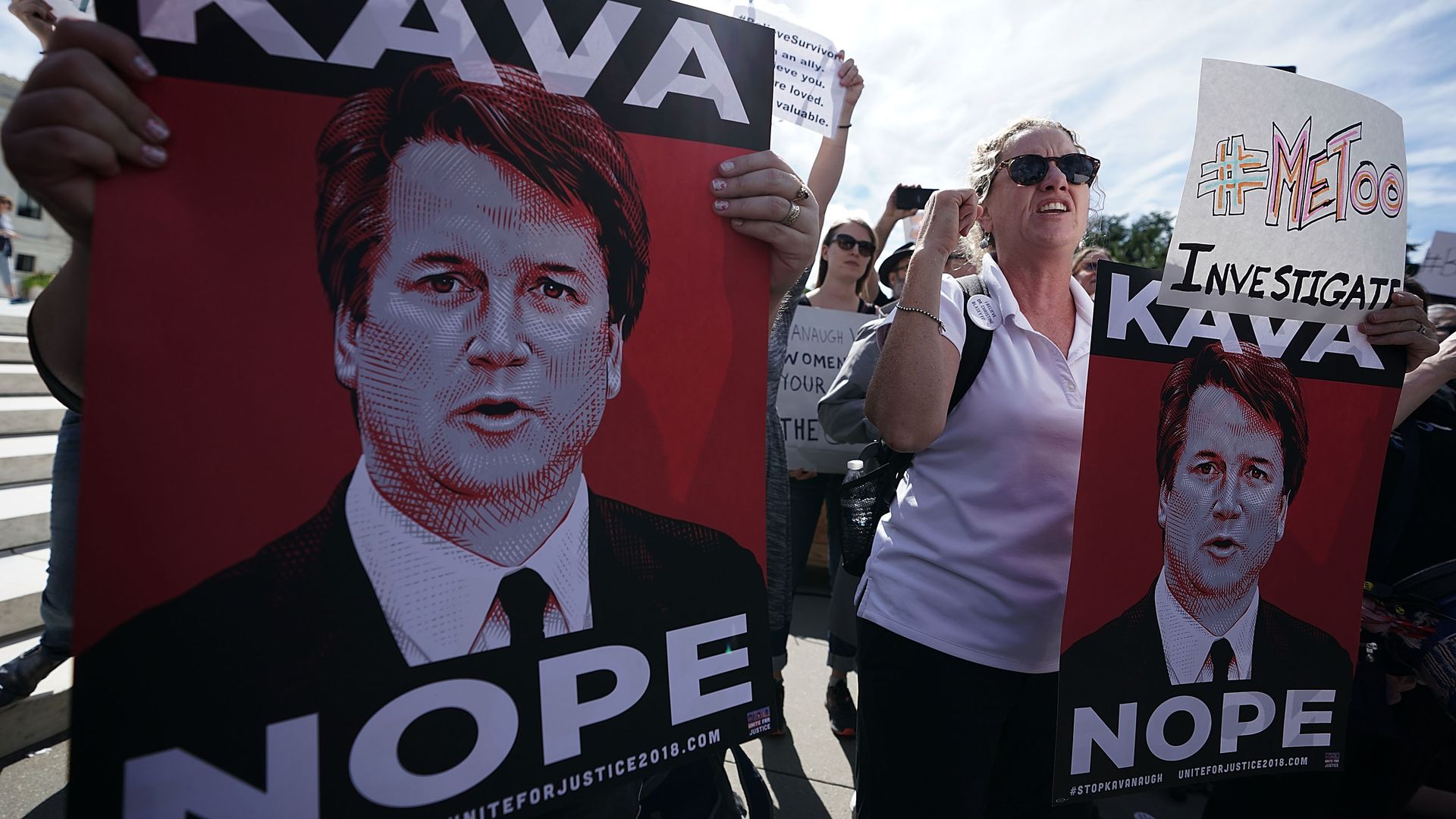 Chad Ludington, who attended Yale at the same time as Brett Kavanaugh, is the latest in a string of the embattled Supreme Court nominee's former classmates to claim he has mischaracterized "the degree and frequency" of his alcohol consumption in college, according to a statement provided to the N.Y. Times.
Why it matters: Even critics of Kavanaugh tend to agree that his drinking in college shouldn't automatically disqualify him from serving on the Supreme Court, especially given how successful he still became in his academic and professional career. The real issue is whether Kavanaugh was wholly truthful in his testimony before the Senate Judiciary Committee, during which he claimed under oath that he had never blacked out from alcohol use and that drinking did not play an unusually large role in his social life.
The big picture: Several former classmates are unequivocal in their belief that Kavanaugh lied on national television about his drinking habits. Sens. Jeff Flake (R-Ariz.) and Chris Coons (D-Del.) said on "60 Minutes" Sunday night that if the FBI investigation reveals Kavanaugh did, in fact, lie during the hearing, the nomination would be "over."
In his statement, Ludington said that "Brett was a frequent drinker, and a heavy drinker. I know, because, especially in our first two years of college, I often drank with him. On many occasions I heard Brett slur his words and saw him staggering from alcohol consumption, not all of which was beer. When Brett got drunk, he was often belligerent and aggressive."
James Roche, Kavanaugh's freshman roommate, told The New Yorker that he recalled Kavanaugh being "frequently, incoherently drunk."
Another Yale classmate, Liz Swisher, told CNN, "There's no problem in drinking beer in college. The problem is lying about it. He drank heavily, he was a partier, he liked to do beer bongs, he played drinking games, he was a sloppy drunk." Former classmate Lynne Brookes echoed that same sentiment: "There is no doubt in my mind that while at Yale, he was a big partier, often drank to excess and there had to be a number of nights where he does not remember."
The other side: Sen. Lindsey Graham, one of Kavanaugh's most vocal Republican defenders on the Senate Judiciary, told ABC's "This Week" that Flake — as well as Sens. Susan Collins (R-Maine) and Lisa Murkowski (R-Alaska) — wanted a "limited review" by the FBI of Kavanaugh's actions.
Graham said, "No, I think you're trying to portray him as a stumbling, bumbling drunk, gang rapist, who during high school and college was Bill Cosby. Six FBI background checks over the years would have uncovered this."
And President Trump chimed in on the issue in a Sunday tweet: "Wow! Just starting to hear the Democrats, who are only thinking Obstruct and Delay, are starting to put out the word that the 'time' and 'scope' of FBI looking into Judge Kavanaugh and witnesses is not enough. Hello! For them, it will never be enough — stay tuned and watch!"
"Chris Munnelly, a software executive in Scottsdale, Ariz., who was a freshman when Judge Kavanaugh was a senior, said, 'He was not a big drinker from my interactions with him.'" [NYT]
Go deeper