Trump's baseless "Chinese election meddling" charge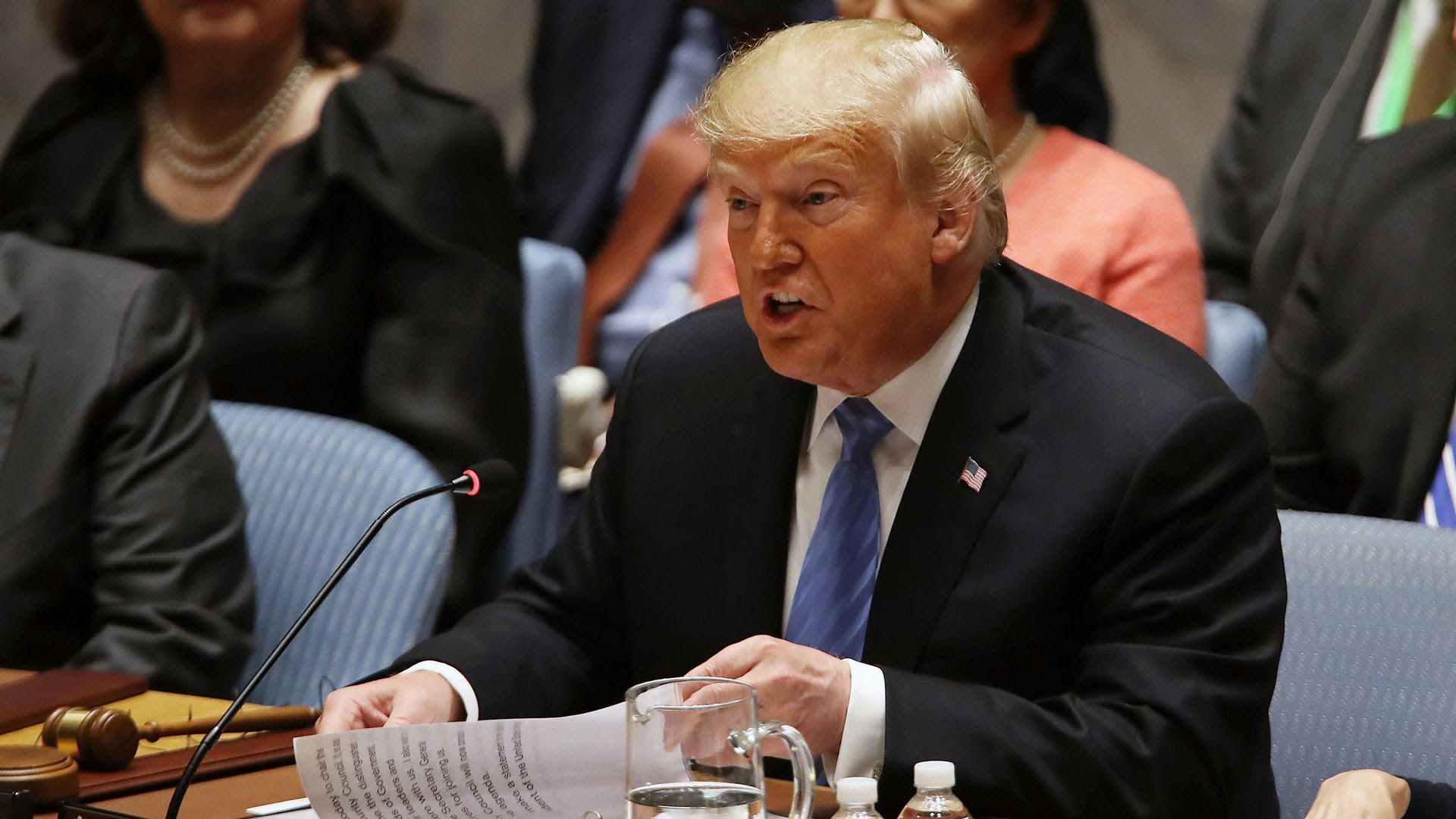 At the U.N. on Wednesday, President Trump repeatedly claimed that China is meddling in the U.S. midterm elections. But his administration has provided no evidence that that's true, according to any useful definition of "election meddling."
In three different stage appearances, the president conflated predictable tactics triggered by his trade war — including tariffs targeted by China at influential states and a clearly labeled "advertorial" about the farm bill in an Iowa newspaper — with Russian-style interference of the sort that clouded the 2016 U.S. elections.
Why it matters: These are serious times, with serious threats. If the accusation of election meddling is to mean anything, it has to mean actions that are covert, illegal or violating an international norm. Unless the Trump administration has intelligence that it hasn't revealed, China's moves are none of those things.
Without offering details, Trump told the U.N. Security Council:"Regrettably, we found that China has been attempting to interfere in our upcoming 2018 election — coming up in November — against my administration. They do not want me —or us — to win because I am the first president ever to challenge China on trade."
The rest of the day: The administration soon followed with a press call from a "top administration official" that focused on the ad and tariffs. Trump mentioned the ad and tariffs in a tweet and subsequent appearances before the press.
To be clear: The United States also targets tariffs in order to achieve political goals. Trump may not like it when China does the same, but it's neither covert nor illegal.
The ad, which Trump singled out as "[ads] that don't look like ads, that look like editorials," was a four-page insert clearly identified as "sponsored by China Daily" on the top of the page. It was more an argument in favor of bilateral trade than a political advertisement aimed at electioneering.
The scoreboard: Despite being accused of what sounded like a minor act of war, China likely leaves New York happy with Trump's general posture. On Tuesday, Trump offered a speech before the General Assembly emphasizing the importance of national sovereignty.
"Around the world, responsible nations must defend against threats to sovereignty not just from global governance, but also from other, new forms of coercion and domination," Trump said.
China regularly makes the same point about "cyber sovereignty" to promote a fragmented, locally governed internet that lets it control information domestically.
The U.S. and other nations have always treated that idea in the past as an attempt to legitimize crackdowns on free speech and freedom of protest.
Codebook reached out to lawmakers interested in cybersecurity, law enforcement, state secretaries of state (who oversee elections) and cybersecurity firms — including those who have traditionally been hawks on China. No one would confirm the administration's charge of Chinese election interference.
A flustered Sen. Mark Warner (D-Va.) pointed out to reporters that the White House has a history of trying to divert attention from scandals and that, if the president really wanted to do something to protect election integrity, he could back the Senate's bipartisan election security bill.
Go deeper