Key moments from Christine Blasey Ford's hearing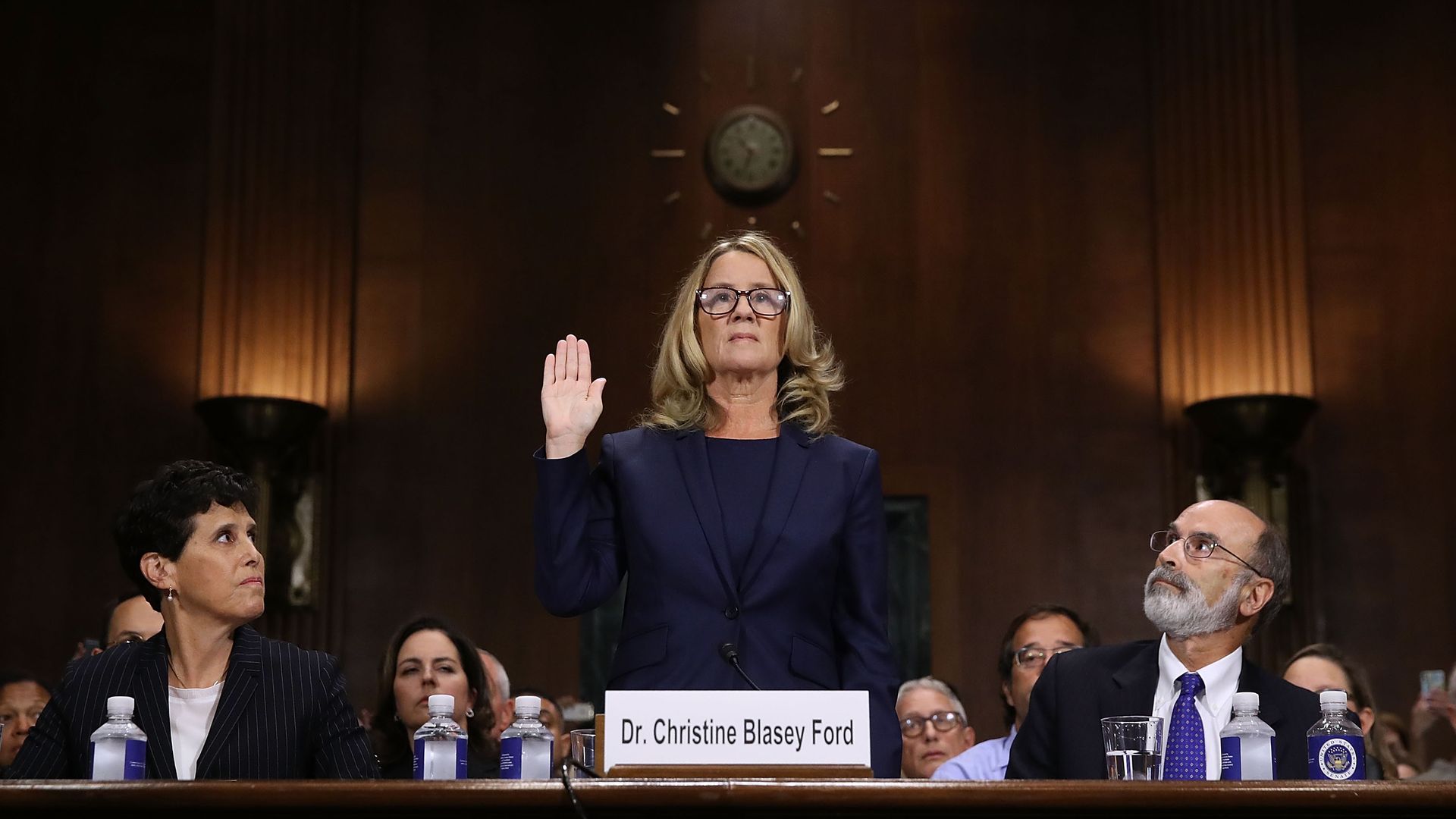 Christine Blasey Ford testified before the Senate Judiciary Committee Thursday morning about her allegation that Supreme Court nominee Brett Kavanuagh sexually assaulted her in the 1980s.
One big thing: Ford told Democratic Sen. Dick Durbin (Ill.) that she was "100 percent" certain that it was Kavanaugh who assaulted her that night.
Christine Blasey Ford
11:09 AM: Asked to describe the atmosphere of the high school gathering in question, Ford said it was clear "Mr. Kavanaugh and Mr. [Mark] Judge had been drinking prior [to the time that they had arrived], and the other guests had not."
11:14 AM: Asked what is the strongest memory she has of the incident, Ford said "Indelible, in the hippocampus is the laughter. The uproarious laughter between the two [Kavanaugh and Judge] ... and they're having fun at my expense."
11:26 AM: Asked if she had any encounters with either Kavanaugh or Judge after the incident, Ford said she had run into Judge at the Safeway where he worked. "I was going to the Potomac Village Safeway, and I was with my mother. I was a teenager so I wanted her to go in one door and I'd go in another. I chose the wrong door because it looked like Mark Judge was working there and arranging the shopping carts. I said to hello to him, and his face was white … he looked a little bit ill. I would estimate [it occurred] 6–8 weeks [after the incident]."
11:41 AM: During a break, Senate Judiciary Chairman Chuck Grassley told reporters, "I don't think I can make any comments at all today, maybe it's something I ought to sleep on. This is pretty important. We ought to be thinking about it a lot and not making hasty comments."
12:10 PM: Asked what she has not forgotten about the night of the incident, Ford responded, "The stairwell, the living room, the bedroom ... the bed on the right side of the room. The bathroom in close proximity, the laughter — the nefarious laughter. And the multiple attempts to escape and the final ability to do so."
12:21 PM: Ford confirmed that she reached out to her congresswoman, Anna Eshoo (D-Calif.), while Kavanaugh was still on the shortlist of potential Supreme Court nominees. She said she did so out of a sense of "civic duty."
12:27 PM: While Ford was in Delaware on vacation, between July 30 and Aug. 7, she said she had a phone call with the committee's ranking member, Sen. Dianne Feinstein (D-Calif.), whom she had previously sent a letter detailing the allegations. She said Feinstein had asked her questions about the incident, and she had answered them. Ford said that it was the only time they spoke.
12:45 PM: Break for lunch.
1:53 PM: In response to Mitchell's questions about how she had paid for the polygraph test, Ford said she has been aware of several GoFundme sites to help cover her legal expenses, including the test, but added she hasn't "had a chance to figure out how to manage those because I've never had one."
1:55 PM: Asked when she first requested an FBI investigation, Ford responded, "When I first started talking about possibility of a hearing, I hoped there would be a more thorough investigation."
1:56 PM: After Ford was questioned repeatedly about whether she has gotten any outside financial assistance, Ford's lawyers said they're working pro bono.
2:09 PM: Ford said she did not expect that Leland Ingham Keyser and PJ Smyth [two people Ford had named as being present at the party] would remember anything significant about the party including her alleged assault. "Nothing remarkable would have happened to them because they were downstairs [when Ford was assaulted.]"
Go deeper