How consultants and pharmacy middlemen work the drug pricing system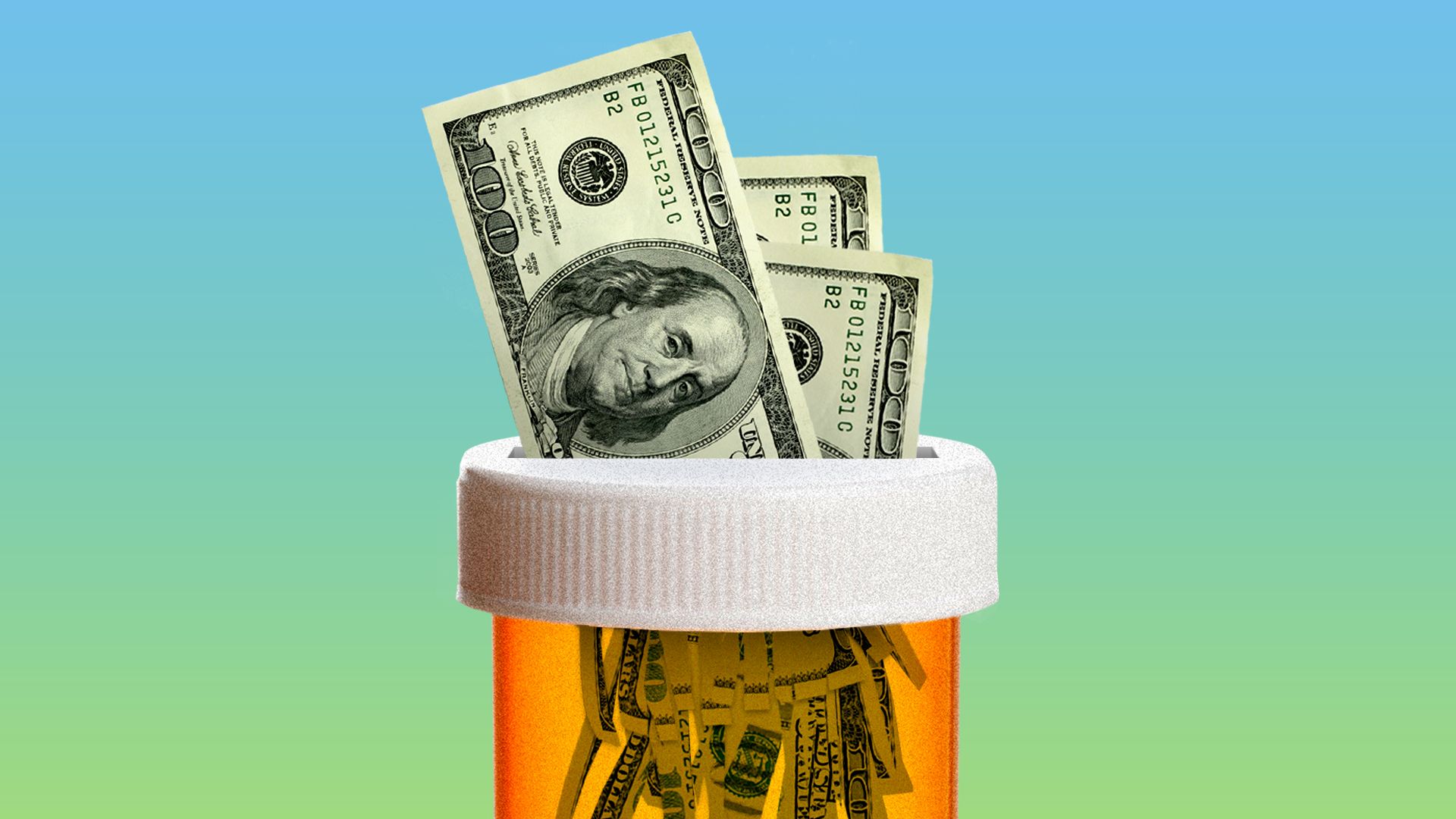 Employers hire consultants to help them manage their prescription drug costs. But industry sources say those consultants don't steer companies toward the best deals.
Why it matters: Prescription drugs represent one-fifth of employers' spending on health benefits. Employers and employees alike are increasingly worried about drug prices and how those prices affect their premiums.
How it works: Employers pay consultants, who are supposed to act as disinterested third parties, to help them pick a pharmacy benefit manager to negotiate with drug companies. Consulting firms solicit bids from PBMs, compare their prices and pharmacy networks, and then present the options to employers.
"Everyone in my role is frustrated with the PBM space," said the top benefits executive at an employer that covers more than 10,000 U.S. workers and dependents, who asked not to be named to speak candidly.
The three largest PBMs — CVS Caremark, Express Scripts and OptumRx — score a lot of their business with the help of the major consulting houses, according to interviews with eight sources who work in the drug benefits industry.
A few big players also dominate the consulting industry. Three of the biggest firms — Aon, Mercer and Willis Towers Watson — each clear more than $1.5 billion in revenue annually from their medical and pharmacy benefits consulting.
PBMs negotiate discounts, in the form of rebates from drug companies.
The major companies rely on a model called "spread pricing," in which they keep the difference between what they pay pharmacies and what they charge employers for drugs. They also keep part of the rebates, although it's not always clear how a rebate is defined.
Several smaller PBMs more commonly use "pass-through" contracts in which they charge employers higher fees for administrative tasks, but pass along every dollar of drug savings to employers.
Benefits leaders usually select the big PBMs because lower fees and the promises of sizeable rebate checks make their financial executives happy, even though pass-through models could be cheaper in the long run.
"When you go back to your consultants...[they say] the smaller guys just cannot get the types of rebates that a CVS or Express Scripts can from the pharmaceutical manufacturers, so you'd be giving up a lot," the benefits executive said.
And there's almost no turnover. CVS, for example, retains about 97% of its employer clients.
"One of the biggest difficulties we have is convincing the largest established consultants that we are who we say we are," said Paul Ruklic, a director at Costco's PBM, which only charges administrative fees. "We always lose the game" of rebates, he said.
The other side: The consulting firms said they don't recommend one type of PBM over another, and that employers look to them for "expertise."
"Our clients look to us to help them to disassemble the complexity," said Carmelina Rivera, a pharmacy consultant at Willis Towers Watson. She added her firm "will always tell [employers] that we recommend greater disclosure in the marketplace."
Joana Nassa, a partner at Mercer, said employers "are not thrilled with the lack of transparency in models that we currently have in the market today" and that it's the firm's job to "calculate what the value is of each arrangement."
Rivera said the largest employers often don't consider small PBMs because "there's apprehension" about whether they can handle the workload.
Aon turned down an interview and declined to answer written questions.
CVS and Express Scripts submitted statements but did not address their spread pricing models. OptumRx did not respond.
The bottom line: Employers rely on big consulting firms and PBMs because relationships are entrenched, it's the easy option in a complicated environment, and employers don't want to anger workers by switching how they get their prescriptions.
Go deeper