Trump's hug-the-thug, flick-off-your-friends worldview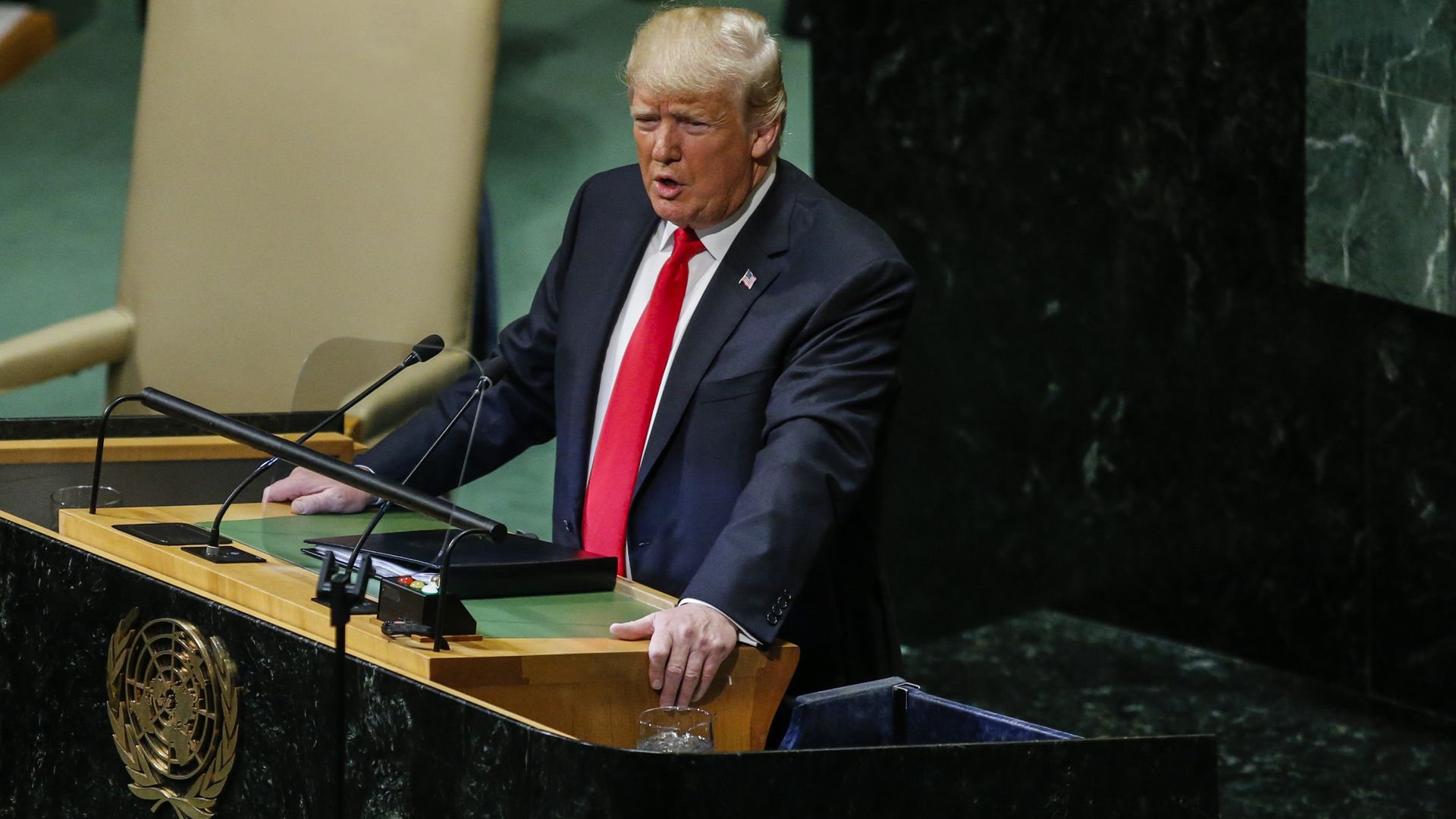 President Trump's blunt-force diplomacy at the United Nations yesterday reflected one of the quirks of his style on the world stage.
The big picture: He shuns European allies. Stunningly, he made zero mention of Britain or France, and his only mention of the Germans was to say that if they don't change course, they'll become "totally dependent on Russian energy." And he saves his sweetest words for individual world leaders — even adversaries, conveying his "great respect and affection" for his "friend" President Xi Jinping of China, and thanking North Korea's Kim Jong-un for his "courage."
At the same time, Trump doubled down on U.S. tariffs on China, and said the U.S. would maintain sanctions against the North Koreans until they have denuclearized.
It's Trump's theory of international relations: He praises and flatters leaders by name, while pursuing tough policies against their countries.
The effort to preserve personal relations leaves him to pursue a diplomacy that's based, above all, on personal chemistry between leaders.
European allies have lost all patience with this approach by Trump, with one diplomat describing the president's speech to the UN General Assembly as a roster of grievances, sprinkled with bragging about his accomplishments.
Trump's grievances were many, and he described many international institutions as nothing more than scams set up to fleece Americans of their wealth and sovereignty.
Trump attacked the World Trade Organization, the UN Human Rights Council, OPEC, the new Global Compact on Migration, the current system of foreign aid, international peacekeeping, and globalism as a concept:
"We reject the ideology of globalism, and we embrace the doctrine of patriotism."
The bottom line: Trump's speech was a full-throated nationalist war cry. Steve Bannon, who hasn't talked to Trump in many months, would've been proud.
P.S. How they see us ... Cover of today's Guardian (London): "The world's derision halts Trump UN speech."
Go deeper