Trump at the UN: "Few give anything to us"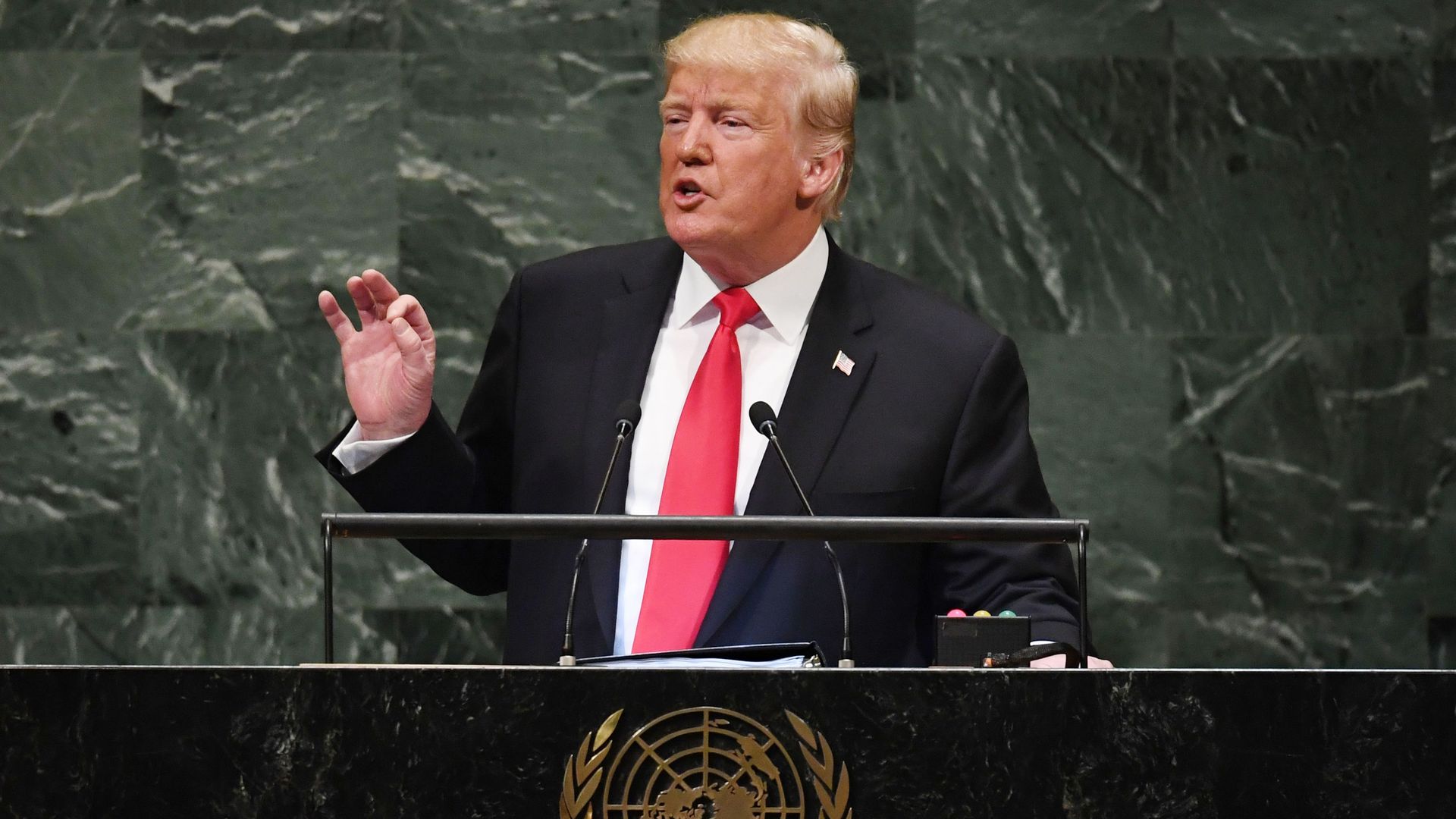 President Trump defended his foreign policy today at the United Nations General Assembly, pledging more sanctions on Iran, further steps in the trade war with China, and a review of U.S. foreign assistance because "few give anything to us."
The big picture: The theme of Trump's speech was sovereignty, a point he summed up by saying the U.S. will not "tell you how to live and work and worship" so long as "you respect our sovereignty in return." He went after global institutions like the International Criminal Court and UN Human Rights Council, saying, "We reject the ideology of globalism and we embrace the doctrine of patriotism."
Trump described his foreign policy as one of "'principled realism" with no regard for "old dogmas" and "so-called experts."
He praised India for reducing poverty, Israel for its "vibrant democracy," Saudi Arabia for its "bold reforms" and Poland — which many claim is sliding toward authoritarianism — for "standing up" for freedom and sovereignty.
He also praised North Korean dictator Kim Jong-un's "courage," but said there would be no sanctions relief until North Korea denuclearizes.
He attacked China for unfair trade practices, Germany over a controversial pipeline deal with Russia, and Venezuela, about which he said, "all nations should resist socialism and the misery it brings to everyone."
He called on other world leaders to isolate Iranian leadership, hours after Europe, Russia and China agreed to a payments system designed to avoid U.S. sanctions on Iran.
Trump took an unexpected swipe at OPEC, saying: "OPEC nations are, as usual, ripping off the rest of the world. ... We defend many of these nations for nothing and then they take advantage of us by giving us high oil prices. ... We are not going to put up with it, these horrible prices, much longer."
1 viral moment: At the start of his speech, Trump claimed to have accomplished more already than nearly every other U.S. president. That provoked a smattering of laughter, which grew louder when he smiled and said "so true ... Didn't expect that reaction, but that's OK."
The bottom line: Trump's tone was relatively measured, at least compared to the fireworks last year, but his message was pretty clear: the U.S. is getting a bad deal from the world, and isn't going to stand for it.
Go deeper