Paralyzed man able to walk with assistance in clinical trial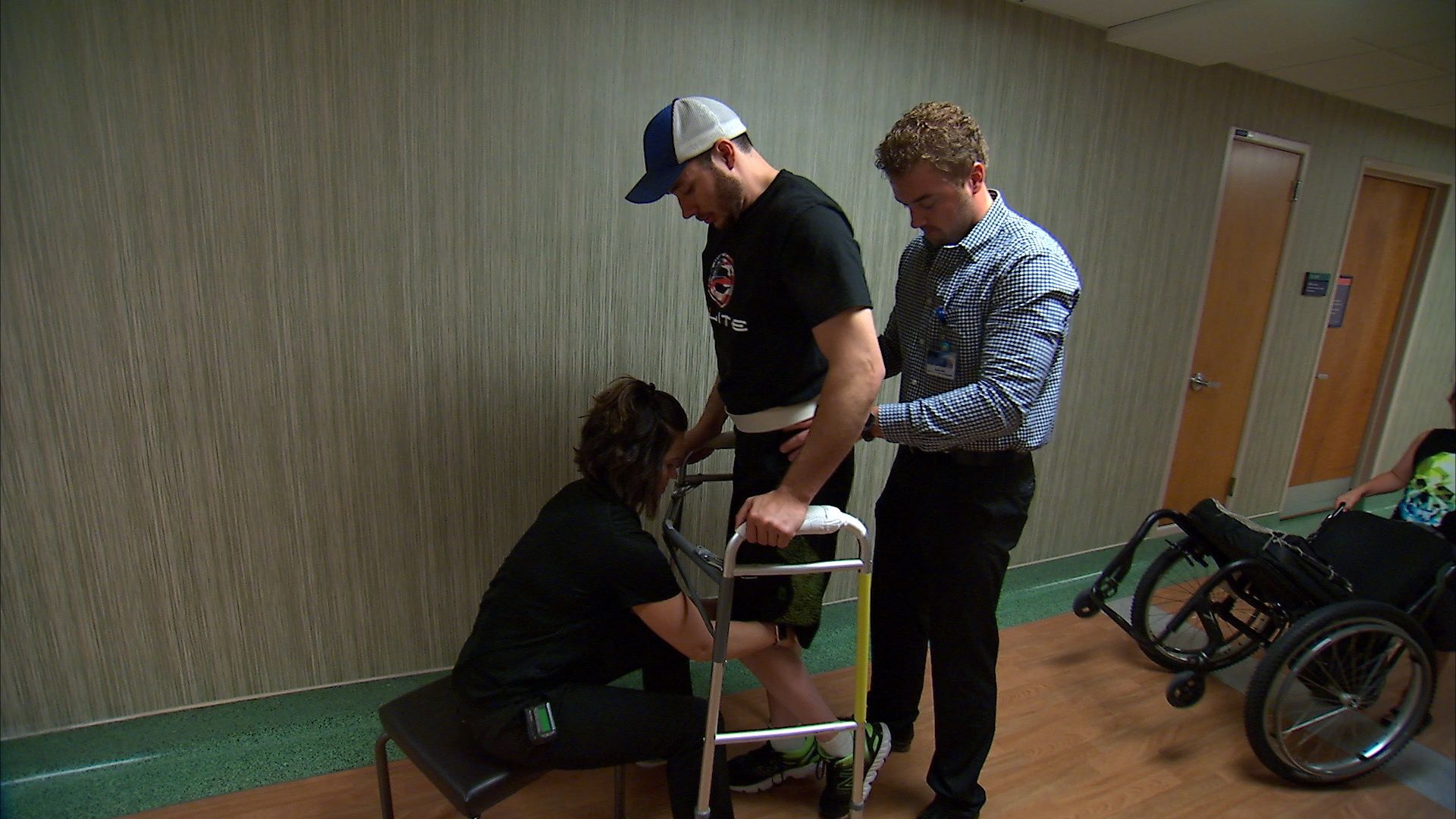 Jered Chinnock, a man who became paralyzed in his lower limbs after a 2013 snowmobile accident, was able to take voluntary steps with a walker and on a treadmill via a combination of focused thinking, spinal cord stimulation with programmed electrodes and rehabilitation therapy, researchers announced Monday. The study was published in Nature Medicine.
Why it matters: A growing body of research shows that this combination of treatments holds promise in helping people with paralysis to voluntarily move paralyzed limbs. The problem is: No one really knows how the combination works and who may be the best candidates to try out these techniques, the study authors say.
Background: Severe spinal cord injuries can disconnect the regions of the brain that guide movement from the spinal cord, specifically from below the area that was injured, thereby causing paralysis. Electrical stimulation of the spinal cord has been shown to facilitate voluntary muscle contractions.
What they did: After intensive therapy for 22 weeks, Chinnock, now 29, had researchers implant a pulse generator device in his abdomen that connected to electrodes in the epidural area of the spinal cord, below the injury.
The scientists tweaked the parameters to see which pulse and frequency rates worked best for specific tasks.
What they found: After gradually building up to it over several weeks, Chinnock was able to stand and walk with the assistance of a walker and trainer for safety. Co-principal investigator Kendall Lee, who's director of Mayo Clinic's Neural Engineering Laboratories, said during a press briefing:
"One of the key points of this ... is the patient is able to control how much of the movement of legs [he made] and the timing of the movement."
"This gives hope to people who are faced with paralysis that a functional control may be possible."
By the numbers: Chinnock made a total of 113 visits to Mayo Clinic over a year. They said the patient's milestone achievements include ...
Make assisted steps of 111 yards, or "about the length of a football field," Lee says.
Total number of steps: 331.
Was able to walk with assistance for 16 minutes.
The unknowns: Scientists are trying to figure out exactly how the method works, the role played by the stage of rehabilitation to its success and which types of injuries may be best addressed by this method, says co-principal investigator Kristin Zhao, director of Mayo Clinic's Assistive and Restorative Technology Laboratory.
"It's unknown — how these nervous tissues are woken up again to take information from the brain. The exact mechanism is not known," Lee says.
One theory, Zhao says, is that the affected neurons may need to have active fibers in them.
University of Louisville's Claudia Angeli, who was not part of this study — but published a separate, similar study today in New England Journal of Medicine — tells Axios:
"Epidural stimulation helps raise the awareness of the spinal cord ... which now can receive the command from the brain that might be getting through some of the fibers that remain intact at the site of injury. The correct stimulation parameters are required given that we need to 'alert' certain neurons and networks for specific tasks. The important part is that the spinal cord circuitry below the level of injury remains intact, epidural stimulation is just being used to make it more aware of information from the environment and commands from the brain so it can interpret them and generate a movement."
— Claudia Angeli
But, but but: These techniques are not designed to repair the damaged neural network.
For one thing, when the electrode stimulator was turned off, Chinnock's paralysis was unaltered. "The stimulation has to be turned on, and the parameters have to be set," Lee says.
For another thing, he needed to focus on each specific task. "He's very intentional with his thought processes," Zhao says.
Also, sensation is not restored with these techniques, since those involve different sensory pathways.
Watch more: See a brief video of the Chinnock's therapy in the research collaboration between Mayo Clinic and UCLA.
Of note: The researchers, led by scientists at Mayo Clinic, received approval from the Food and Drug Administration to conduct their research on two patients with paralysis. One started the study before the other, so they issued the finding for Chinnock before the second one, which will come out later.
Go deeper