The GOP plan to fight "foggy memories" around Kavanaugh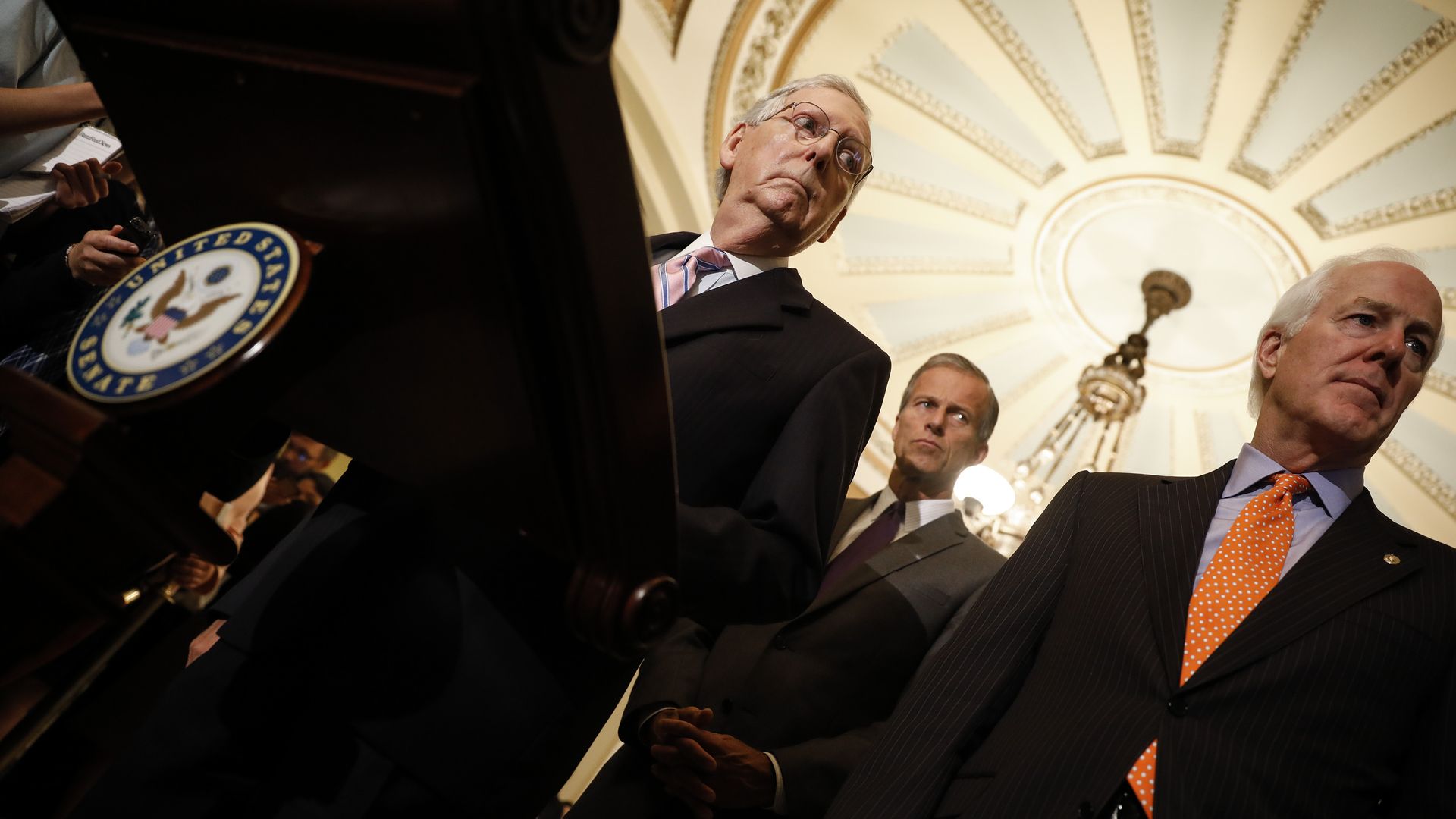 Brett Kavanaugh's allies plan to aggressively contest what they call the "foggy memories" of his accusers — an approach that's likely to lead to nasty confrontations at Thursday's showdown hearing on his confirmation to the Supreme Court.
What's happening: The plan is to fight back right away and to emphasize denials and hazy recollections. And the mission is to portray the debate as cheap-shot politics orchestrated by liberals and abetted by the media.
Republicans see two silver bullets, one for each case:
In the high school allegation by Christine Blasey Ford, three others said to be at the party have no recollection of it.
In a second case, The New Yorker last night quoted Yale classmate Deborah Ramirez as saying Kavanaugh had exposed himself to her when they were freshmen. The New York Times reported that it had "interviewed several dozen people over the past week in an attempt to corroborate her story, and could find no one with firsthand knowledge."
As part of this strategy, Kavanaugh plans to aggressively contest the Yale allegation, sources tell Jonathan Swan.
Kavanaugh had initially planned to leave his pushback to written statements until he could state his case in the Senate Judiciary Committee's open hearing, which is set for 10 a.m. Thursday, with testimony from both Kavanaugh and Christine Blasey Ford.
A sign of this more proactive approach: Kavanaugh's decision to give the Judiciary Committee his calendars from the summer of 1982. The N.Y. Times' Peter Baker reports that they "do not show a party consistent with the description of his accuser."
Swan's whip count: Kavanaugh's future rests partly with Republican senators Susan Collins of Maine and Lisa Murkowski of Alaska. But the senator who most worries Kavanaugh strategists is Jeff Flake of Arizona, who is retiring and has ripped Trump (and been ripped by Trump).
"Flake is flaky," said a source involved in the vote-counting.
See the letter Christine Blasey Ford sent Sen. Dianne Feinstein, released yesterday by Judiciary Committee Chairman Chuck Grassley (R-Iowa).
Go deeper