Trump's "sovereignty week" at the United Nations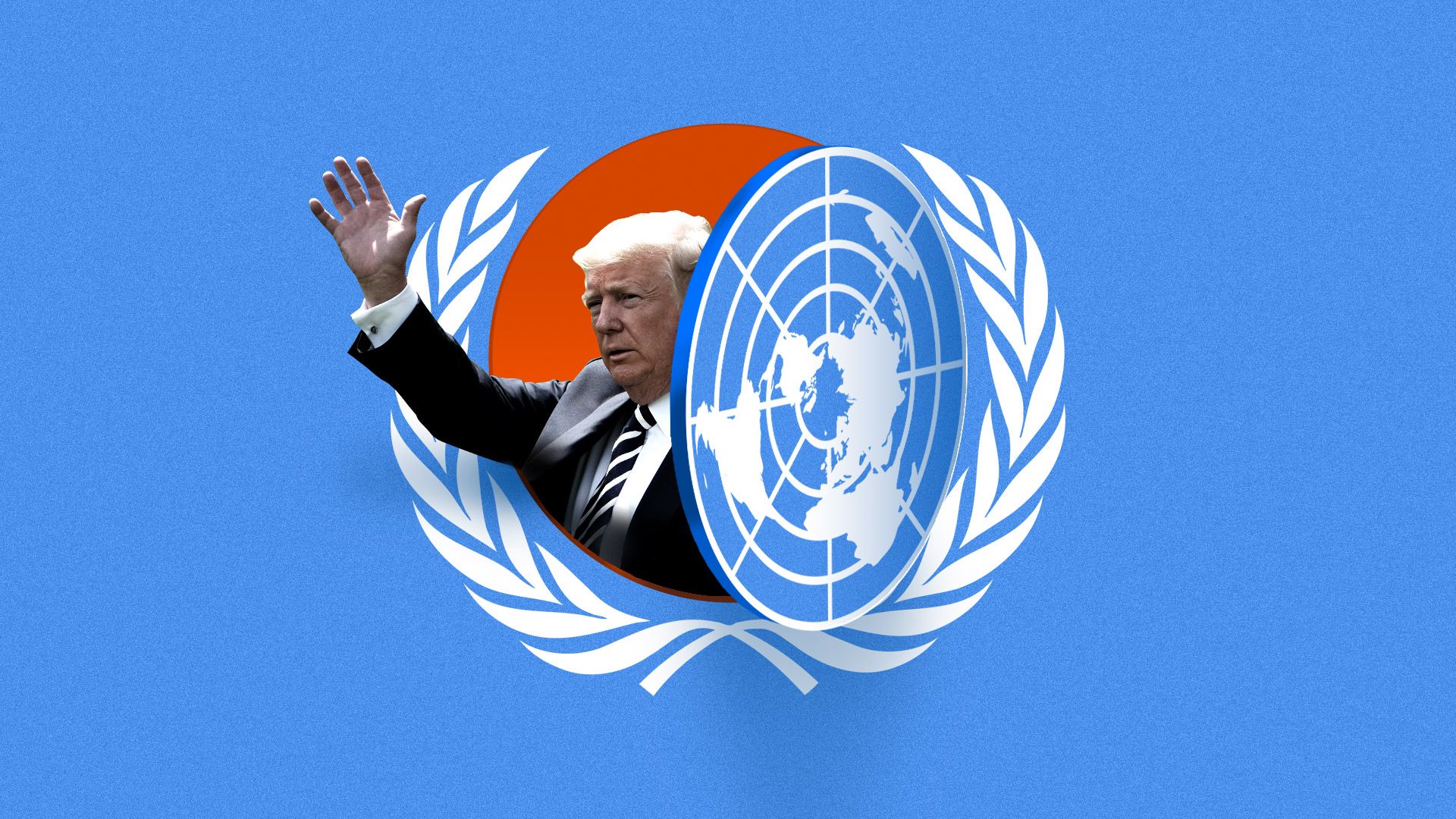 President Trump will address the United Nations General Assembly on Tuesday. A source briefed on his remarks shared one word on his theme: "Sovereignty."
The big picture: "Mutual respect and sovereignty" will be his frame for cooperation with other countries, another source with direct knowledge of his remarks told me. He'll talk about reforming international trade, that source added.
With John Bolton as his national security adviser — a man who has fought for decades against international institutions that he believes infringe on U.S. sovereignty — Trump will have plenty of material for such a speech.
In his speech to last year's UN General Assembly, Trump branded Kim Jong-un "Rocket Man" and said the U.S. may have "no choice but to totally destroy North Korea."
Foreign officials were shocked. They'd never heard such incendiary rhetoric from a U.S. president. And Trump loved the headlines.
"So you'll have to wonder what the target will be this time, who he will vent against," a Washington diplomat mused to me.
On North Korea: According to a source who's spoken with Trump about North Korea this week, Trump feels good about the latest developments and is "very happy" about the latest letter he received from dictator Kim Jong-un.
But hawks worry Trump will concede too much to North Korea before Kim completely and irreversibly denuclearizes the Korean Peninsula.
Sen. Lindsey Graham, who is close to Trump, told me, "Here's what I'm concerned about: The letters that Kim Jong-un is sending to Trump are good. It's good to keep a dialogue. But the letters and the behaviors do not match up.
"I am very worried about President Moon [of South Korea], who I think is the President Obama of Asia, putting President Trump in a bad spot."
"The last thing you want to happen is to lose control of the negotiations. I don't know how much Moon is freelancing here ... but the worst possible outcome is for us to talk about ending the Korean War with a peace treaty before they have a program to give up their nukes."
"That's what they want the most, to end the war, get normal relations, have security agreements. But all that comes at the end, not the middle."
Go deeper